word from the wise: how to start your own social enterprise with… roz campbell
The head honcho from Tsuno sanitary products tells us how to turn your philanthropic idea into a fully fledged company.
Does having your period and donating to charity at the same time sound like a bloody good idea to you? We had a chat to 2018 frankie Good Stuff finalist Roz Campbell from Tsuno – a social enterprise selling sustainable, organic sanitary products and donating 50 per cent of their profits to charities that empower women – about how to take your philanthropic idea and turn it into a fully fledged company.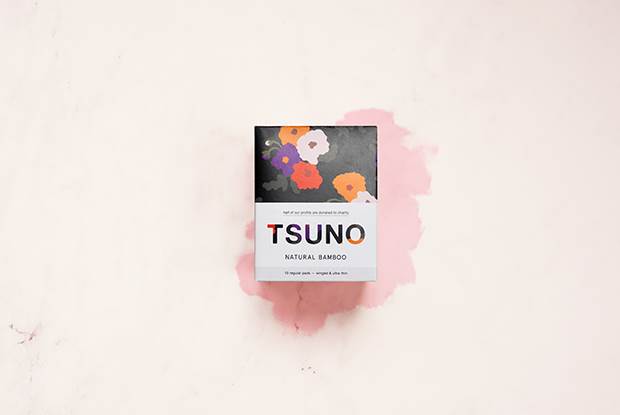 When and where did Tsuno begin? The idea for it came in 2012, when I was studying Industrial Design at university. There was one class we had that was product design for sustainability and we had to do an assignment on a product that would change the world. I did one on condoms and through my research I discovered a social enterprise that had started in America called Sir Richard's who sold condoms and were doing a one-for-one model. That was the first time I'd come across a business that existed for more than just making money.
I was telling my teacher about it and she had just met a woman, Chantelle Baxter, who had started a charity called One Girl and managed to persuade her to come and talk to our class about the charity. One Girl sends girls to school in Sierra Leone. The charity realised after a while that they weren't attending when they had their periods and that significantly impacts on their ability to learn. So One Girl introduced a program called Launchpad. It was all about locally made, biodegradable sanitary pads and starting small businesses within the community for women to sell them at a subsidised price and make them affordable and available.
I thought maybe I could do something similar to that condom business I saw in America and introduce a better, environmentally friendly sanitary pad that people are already using as a menstrual hygiene product in Australia.
What was the catalyst to start this social enterprise? I got really inspired by what Chantelle Baxter, the founder of One Girl, was saying. The fact that their sanitary products were biodegradable caught my attention. I got quite interested in sustainable product design and then learning about girls who had nothing to use when they had their periods – that was eye-opening to me! I'd never considered that someone could have their period and not be able to function in society normally because of it.
Did you have any experience in social enterprise before launching your own? I'd run a small business when I was at university, just selling jewellery that I was making at markets and to shops, but it wasn't something that I'd really planned. It was just on the side and was a good introduction into learning how to brand yourself and deal with retailers.
Which charity is Tsuno working with right now? The charity is called One Girl and they're the charity that inspired this whole journey. One Girl was my original motivation, but I've supported the International Women's Development Agency in the past – basically anyone who is working to support women and girls through education that align with my values.
Is this your full-time gig, or do you have another job, too? I pick up extra work if I need a bit of extra cash, but I predominantly do it full-time now. I started working full-time on it about two years in because I needed to focus on it. I couldn't dedicate my time to too many things and the business was kind of suffering because of my inability to focus.
What are some things to consider before jumping into building a social enterprise? The main thing would be: is there a real need for what you're planning to offer? Because one thing that I've found is that people will support an idea once for the 'feel good' factor, but if the product or service isn't needed or good quality, people won't come back and you won't have a sustainable business model.
Also consider really testing the market and not just asking your friends and family whether they think that it's a good idea. Do broader market analysis and surveys because you really need to go beyond your social network to have a business. It starts there but it definitely needs to go beyond that to survive.
Is it possible to make a profit off your products when you're donating a large chunk to charity? The way that my business is set up is that 50 per cent of profits are donated to charity, so if the business isn't making a profit, there's no money to donate. That's how most social enterprises work.
In the first year I didn't make any profit and that was depressing for me. One of the biggest things I've learnt from running a business is that most aren't profitable for a very long time. It's only been the last year and a half that I've been turning a profit. I pay myself less than I would if I were working for someone else but I still earn a wage and cover costs and pay my staff properly. All the things that go into running a business have to be paid first before you can start donating anything to charity, otherwise it won't be sustainable.
You used crowd-funding campaigns to get Tsuno off the ground – is this something you'd recommend other budding entrepreneurs do? Definitely! That tests the market. For me, I couldn't have gone to the bank because they would've said that I have no assets. I really had no other option unless I was going to borrow money from my parents and I didn't want to put pressure on that relationship.
It was a bit of a no-brainer because all I'm investing before launching is my time and planning. I needed to raise $40,000 for the first shipment of pads and if I got that money in any other way I would've been $40,000 in debt and would have had to sell that product to make it back. Instead I was able to see that there was a demand for it – enough demand that I had 1000 customers from the get-go. These customers understand the nature of the business and are part of the journey – they're my best ambassadors! I think it's a no-risk way to get started. When it comes to social enterprise as well, I think it's a really good platform for that because when there's a good cause associated, people are willing to go on that journey with you.
How do you get a social enterprise from a simple idea into a viable business model? Many years of hard work! Strong financial understanding as well – that's something I've had to learn on the go. I had no idea when I first started about most things to do with the financial system and the way tax works. I made some expensive mistakes along the way because I wasn't across it, but I also think if you just start and hit the ground running you'll figure it out and hopefully it will work out for the best.
Getting good advice and making strong relationships with people who are experienced in these areas is also important because you can't do everything on your own.
What are some of the hurdles you've had to overcome? You can never know everything before you get started so I've made some stupid mistakes over the years. For example, I got a quote from a manufacturer in US dollars but I didn't think about the conversion rate, so when I did my crowd-funding in Australian dollars I was about $15,000 short of what I needed. Poor financial literacy and things that I've overlooked have definitely been a hurdle!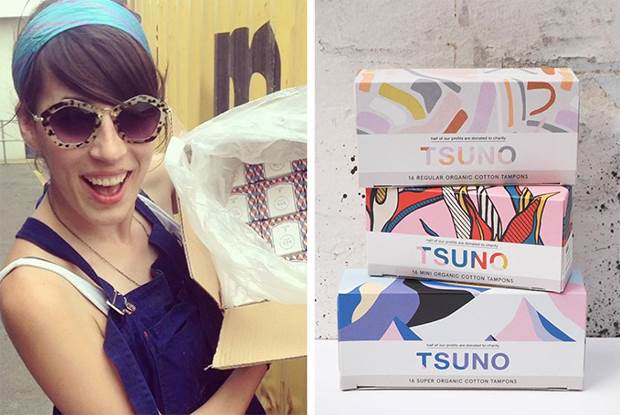 What's the most rewarding part of running Tsuno? Being my own boss and having flexibility to work hard when I want to work hard and relax when I want to relax. Also, I have this opportunity to open up my world to all these new people everywhere! For example, I've set Tsuno up in the UK and I've managed to meet warehouse logistics people in this little town and am connecting with all these local charities who are helping give school girls pads who can't afford them. I'm meeting with distributors in Japan and I just got one in Hong Kong and so it just opens up this opportunity to connect with people that I wouldn't have before.
What's been the most challenging part of running Tsuno? For the first few years the most challenging part was being able to switch off. I've learnt over the last few years how to set boundaries and have a weekend and not be on my laptop at 11pm, working.
I think that's something that most entrepreneurs will go through because you desperately want it to work and you feel like you've got to put in 24 hours a day to make it. Hopefully it gets to the point where you learn to balance it and make it efficient and you know what you're doing enough after a few years to be able to control that a bit more.
Which other local social enterprises do you reckon are doing ace work right now? SisterWorks are a Melbourne-based social enterprise that support asylum seeking and refugee women with setting up their own creative businesses and try to give them that empowerment to generate their own money. They sell lots of craft-based products and give women business training and also a platform for selling. Another one that I like (she started around the same time as me) is called Words With Heart – it's a stationery and printing company that support girl's education. Lauren Shuttleworth started it because she asked, "Where are the empowering notebooks for girls and women?" So she created a brand that started with that idea and then has slowly turned into a printing company.
Check out Tsuno's products over here.