word from the wise: how to make a web series
"Start making things. If you become someone who studies the craft but is never doing it, you'll be a knowledge bank going to waste."
Who among us didn't watch Girls and dream that we could be the world's next Lena Dunham? Well, dream team Jessica Pearce (creator/producer) and Sarah Hickey (director) didn't dream it – they did it. The Melbourne-based duo have created their own female-centred dramedy, Dee-Brief, that comes complete with a heaped teaspoon full of Melbourne's best independent music. We chatted to them to see how to get your words on the small screen.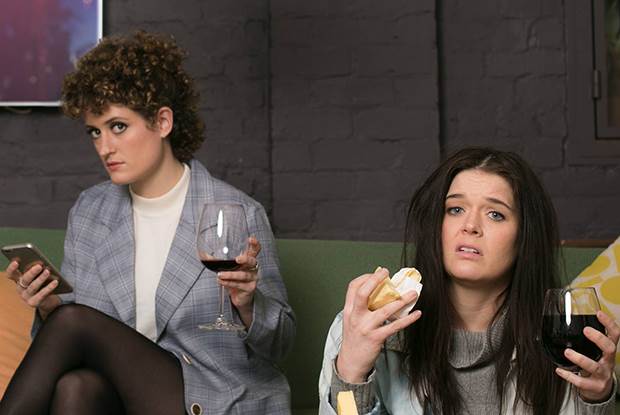 Snap of Dee-Brief lead actors Alexandra Hines and Chloe Martin by Tuscany Gray Photography.
What inspired you to make your own web series? Jess: I'd come out of a relationship, and moved in with my best friend. It had been a pretty tumultuous relationship, and I was reflecting on that time about a year later. I realised that that time was formed by my best friend and what she gave me. It's a love letter to friendships. I was actually a producer working on a feature film, and I just started writing down funny things that were happening in my life. It kept going in and out of the drawer. I worked on it, getting as much advice as I could.
What are the advantages of working as a team on a web series or TV show? Sarah: This project is probably the most collaborative and freeform thing I've worked on, and has ended up being really magical as a result of that. We let go of the script and the strict regimen of "it has to be like this, it has to be like that". Jess: When you have other voices in the room, you may not always agree with them, or it may not be the way you decide to go, but someone might make you think of something else and all of a sudden it's like 'wow'. Everyone else's ideas build off each other's.
Do you think you need formal training in film and TV to make your own web series? Sarah: I think, honestly, just get on set! Start making things. My background is in music, I trained in music, and the best musician I ever was was when I was out gigging and writing and being around other musicians. The best filmmaker I've ever been is the one who gets out there and collaborates with other filmmakers and is making things all the time. If you become someone who studies the craft but is never doing it, you'll be a knowledge bank going to waste. I think throwing yourself in the deep-end is the quickest way to get where you want to go, especially in such a cut-throat industry. Jess: I didn't come from a film background, I came from sales in business, but I've found that all the skills from that and having that work ethic really helpful. I know lots of people who went to uni, or film school, and they've gotten so much out of it and have found it really helpful. There are, of course, little [challenges] for me – sometimes people ask me for things on set and I'm like, "What is that?" Sarah: I am absolutely not wanting to discredit film school. But you can't get complacent just because you have gone to film school. Everything requires action.
What are some of the advantages or disadvantages specific to making a web series? Jess: It's a double-edged sword! Because it's very freeing, you can do things in new ways, but then there's no guide on how to get this right. Obviously, production challenges when you're working on a smaller budget [are a challenge.] It's never fun being the producer and having to tell people no, or ask people to do things for less than we knew they were worth. Sarah: There is a connotation with the words 'web series' that it's a really easy, low-budget thing to make. But it comes down to what bar you set for yourself. So what we essentially made was a feature film in three and a half weeks with high production value. If you were doing that for a funded feature film you'd get a year to do what we did in three months. And people end up lumping what you're doing into this category of "Oh, it's just a web series".
How did you choose the music for the series? Sarah: My background is in music. I got into filmmaking by directing music videos, and I'm a really big advocate for how audio marries with visual. I think it gets under-utilised in the pre-production and filming process. I knew going into the show the songs I wanted to transition with between scenes, which meant that we could design the shots and set the emotional tone for the scenes. The actors would listen to the music before the scene, and sit there with their headphones on and be able to visualise and understand the tone of the scene. Ninety per cent of our soundtrack is Melbourne-based, female-led bands. I think that's pretty incredible – kudos to all the musicians who volunteered their tracks to the series.
Is there anything you wish you'd known prior to undertaking this project? Sarah: I kind of don't – because the mistakes I made through the process are what made the show. Jess: I've been through some really intensive shoots and I think as long as you've got good people around you, it's OK. It was the same with Dee-Brief. Stuff happens, but you always run into someone and have a laugh and keep going – I couldn't imagine doing it differently.
Do you have any other production or web-series-making tips? Sarah: From a production perspective, keeping morale high on a set has to be one of your highest priorities. Looking after your crew, making sure everyone is happy and knows what they need to be doing – and making sure everyone's got the right amount of breaks. If you can't keep that energy up, it will bleed into the show. Jess: I'm big on being a "how person" – how do we fix this, how do we make this happen. Remember at the end of the day you can go home and have a wine and say, "Wow, that sucked," but in the moment try and find a way to fix it.
What are some of the other stories you want to see told on the small screen? Jess: There's definitely going to be more Dee-Brief. But other stories we've talked about, the main thing seems to be highlighting the grey areas in everyday life. How things aren't always clean-cut. Sarah: What I'm really excited to explore is more complex forms of relationships that seem taboo to talk about. There are so many other types of relationships – messy ones – and it's really nice to honestly and openly talk about [them]. The stuff that we do talk more openly about with our friends – why aren't we talking about that on our screens?
Pop over to the Dee-Brief YouTube channel to check out more episodes from the series, then scoot in the direction of the Dee-Breif Facebook page and/or Instagram for all their latest news.