who, what, where, when, why, how with mere women
Mere Women's Amy Wilson gives us the lowdown on post-gig mac and cheese balls and what it's like to have an obsessive personality.
As avid frankie readers will no doubt recall, we first met Mere Women's vocalist and keys player, Amy Wilson, back in issue 73 (ahh, memories). With the band touring their latest album, Big Skies, we thought it high time to check back in on the good lady Wilson and learn a little bit more about what makes the Sydney post-punk band tick. Oh, and if you'd care to catch the group doing their thing in real life, scroll down to have a squiz at their remaining tour dates. In the meantime, pop over to the Mere Women Bandcamp page to pump their tunes into your earholes.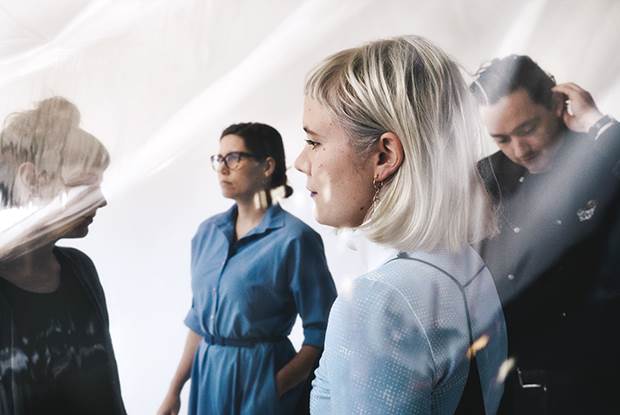 Who's the best cook in the band? Oooh, that's hard. We all cook. Kat's the best vegan cook – she even used to run her own small baking business. Trisch makes native spice blends out of plants she grows in her garden. Flyn is a BBQ king. I can make something delicious out of nothing and am a total dessert queen. Rather than naming who's best I'll just say that with our powers combined we could cook you a damn good meal.
What makes you lose your temper? Mostly people not treating each other with kindness and respect. I see this non-stop on social media. People are so much more hateful when they don't have to say things face to face. I'm always deleting Facebook off my phone to try and escape it, but of course I end up re-downloading it the following day because I'm a weak human.
Where do you like to hang out after a gig? It's nice to debrief somewhere quiet and comfortable after a show. After our Sydney album launch the other night, we went back to Trisch's house, ate mac and cheese balls, and drank whiskey in her kitchen. That's my idea of a post-gig good time.
When was the last time a band or artist has blown your face off? Just the other day. We played with post-punks Wives of Canberra and I love them so much. So dancey and abrasive. They have an album that's been out for a while called Devoted to You, but fingers crossed they've got something new coming soon, too.
Why the name Mere Women? Our guitarist, Flyn, was chatting to a guy about what he had been up to musically since leaving his last band. Flyn mentioned that he had started playing in a band with myself and our drummer, Kat (this was before our bassist, Trisch, joined), and the guy said something along the lines of, "So you're playing in a chick band?" I'd already wanted to have the word "women" in the band name, and when Flyn told us this story, it naturally led us to "Mere Women".
How does your personality come across in your music? I have an obsessive type of personality and sometimes get stuck in seemingly unending cyclical thought patterns. Music is a way for me to work through these obsessions and explore them with a positive outcome. It makes it easier for me to get over shit. Until I find my new obsession…
TOUR DATES:
Friday June 30th – John Curtin, Melbourne
Saturday July 8th – Bloodhound Bar, Brisbane