tunesday – jessica says interview
The Melbourne noir pop artist tells us about her artistic process and life as a psychiatric nurse.
Plenty of musos moonlight as bar staff and the like, but few dedicate their lives to psychiatric nursing. Melbourne songstress Jessica Says tells us a bit about what it's like working in the field of mental health, plus a little about her creative process and how she likes to chill.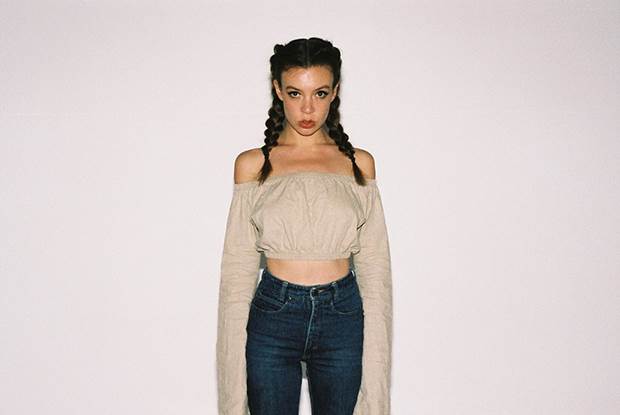 What's your songwriting process? I often start with a theme I'd like to write about; lyrics are my favourite part. I record a lot of ideas on my phone and then record rough versions of the song with keyboard, revising it several times. On miraculous and precious days, the sections of the song marry together as I write them and feel indivisible from each other, like when I wrote "Xanax Baby" - but that's a rare occurrence.
When are you at your most creative? In truth, when I'm working as a nurse. To try to help someone to get through their day when they are facing incredible hardship, that is the ultimate to me. Trying to live is an act of creativity.
Tell us a little bit about your day job. I'm a psychiatric nurse. At the moment I'm working in an outreach team, working with people with a mental illness in the community to help them to stay out of hospital and to achieve their goals. I couldn't ask for a more meaningful job.
Where's your favourite spot to pop your feet up and have a beverage? I like sitting in my living room after a long day at work with a very cold glass of white wine, maybe reading Elena Ferrante or thinking about a crush. When I want to blow my wages, I like going to Siglo and pretending I'm in a movie.
How do you dance when nobody's watching? Like I'm still 15-years-old, bouncing on the trampoline in the garden with Belle and Sebastian playing on my Discman.
If we came around to your place for dinner, what would you cook us? If you eat fish, spaghetti marinara, followed by chocolate and almond cake. And I'd probably ask lots of needy questions about whether the food was OK.
What's your best musical skill? Holding back tears. And shopping like it's my last day on Earth. I'm also trying to work on being a better listener, and on my headstand.
How did your hiatus affect your musical style? I lost my passion for a time, and then I became very busy working with teens for a few years. I became very aware of commercial pop music, and I was reminded of how fierce the relationship is between teens and the music they love – the scouring over lyric booklets, how possessive they are of their pop idols. It revived my love of pop music, and helped me to write with vulnerability again.
Who was your first celebrity crush? River Phoenix in Stand By Me, then River Phoenix in every single one of his films available on VHS at Video Ezy.
Where will we find you five years from now? Trying to finish writing a teen fiction novel, wearing lots of natural fibres and practising radical acceptance. And hopefully much improved at bouldering.
Hop over to Jessica's Bandcamp to have a listen to her new album, Do With Me What U Will.