tunesday – dyson stringer cloher interview
Three of Australia's premier songwriters, Liz Stringer, Mia Dyson and Jen Cloher have joined forces to deliver a musical project that resonates strength and power.
Three of Australia's premier songwriters, Liz Stringer, Mia Dyson and Jen Cloher have joined forces to deliver a musical project that resonates strength and power. The trio are back after a long hiatus, gifting the world their first full length album in celebration of female rock'n'roll. We were lucky enough to catch up with Jen to hear about how the album came together, which you can read about below.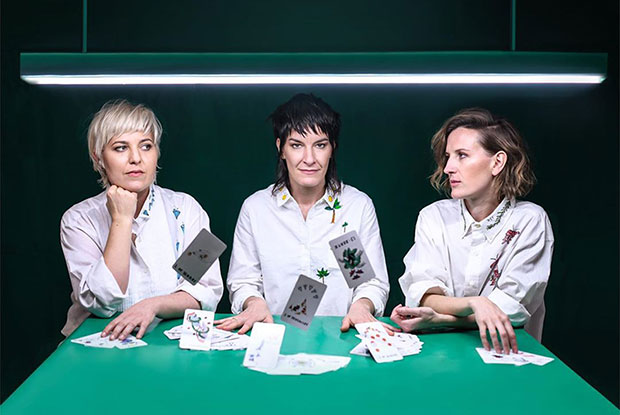 How did you all meet? Mia invited me out as the support on her Parking Lots national tour in 2005. It was the first time I had ever done a big tour and we became fast friends. Liz has played in Mia's touring band in the past and both Mia and Liz have been guest musicians on a couple of my albums. It felt like our paths were destined for a collaborative project like this, so in 2013 I approached them with the idea of an EP and 40-date tour as Dyson Stringer Cloher. That experience sealed the deal and we knew we wanted to make an album together one day. In 2019 the stars aligned – we all had time off our solo projects so we joined up in Chicago to record the album.
You're all accomplished songwriters in your own right. How did you go about collaborating? We all shared duties as far as writing and arranging. In the studio Liz is an absolute gun when it comes to writing harmony parts. Both Mia and Liz are great guitarists – like really great. So I sat back and watched them build beautiful guitar tracks and pull out these inspired solos. I'm a bit of a soup-making genius so I took on a lot of the studio catering. A very important role!
Your song "Falling Clouds" is about underrepresentation of female and gender non-conforming artists in the music industry. Do you feel that the tide is turning in this regard? Definitely. It's been so exciting seeing Australian artists find audiences overseas. At last! It often felt like something that was out of reach for many of us. The tyranny of distance and the expense of touring a band around the world can be prohibitive."Falling Clouds" pays respect to the women and gender non-conforming artists that came before us, artists that didn't have the same opportunities that we are seeing now. We owe a lot to them for paving the way.
What's your secret talent? I love to cook and garden. Watching things grow that I can then enjoy eating is one of the great pleasures of a food lover's life. I recently grew my first cauliflower. It was a real moment watching them appear as little baby heads and then growing into these beauties.
What's your ideal Sunday arvo? Pottering in the garden. Making soup. Or heading down to the local pub for a veggie roast with mates.
What would you tell your 20-year-old self? You're enough. Approve of yourself. Take the time to really appreciate and see what is lovable and valuable about you. Cultivate your talents whatever they might be. Never give up and take comfort in the fact that things can change and get better.
Who are you listening to at the moment? I'm on tour with Tiny Ruins, a truly great folk-pop band from Auckland. I get to listen to them every night playing in these beautiful country halls. We spend the day driving through the most breathtaking scenery and then arrive at venues where people take care of you. Special stuff.
What can we expect from your upcoming album? I think the beauty of this album is that we made it at the end of winter in Wilco's amazing recording studio, The Loft, in Chicago. Having the opportunity to focus entirely on recording and arranging and little else was a rare privilege. I like to think you can hear how much we enjoyed the process of making this record. Nothing else really matters in the end.
Do you have any advice for up-and-coming artists? Be yourself. And that doesn't mean you can't be theatrical or create an alter ego but draw it from your imagination. There's only one you and there's nothing more exciting than watching someone do what only they can do.
Catch the band on tour this November. More details here.

Thursday 7th, Lansdowne Sydney
Friday 8th, Lizottes Newcastle
Saturday 9th, The Zoo Brisbane
Thursday 14th, Howler Melbourne
Friday 15th, Theatre Royal Castlemaine