tunesday – 10 things to do before i die with jade mcinally
Jade Imagine frontlady Jade McInally told us her bucket list. (It involves a ball pit.)
Singer-songwriter Jade McInally fronts Melbourne four-piece band Jade Imagine, as well as playing tunes (previously) with Teeth & Tongue and (currently) with Jess Ribeiro. We asked her what else she wants to get up to before she shuffles off this mortal coil.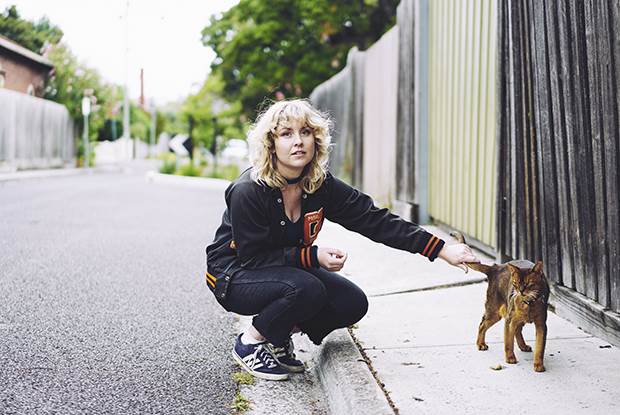 1. Buy a houseboat, live on it, and travel the whole world by sea. Ever seen Crystal Voyager? It's a documentary about a Californian surfer named George Greenough who builds and lives on a boat. You'll get my drift (pun intended) after watching that.
2. Make an album with Ty Segall. Or play a show together. I'm probably not cool enough to do either of those things… but this is what this list is about, right? Dare to dream, guys.
3. Do my bit to conserve the natural world. Adopt a bunch of orphaned animals and live on a farm. Grow veggies. Get weird(er).
4. Spend time in the south of France. I studied French at university and I haven't really practiced it since, as I've been living in Australia and am dreadfully lazy when it comes to practicing anything.
5. Go on an artist's residency. This one feels like the most relevant to my life right now, and I feel that I could (and should) spend an extended amount of time in exile, writing and working on my musical craft. Preferably in a place with a fairly different climate to Australia. Somewhere cold, maybe Alaska.
6. Do a massage course. I strongly believe I could be a great masseuse, and I'm really fascinated by the human anatomy and how the body works. All those tendons, muscles, veins, ligaments, bones... I like the idea of helping people feel better. So simple and tangible. (Most of my work, like writing music, is intangible.)
7. Play Meredith Music Festival. OK, so I've actually already played Meredith twice with two other bands I play with (Teeth & Tongue and Jess Ribeiro). But I would LOVE to do a Jade Imagine set one day. Just wanted to put that out there.
8. Reinvent myself at least seven more times. David Bowie was The Man. I think reinvention is so exciting. I don't just want to play the music I play now. I want to make a meditation album, a metal album, a full throttle pop hits album. I want to paint and take portrait photographs. My idols are people who not only make music, but also do visual art, write books, etc. They don't limit themselves to one art form.
9. Surprise Mum and Dad with plane tickets for a round-the-world trip. When they retire I reckon they'd love a little adventure. Plus, they deserve it.
10. Create my very own ball pit. They used to have this family restaurant where I grew up and there was a whole room filled with little colourful plastic balls that you could lie in like a swimming pool. I have this weird obsession with trying to recreate that in my own home. That will be my legacy.
TOUR DATES:
Friday April 28th – Polyester Records, Melbourne (free show)
Saturday May 6th – Corner Hotel, Melbourne (supporting Cash Savage)
Friday May 12th – The Tote, Melbourne (supporting Rolling Blackouts Coastal Fever)
Friday May 19th – The Gasometer Hotel, Melbourne
Thursday May 25th – The End, Brisbane
Saturday May 27th – Golden Age Cinema & Bar, Sydney