the art of the natural home recipe and book giveaway
Find out how to make two kinds of floral hot chocolate, and nab a copy of The Art of the Natural Home for nix.
The Art of the Natural Home by Rebecca Sullivan is a handy (and pretty) guide to making all manner of natural goodies for your abode – from cleaning sprays to scrummy recipes to DIY beauty products. Scroll down to take a peek at Rebecca's floral hot chocolate recipe, straight from the pages of The Art of the Natural Home, then pop through your details to win one of the five copies of the book we have to give away.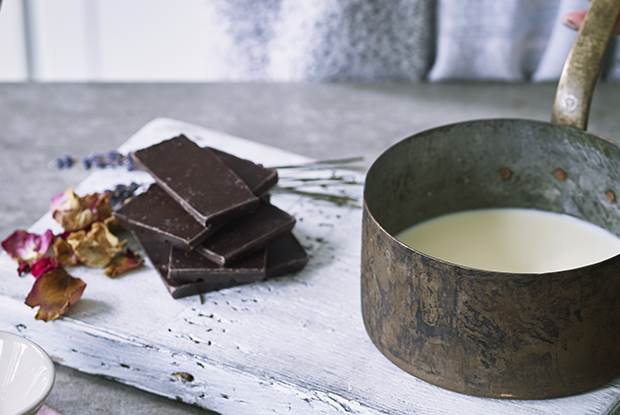 FLORAL HOT CHOCOLATE
These two hot chocolates are my favourite of a pretty bunch. You can very easily use the base recipe and play around with different herbs and edible flowers. Another nice alternative is to switch the dark chocolate for white chocolate – just use half the amount and no honey as it tends to be sweet in itself.
ROSE AND CARDAMON
SERVES TWO
250ml whole milk
250ml pouring cream
150g dark chocolate (70 per cent is best)
1–2 teaspoons cardamom pods, crushed
2 teaspoons rose water
1 tablespoon honey (optional)
1 tablespoon dried rose petals to decorate
Put all the ingredients except the rose petals into a small pan and heat slowly until the chocolate melts completely. Don't let the milk boil. Strain out the seeds and serve with petals as decoration.
SAGE AND LAVENDER
Follow the recipe above but use 1 sprig of sage leaves and half a teaspoon of culinary lavender in place of the cardamom and rose water. Strain out the herbs and serve with a fresh sprig of sage and lavender.
Tip: Try orange blossom water, cloves and star anise – or a fresh chilli split down the middle for those that like their chocolate with a bit of a kick.