sleater-kinney interview
Sometimes life doles out opportunities that make your ticker stand still (but in a very good way).
Sometimes life doles out opportunities that make your ticker stand still (but in a very good way). Meeting Corin Tucker, Carrie Brownstein and Janet Weiss – the ladies from seminal rock band, Sleater-Kinney – was one such moment for our lovely competition winner, Courtney Jackson.

Popping backstage at one of their Melbourne shows last week, Courtney had a chit-chat with the group and threw a few questions their way. Have a read of the conversation below, then try not turn an emerald shade of green.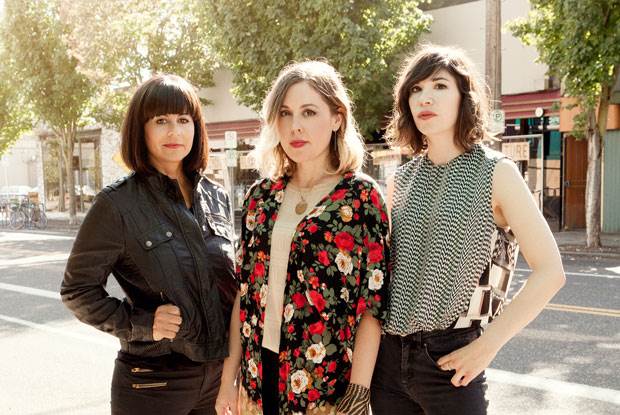 When and where do you feel the most creative? Corin Tucker: I think one of the strengths of this band is that we have a lot of different strategies for being creative. We challenge each other to come up with song ideas and are always rethinking songs to make them the best they can be. One of the great strengths of the band is the chemistry we have, so when we do actually jam together we often just fall upon something that is really cool. Carrie Brownstein: I think there is a fair bit of life you have to lead to be creative – you can't always be entrenched in work. It's good to take breaks and bring in ideas from things like literature, visual art and nature.

What was the hardest part about putting the new record together? CB: I think we are very self-critical and have a legacy that we want to live up to. We didn't want to tarnish it; we wanted to make sure the album lived up to our standards and didn't sound like our previous albums. We have such an innate chemistry that sometimes it's easy to fall back on something that is familiar, but we wanted to push past that so we had to discard a lot of early ideas. There was kind of a lengthy editing process.

Are there any new skills that you've picked up during your break from Sleater-Kinney? CB: I feel like creating a television show is a skill that I didn't have before! That was an accomplishment that involved its own set of rules, its own learning curve, and was a new form of collaboration. CT: I feel like that actually really helped us. Any collaboration you do, you grow as a person and develop more skills that are really useful in being in a band. With this album, because we did really want to do a lot of editing and rewriting, I feel like that's one of the strengths we developed. Any kind of attachments, any kind of ego that could previously have gotten in the way when dropping a song, this time around it was a lot more logical and simplistic.

Who have you never met but would love to? CT: Bruce Springsteen. CB: There's this guy named Steven Pinker, he's a linguist and I really like his writing. Sherry Turkle is another – she's a sociologist who would be interesting to meet. CT: Oh, and Madonna. CB: Yeah, Madonna!

What's the weirdest thing a fan has given/sent to you? CB: You were getting lottery tickets for a while. CT: It was every week in an envelope. I never checked them. I didn't even have a TV at the time! It was so weird. CB: Sometimes people throw bras up on stage. CT: Yeah, every once in a while we're like, "Yeah, we got a bra today!" But sometimes it's really nice things like flowers or cards. CB: People do really nice things like illustrations, and they tag us on social media. There are so many mediums for fan art now. CT: Somebody did a cross stitch from Europe – that was amazing.

What is your dream venue or festival to play at and why? CT: I guess there's a part of me that would still like to play Carnegie Hall, but I don't feel a lack of accolades for this band – I don't really feel like a venue gives you that. Our relationship with our fans is really unique, so that's what it's really about to me. It doesn't really matter what the venue is like.