melbourne international film festival picks and ticket giveaway
If you're the kind of lass or lad who finds decision-making a bit of a struggle, the 300-odd flicks on this year's MIFF program might have you a wee bit overwhelmed.
The Melbourne International Film Festival is a pretty great time to be in Melbourne, what with the scent of buttered popcorn floating in the air, an endless buzz around the city and an excuse to spend day after day indulging in an extended movie marathon. Vitamin D is overrated, don't you think? If you're the kind of lass or lad who finds decision-making a bit of a struggle though, the 300-odd flicks on this year's program might have you a wee bit overwhelmed. To help us navigate through all the gems, we got in touch with MIFF's Artistic Director Michelle Carey, who has given us a rundown of some of her top picks.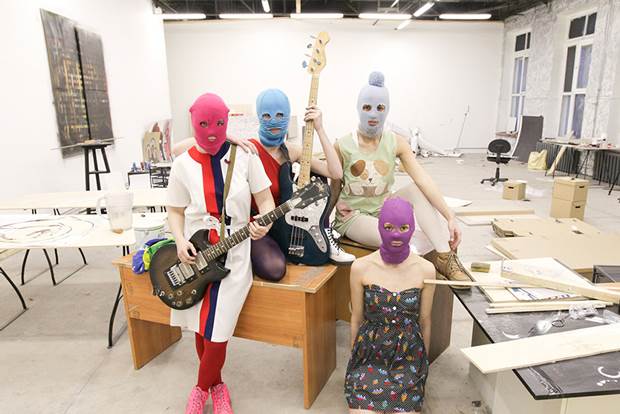 Films for learning about another culture:
In Bloom – A beautiful tale of two girls in '90s Georgia – the elongated scene at the dance is breathtaking.
Aim High in Creation! - Australian filmmaker Anna Broinowski goes to North Korea to find out more about their filmmaking.
Wadjda – In Saudi Arabia, a little girl wants a bike. Like in all great films, this simple premise opens up a whole world to international eyes, who may not have seen a film shot in Riyadh before.

Films to see on a first date:
Harana – A documentary about the traditional Filipino art of courtship, where men sing a song under a woman's window.
Blancanieves – A silent, black and white and very Spanish retelling of the Snow White story.
Somebody Up There Likes Me – A lo-fi American indie charmer that follows the stages of life (birth, dating, marriage, children) in a young man who remarkably doesn't age over the film's 35-year plot span.

Films to witness the strength of women:
Free Angela and All Political Prisoners – A timely doc about the American political activist, featuring terrific footage and in-depth interviews with Angela Davis today.
Pussy Riot: A Punk Prayer – This in-depth documentary covers everything about the Rioters without diminishing the movement's mystery. The footage in the court room is particularly stirring.
Ginger and Rosa – Intense and heart-breaking, Sally Potter's new film tells the story of two best friends coming of age in the politicised England of the 1960s.

Films to give your brain a break:
Oh Boy – Laidback and relaxing, we follow a day in the life of a young man, aimlessly drifting around Berlin and encountering a wondrous array of charming and strange city-dwellers.
Macaroni and Cheese - Sophie Letourneur is an exciting young French filmmaker very much influenced by Lena Dunham's Girls and HBO TV, and this is a fun, flirty girls-own adventure set in the Locarno Film Festival.
Mistaken for Strangers – The National engage lead singer Matt Berninger's slacker brother Tom as a roadie on their world tour, and unwittingly become the subject of his film.

Films to inspire you creatively:
The Punk Singer – Portrait of Bikini Kill / Le Tigre singer and '90s riot grrl icon Kathleen Hanna. Forever inspiring, and what an amazing story.
Cutie and the Boxer – An eccentric Japanese artist couple struggle to make a living through their art in Brooklyn, after having been so successful back home decades earlier. Their creative determination triumphs.
Helio Oiticica – Kaleidoscopic and colourful, this is a terrific introduction to the life and work of the Brazilian tropicalia artist

We have five double passes to give away to see Macaroni and Cheese, on July 26th or July 28th. If you have a hankering for a choctop and some fine filmic entertainment, shoot us an email here with your name and address, and don't forget to tell us which of the three screenings you'd like to attend. MIFF runs from July 25th to August 11th, and you can check out the full program on the official website.