make a yummy vegan trifle with hayley richards
A dessert you can have for breakfast? Count us in. 

Hayley Richards wasn't looking to start her own business. She just made a cake for a friend's birthday. But her choc banana creation proved such a hit that the Adelaide local decided to start selling cakes and "see what might come of it". As it turns out, that's been a lot.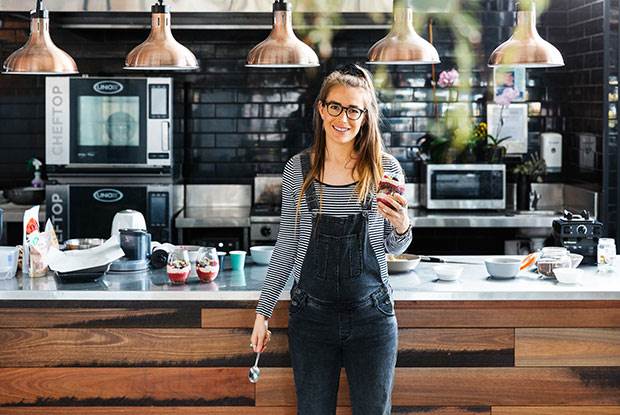 Now a qualified nutritionist and the proud founder of Raw Karma – a raw food business specialising in vegan desserts – the Endeavour College grad has published a recipe e-book (Raw Karma Stripped), appeared on the telly, and built up a sizeable social media following of healthy dessert lovers. "People often think of vegan cooking as just boiling up a bunch of veggies," Hayley says. "I love showing that it can be healthy, look attractive and taste delicious."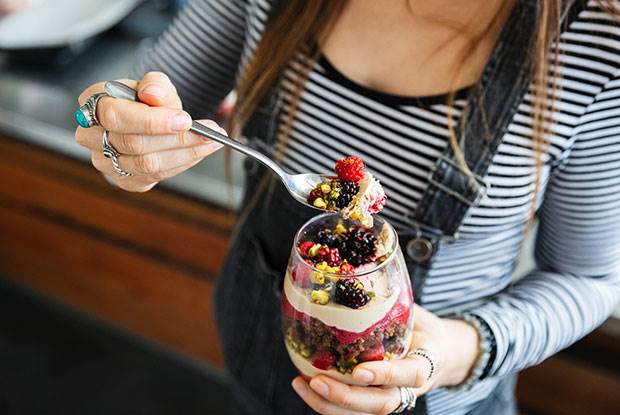 Just like this yummo recipe that Hayley's been nice enough to share:
HAYLEY'S BERRIES & CREAM TRIFLE
EQUIPMENT:
stovetop or kettle
blender
food processor
4-6 serving glasses
INGREDIENTS:
3-4 cups mixed berries
¾ cup chopped pistachios
For the berry chia jam:
2 cups strawberries or raspberries
3 tbsp chia seeds
3 tbsp water
1 tbsp liquid sweetener of choice (I use coconut nectar)
For the vanilla cashew cream:
2 cups soaked cashews
½ cup warm water
1/3 cup sweetener (e.g. Coconut nectar)
½ tsp vanilla extract
½ cup melted coconut oil
For the biscuit:
2 cups raw almonds
4 tbsp cacao powder
15 pitted medjool dates
pinch of salt


METHOD:

1. Start by blending all of the chia jam ingredients together until smooth, then place in a jar in the refrigerator for 1-hour minimum.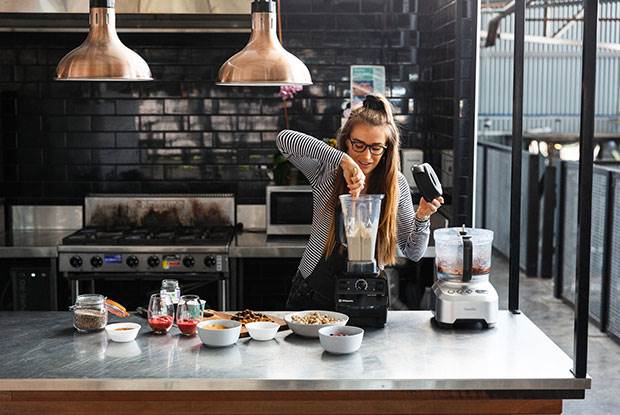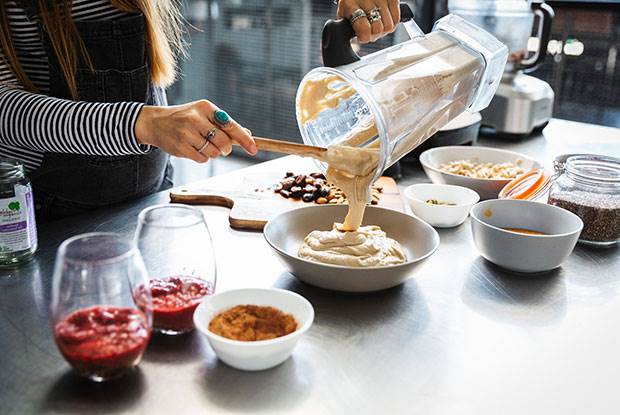 2. Blend all of the cashew cream ingredients together until smooth and also set aside in the fridge for an hour (don't leave for too long as the cream will harden).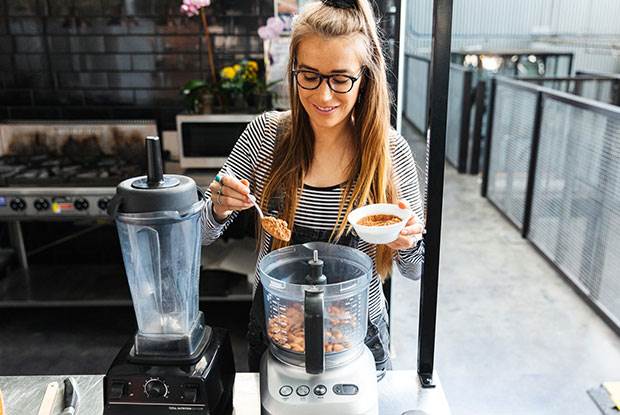 3. For the biscuit layer, blitz all ingredients except the medjool dates for 15 seconds in a food processor, and then add the dates until a textured mixture is formed. Don't over-blend.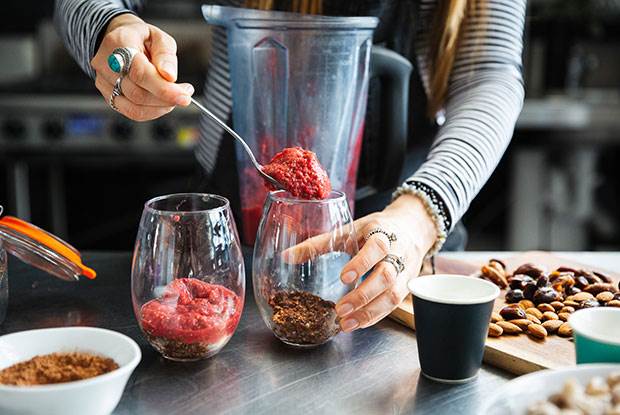 4. After an hour of the jam and 'cream' setting in the fridge, use either 6 small serving glasses/jars or one large trifle dish to layer the ingredients.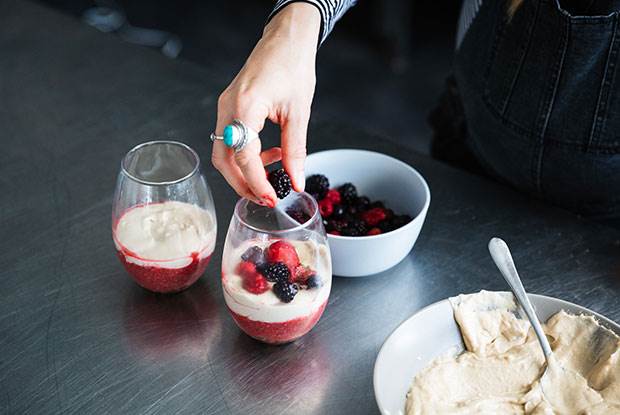 5. Start by layering the 'biscuit' at the base, followed by a layer of chia jam, then the 'cream', then mixed berries and pistachios and repeat the layers 1-2 times until the ingredients are used. Finish with a layer of berries and pistachios on top.
While Hayley's always had a passion for food and health, her route to queen of the raw food dessert scene wasn't exactly direct. Not too sure what she wanted to do after finishing school, she spent a few years dabbling at different things before coming across a new Bachelor in Health Science degree at Endeavour College's Adelaide campus.
"The course's holistic approach to health, nutrition and lifestyle instantly appealed to me," Hayley remembers. "We learnt a lot about different illnesses and how there's no one-size-fits-all rule when it comes to achieving optimal health. Everyone needs to be treated as an individual."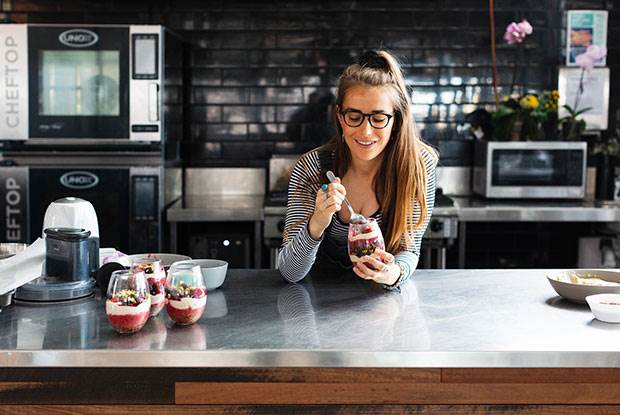 Fortunately for Hayley and her business, the college's personal approach to natural health also applied to learning. When she started looking at taking time off to focus on Raw Karma, Hayley found Endeavour super-supportive: "It's not like going to uni where you're just a number. The college understands that people have lives and jobs outside of study. You can really go at your own pace."
Almost four years on from graduating, Hayley's taken a step back from the catering side of things and is taking her yummy business into new areas. She teaches cooking classes, speaks at personal development programs and is well into social media marketing, creating digital content for health food brands that share her passion for healthy, tasty, animal-friendly eating.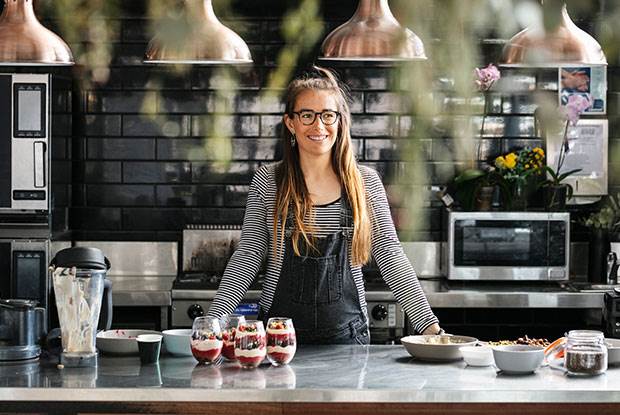 Hayley reckons that bringing plant-based foods to a broader audience doesn't only mean positive health benefits for her customers; it's also kinder to animals and the environment. Mainly, though, her favourite thing about her business is that it's hers. "I love that Raw Karma is something that feels true to me," she says. "It's very satisfying knowing that I created it with my heart and soul. We all have our little talents and gifts. It's often only a matter of figuring out what they are and how we can share them with the world."
This lovely vegan recipe and interesting chat was brought to you by our friends at Endeavour College of Natural Health. They offer all sorts of bachelor degrees in natural health, and encourage hands-on experience with their campus teaching clinic. Find out more about Endeavour over here and see some of Hayley's cool stuff at Raw Karma.