how to be a sustainable renter
You may not own your home, but you can still make it a little better for the planet.

This article is brought to you by 'school of frankie', our super-duper educational guide to nailing life's tricky parts. Together with Bank Australia, we want to help you do all the "adult" stuff you wish you'd learned in school.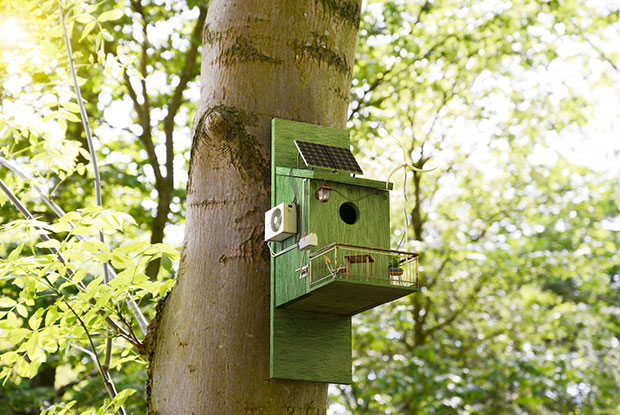 Renting is tough at the best of times. Pesky housemates, pesky landlords, pesky huntsmen in the shower. Just all-round high levels of peskiness. But renting sustainably is extra tricky. Especially since, as a renter, you're not really allowed to install wind turbines on your roof or convert the back patio into a solar-powered worm farm.
So, how can you rent and live in an eco-friendly manner? Turns out there are a few simple things you can do to save the planet – and save moolah at the same time.
WATER, WATER EVERYWHERE Given the world doesn't have a permanent source of clean water, and we're doing a pretty good job of polluting what we do have, being smart with the wet stuff is an effective way to reduce your rental footprint. Start with a water-efficient shower head, which will generally use about 40 per cent less aqua-gold than your standard nozzle. The laws are a bit iffy on whether or not you need your landlord's OK to make the swap, so hang onto the old shower fixture, just in case. Getting a new shower head is pretty easy, though: most hardware stores stock a handy water-saver range.
STOP THE DRAUGHT Remember those heavy fabric slug things your parents probably had on the floor? Turns out they were 'draught extruders', and if your landlord hasn't sprung for double-glazed windows, they're a handy first step to heat-proofing your home. (After all, home heating and cooling are major contributors to household greenhouse gas emissions and, as a result, global warming.) Also useful are door strips and draught tape, both of which can be used to seal up cracks and gaps that let chilly breezes in. Keep the doors closed in heated rooms, and don't run the split system any more than necessary. If in doubt, a woolly jumper works wonders.
SEE THE LIGHT Apparently, dimming your lights will make your rented home 20 per cent more sustainable and 20 per cent more sensual (actual levels of sustainability and sensuality may vary – consult your local lighting expert). If you can, opt for natural lighting, but otherwise, leave the ceiling lights off and switch to lamps instead. Choose energy efficient light bulbs, like LEDs and CFLs instead of halogen globes – basically, the higher the wattage, the higher the energy usage and running costs. You can smash hundreds of bucks off your power bill each year by making the right choices, and the environment will thank you for it. It's also worth choosing an energy provider you agree with on an ethical level, so your power usage is not only as green as possible, but contributes to eco-friendly activities like funding renewable energy projects. (The Green Electricity Guide has a handy, unbiased, state-based ranking.)
GROW YOUR OWN Heard of sustainable permaculture? It's a movement that basically teaches you to grow oodles of food, including in some very small spaces, like balconies, rooftops or courtyards. Imagine a veggie patch on steroids, where dozens of species grow over and under one another, fertilising and feeding and generally having a blast. It's a super-efficient technique, and anyone can do it – we've even heard stories of 70-kilo veggie harvests from inner-city balconies. If your rental really doesn't have any suitable space, grab a trowel and snuffle around for a local community garden.
AVOID FOOD WASTE Experts reckon nearly half our household garbage is made up of perfectly useful food waste. It might not be much good for eating, but it's probably great for compost. Renters don't often have tonnes of space for compost bins, but companies like Bokashi and Urban Composter have developed amazing (non-smelly) indoor varieties that are way less gross than they sound. Egg shells, veggie peels, old teabags – you're sitting on a biodegradable goldmine.
KEEP YOUR MONEY CLEAN It doesn't matter whether you own a house or not – it's easy for renters to make sure their money is being kept and managed in a sustainable way. Check your bank's sustainability record, and if it's not up to snuff, move your money elsewhere. There are a bunch of independent not-for-profits that track where banks lend their money. (Websites like marketforces.org.au and dontbankonthebomb.com are a good place to start.) You could also consider sustainable subscription services that roughly measure your environmental impact, then offset your footprint by planting trees all over the world (for a small monthly fee). No muss, no fuss.
PROD YOUR LANDLORD Not literally – that would be weird. But it's totally OK to contact your landlord or agent with suggestions for making your home more sustainable. Certain state government bodies are trying to enforce minimum sustainable standards for rental properties, but until they get there, it's up to us. At the very minimum, ask to fix running toilets and old-school shower heads – that can save thousands of litres of water each year. Also, if your landlord is replacing an appliance like a washing machine or oven, they're now legally obliged to pick an energy-efficient model. If your new dishwasher was made before you were… contact your agent immediately.
This eco-focused guide was created in partnership with Bank Australia – a customer-owned bank creating a positive impact for people and the planet by investing in not-for-profits and renewable energy projects. Find out more about the 'clean money' movement and Bank Australia's commitment to doing good for the world over here.