frankie's guide to books that take you places
They can't deposit you onto a Bali beach or gently waft Parisian perfumes into your schnoz, but books can still take you on vivid journeys. Bonus: no need to renew your passport, and no pesky shots.
Usually around this time of year, I'm desperate for a holiday. Like Mary Poppins' spoonful of sugar, a change of scene would make the daily grind way more palatable. Deep in these No-Long-Weekend Wilds, time seems to stretch out miserably until Cup Day or even Christmas, with nothing to look forward to but the same old same.

There's a solution that won't break the bank or require endless planning: books. Although they seem to just be bound pieces of paper covered in inky symbols, they're also secretly transportation devices. Sure, they can't deposit you onto a Bali beach or gently waft Parisian perfumes into your schnoz, but they can still take you on vivid journeys. Bonus: no need to renew your passport, and no pesky shots.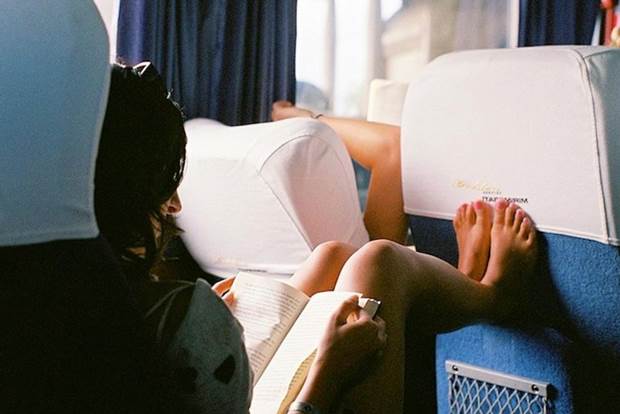 You could start close to home: Robyn Davidson's memoir Tracks, which was made into a movie starring Mia Wasikowska, is adventure incarnate. When she was 26, Davidson decided to trek from Alice Springs to the ocean with no one but a trio of tetchy camels and her best canine friend, Diggity, for company. Everything she encounters is new: the alternately harsh and breathtaking tableaus of Australian land she traverses, and the people she meets along the way. I doubt I'd be intrepid enough to make the same journey (the bit at the beginning where she has to constantly pick up camel shit is very special), so the book is probably the closest I'll get.

If Davidson is any kind of example, Australians are pretty good at getting around. Another such traveller is Lily Brett, an Australian who lives in New York, and her collection of essays on her adopted home, Only in New York, contains funny and intimate observations that could only be made by a resident. For example, instead of devoting pages to any of the Big Apple's celebrated restaurants, she dedicates a full essay to her favourite haunt, a little Japanese café called Hiroko's Place, where the food is apparently not that great and the service is spotty. At first this is a bit confusing, but as Brett introduces Hiroko's kind, caring staff, you realise it would be a dream to have your own little homey retreat among the skyscrapers.

Food is as good a reason to travel as any – maybe the best, actually – and Bill Buford made like Odysseus when he decided to quit his job as an editor at The New Yorker so he could master Italian cooking. As you can tell from his memoir, Heat, Bill is not the kind of guy who faffs around, so he goes straight to the source: Italy. Poking around tiny towns in search of nonnas who will show him their pasta-making secrets, and learning how to butcher his own animals for meat, Buford comes across more than just classic food wisdom – the personalities he finds in far-flung corners of Italy are magnetic. (My favourite: the butcher who incessantly quotes Dante.) Secure a serious hoard of cheese, wine and salume to devour while reading, and it's basically like you're in Tuscany.

If you're more of a chill-holiday person, Mariko and Jillian Tamaki's gorgeous but sad graphic novel This One Summer might fit the bill. Rose and her family are on their yearly holiday to Awago Beach, but it's all upended when she realises her parents are on the brink of divorce. This slow coming-of-age story is full of trips to the video store to get the scariest movies, fistfuls of lollies, and ocean games. It perfectly captures the sluggish mood of small-town beaches and the way the tiniest events can seem huge in your youth.

What about places that are almost impossible to experience firsthand – like, say, North Korea? Suki Kim, who grew up in South Korea, found her way into the north as a teacher at the Pyongyang University of Science and Technology. In her memoir, Without You There Is No Us, Kim explains just how circumscribed her students' lives are: no internet, no news, no letters or email from the outside. Her charges inquire avidly about her own life in the West, which makes things awkward, because she's strictly forbidden to discuss what Westerners really think about North Korea or concepts like religion and freedom. Kim feels the acute strain of constantly having to evade and lie, and of being hawkishly monitored for evidence of rule-breaking, but becomes very fond of the young men she teaches and gives them her best efforts. Such a detailed account of modern-day North Korea is incredibly rare, and it's fascinating.

People like Kim, who write about places they're trying to understand, bring curiosity and purpose to their observations. Add to this the sense of connection that Michael Ondaatje felt with his homeland of Sri Lanka, which he left at age 11, and you get the vivid "fictional memoir" – which means it's a bit made up, and a bit based on the truth – Running in the Family. Ondaatje's family were cosmopolitan oddballs, whose lives he realised he didn't know much about, so as an adult he returned to Sri Lanka on a quest to find out more. Anecdote by anecdote, he conjures a portrait of ancestors whose parties were as wild as Gatsby's, and whose personal relationships were also as fraught as anything you'd find in F. Scott Fitzgerald. Well worth its cover price, this book not only conveys you to another country, but also takes you back in time.

Look, I'll admit it: reading a book isn't exactly the same as hopping on a plane or stumbling around an unknown place yourself. But I can't help but identify with Charlotte Brontë's heroine Jane Eyre – as a child, one of her favourite books is Gulliver's Travels, because of its magical descriptions of fantasy lands. Not only is she drawn to these places' newness and strangeness, but their wonders take her away from everyday drudgery, a disapproving aunt and bratty cousins. Lil Jane could never have conceived of air travel, but the pleasures of a book had her on the wing anyway. Bon voyage!