frankie exclusive recipe: fancy mushroom toast
Can't be bothered heading out? Here's a fancy cafe-style toast to whip up from the comfort of your own home.
Want to indulge in a hearty brunch but can't be bothered leaving the house? Our friends at Fourside Events have thought up a fancy mushroom toast you can easily whip up in the comfort of your pjs.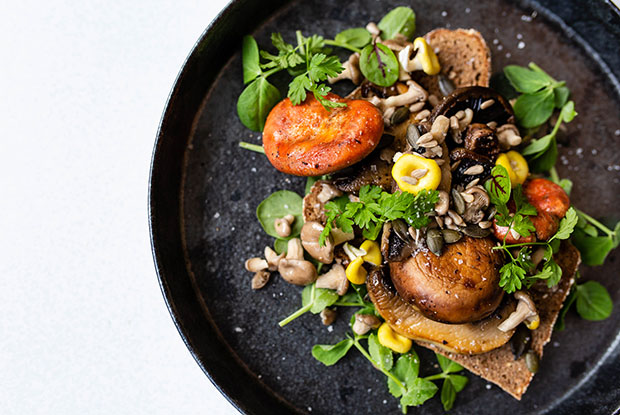 Photos by Ksenia Belova

TIME
20 minutes
SERVES
4 people

INGREDIENTS
100 grams slippery jack mushrooms
100 grams pine mushrooms
80 grams shimeji mushrooms or 80 grams oyster mushrooms (or both if you like)
rye bread
1 bunch watercress
1/2 bunch chervil sprigs
50 grams pumpkin seeds
50 grams sunflower seeds
20 grams black sesame seeds
olive oil
white wine vinegar
sea salt
*Note: Swiss brown mushrooms or field mushrooms can replace slippery jacks and pine mushrooms when out of season.
METHOD
1. Clean the slippery jacks and pine mushrooms of any soil or hay using a light brush.

2. Keep all the mushrooms whole but cut the base off the shimeji mushrooms if needed.

3. Using a non-stick pan, toast the pumpkin and sunflower seeds until they're slightly golden and add the sesame seeds when the heat is turned off.

4. Put the shimeji and oyster mushrooms together in a bowl. Splash them with a good amount of olive oil and white wine vinegar, and sprinkle with sea salt and pepper. Leave to pickle for five minutes.

5. Slice the rye bread as thin as possible and lightly toast.

6. Grease your pan with olive oil. Cook the slippery jacks and pine mushrooms whole for two to three minutes. Season to taste.

7. Arrange your slices of toast on a plate. Place watercress and the cooked mushrooms on top, then the pickled mushrooms, and finally a sprinkling of toasted seeds and chervil sprigs. Drizzle with olive oil and sea salt.