five questionable retro cookbooks
Here are five retro cookbooks that make the world a more wonderful (if more confusing) place.
According to today's cookbooks, casually scattered serving spoons and half-eaten dishes of food look artful, wholesome, inviting. In my kitchen, they look like what they are: mess.

How to escape this tyranny of contemporary culinary perfection? Simple – pretend it's the 1950s (or 1970, at a stretch). What a time to be alive: we could eat bread! There were rivers of mayonnaise! We could make dinners look like tiny art installations by decorating them with orange segments and jelly!

Here are five retro cookbooks that make the world a more wonderful (if more confusing) place.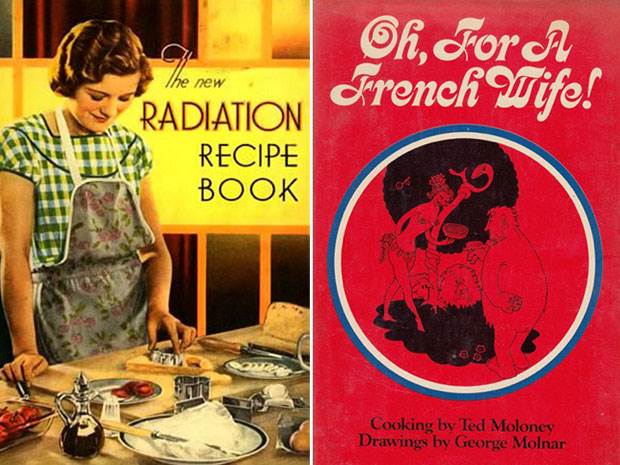 The New Radiation Recipe Book

Not as alarming as it sounds – 'radiation' refers not to death rays, but to the 'radiant heat' from New World gas cookers made by a company called Radiation Limited (a bold marketing move). They published umpteen editions of this book between 1927 and 1970. If you have a gas cooker, you too can experience the delicious taste of radiation – with the added bonus of not killing yourself or those you're cooking for – and give these recipes a red-hot go, as it were. Highlights include Surprise Potatoes (the surprise being that the only ingredients are potatoes and sausage) and Baked Heart.

Oh! For a French Wife

Don't know about you, but I've always felt my life would be vastly improved if I had a French wife. So too did Sydney socialite Ted Moloney, who penned this collection of classic French-inspired recipes in 1953. In fact, he appears to have had four French wives, which is frankly greedy, but he got his comeuppance – by 1959 he'd released another book called Cooking for Bachelors. Dubious gender politics aside, Ted could teach today's cookbook authors and their casual-rustic-chic a thing or two. "Rehearsal! Rehearsal!" he insists. "It's the secret of success with any recipe." Right on, Ted.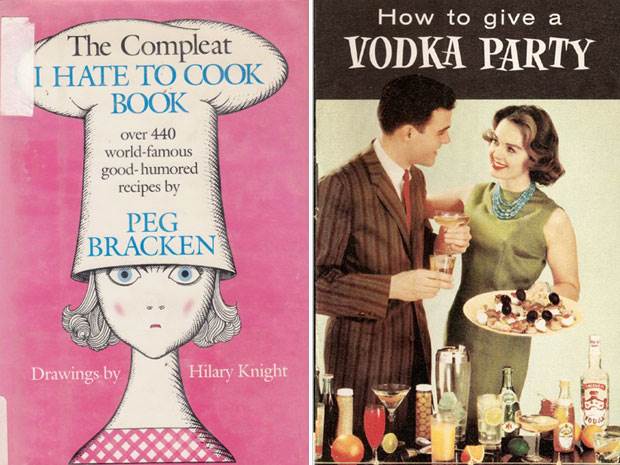 The Compleat I Hate to Cook Book

Do you hate to cook? So did Peg Bracken. She hated cooking so much that she wrote a whole book about it. A book of recipes. A cookbook. Wait, what? In Peg's defence, when she wrote this in 1960, an American woman who wasn't practically chained to her stove was either under 12, dead or the president's wife. Peg has no illusions about the drudgery of what she calls "big fat cookbooks" ("they contain too many recipes"), and her no-nonsense volume features refreshingly photo-free chapters with heartening names like Last Minute Suppers, Or This is the Story of Your Life.

How to Give a Vodka Party

'Why don't you give a Vodka Party?" asks this 1959 pamphlet published by, uh, Smirnoff Vodka. Look, they're very persuasive: "It's fun! It's smart! It's different! Socialites and movie stars began it. And now Vodka Parties are being given by clever people… everywhere." Are you a clever person? You'll certainly feel extremely clever after working your way through these 23 cocktail recipes. Thankfully, you can soak up the alcohol by preparing some of the pamphlet's finger food suggestions, which include Broiled Anchovies and Chafing Dish Meat Balls. Hey, it all tastes good after several litres of Russia's finest.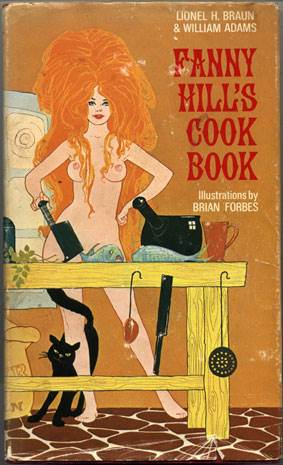 The Fanny Hill Cook Book

Lionel H Braun and William Abrams know exactly how you can put the climax back into your cooking. They were inspired by a 19th century erotic novel (I think we can all spot the connection between erotic literature and meal preparation), and their recipes – complete with illustrations that leave absolutely nothing to the imagination – include Hot Bitch in a Blanket ("next time you want to wag a little tail and put something long and hot in an oven, do it dog fashion"), Cunnilinguini, Cheesed Balls and Fellatio Mignon, which requires "your own long-handled poker or spear". Dinnertime will never be the same.