word from the wise: how to throw a pretty party
"A party doesn't need to be elaborate to be joyful; it needs to be a really true expression of who you are."
Are you throwing a bash for a nearest and dearest soon and don't know where to begin? We had a chat to Catherine Johnstone from one of the most colourful party brands in the biz, Melbourne-based Poppies For Grace, to hear their insider tips on how to host a pretty party.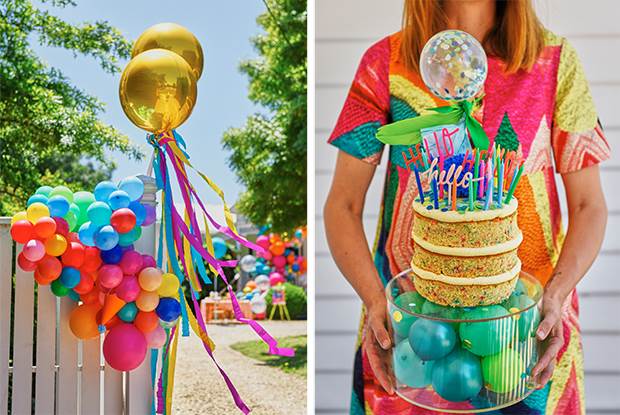 Who are Poppies for Grace, and how did you get started? Sara Dickins and Alana Waterson began Poppies for Grace about 14 years ago and it started as a stationery business. Alana is the creative mastermind and Sarah has an incredible business brain. They've been best friends for about 25 years, so it was a really natural partnership. Then Alana started making cards and Sarah said she'd do the invoices and all of a sudden Poppies For Grace was born!
What types of parties do you cater for? Everything! We've done everything from gender reveals, to first birthdays, 50th birthdays, diamond wedding anniversaries… No matter what the party is, we've pretty much got it covered.
What are the ingredients to make the perfect party? Without a doubt, friends and family. That's the first and only thing when it comes down to it. But then you've got food, fun, drinks and just keeping it simple. It doesn't need to be elaborate to be joyful; it needs to be a really true expression of who you are and what the event is. Keeping it simple so that you enjoy it is really important.
How could someone jazz up a bash on a budget? Even though what you might see on our website or on our Instagram is all big and elaborate, we're all about making it accessible to everyone. You don't need to do a big amazing thing, just do one thing well. Even just one jumbo confetti ball has so much impact because they're big and colourful! Or, if you want to go a little further, just choose one small space in your house or the venue and chuck up some streamers, chuck up a balloon and honestly, that's all you need. It doesn't need to be crazy wild, just be who you are and make it a fun moment.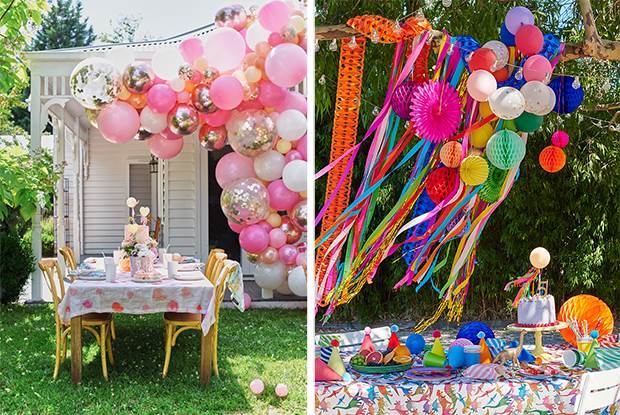 What's your most popular party item? It would be the jumbo confetti balloon, a 90cm clear balloon filled with confetti. We hand-mix all our confetti in the studio and fill every balloon ourselves, which is pretty wild considering what the turnover is! But that's so important to us; it means we can watch our quality control and make sure the colours are perfect. And recently we've started making DIY balloon garland kits and they've really taken off, which has been really fun to see.
A lot of people at the moment are aware of cutting down on their waste production (i.e. single use plastics and packaging). What are some ways someone could throw a pretty party while still being eco-aware? We would definitely recommend recyclable items where possible or re-usable objects. We do have some acrylic products, which means you can just use them again and again and again, which is awesome; they're not something you'd throw out.
Also be aware that balloon latex is biodegradable. We have people who actually compost their balloons – it's that natural of a product. We recommend not releasing balloons, we don't believe in that at all. Dispose of them appropriately, but they are from the rubber plant, so they're biodegradable! All of our plates, cups and straws are paper, as well.
What picture-perfect food and drinks do you recommend? Anything you can do beforehand is key, and if you're someone who needs to not worry about it, then fully outsource it. Do what you need to do for it to be easy! We've got some amazing girls on our team who are bakers and cooks and for them cooking is a joy, so the snacks at their parties are always homemade and delicious. That's great because that works for them.
What's the most important thing to remember when planning an event? Don't do too much! Keep it simple and do as much before the event as possible so you can just enjoy it. I think sometimes if it's for you or for your children you can get a little bit distracted and not just sit and be. Whatever you can do to make it easy for you and so you can be a part of it is really important.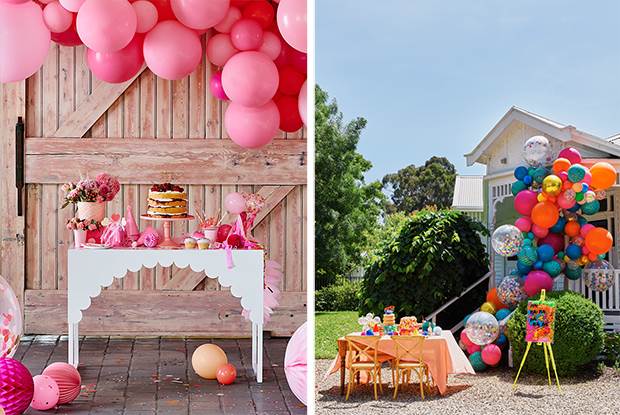 For more party ideas and inspiration, head over to Poppies for Grace's website and Instagram.