word from the wise: how to grow your own groceries
Discover how to get started growing a veggie patch in your very own backyard (or even on your balcony).
Stretch out that green thumb, folks, because we've got a bunch of tips on how to start a veggie patch in your backyard (or balcony for you apartment-dwellers). Our expert? Talei Kenyon from The Diggers Club in Dromana, Victoria; they're working to preserve gardening traditions. Read on for details on how to start growing berries, herbs, tomatoes and more.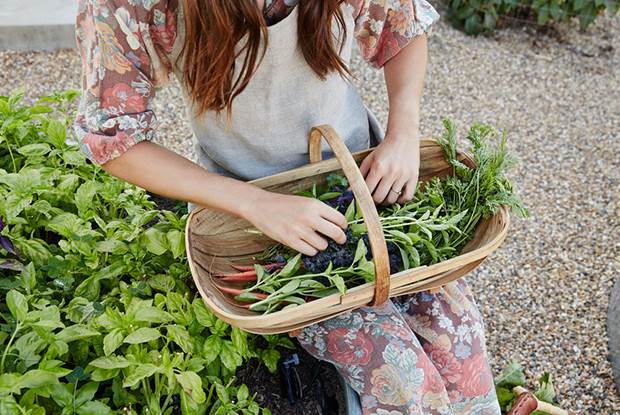 What are the benefits to learning how to grow your own food? From an individual's point of view, the biggest benefit is that you're going to eat fresh, organic produce that's full of goodness! Being outside gardening also connects you with nature and the seasons.
How can someone with a small backyard or just a balcony get into planting food? If you've got a balcony or courtyard, you may have to grow your produce in pots. Start off with things that are ready to grow and don't need a lot of professional help. Also decide to just grow a couple of things so you're not out there labouring all the time on a massive project. If you were looking at pots right now, you'd probably just put in leafy greens and lettuces and herbs. If you've got a garden, you'd grow the winter crops: silver beet, cauliflower, cabbages.
What are the most important factors to consider when thinking about starting a veggie patch? The best thing you can do when you start out is to keep it small and simple. Don't overwhelm yourself with trying to do a huge project at the very start, because you need to start off with building blocks and learn. Don't get too big too quickly; take it in small steps so you don't feel overwhelmed and like you can't keep on top of it all.
Where can you buy seeds from? Well, of course, I have to say The Diggers Club! The reason I say that is because we sell open-pollinated seeds, not hybrid seeds and plants (that means that you can save those seeds). For instance, if you grow tomatoes this coming spring, when you eat them you can dry the seeds, save them and then the following year you've become your own seed merchant! I always say to gardeners just starting out: Buy your seeds from merchants who promote open-pollinated and organic seeds as much as possible. Go to a local nursery before you go to a big warehouse because that's keeping someone in your community employed.
How can you cultivate good soil? The best thing to do is to get outside, start digging, and get a compost bin going so that all your veggie and cooking scraps can go into it. As that breaks down and you add more organic matter, put that into your soil. That's what it really needs – good organic matter dug into it regularly so it's creating a really good environment for worms to visit and for plants to grow in and be fertilised through.
Any pests to watch out for? What's the best way to keep them at bay? If you have plants that aren't being looked after, they're more attractive to pests. One of the really interesting things to do is if you know that something is being nibbled, take a torch out in the evening and have a look at what's happening in your garden. You'd be so interested to see the number of little bugs that come out of the soil at night to have a good chomp on things. One of the ways that you can protect your plants is to mulch with things like straw (pests don't like crawling across dry, scratchy environments). If you mulch and keep your plants healthy, and are growing a mixture of flowers and vegetables in together, your pest situation should be OK.
What are the best environments to grow:
Strawberries: You must make sure you water well as you seed and fertilise during their growing period. Then, at the end of the season, be sure to break off the runners (what strawberries use to reproduce themselves) and plant more.
Carrots: Carrots originally came from places like Afghanistan and the soil there is very poor. The worst thing you could do would be to fertilise the soil before you plant the seed because that makes them fork. A poorer soil for carrots is better, but make sure it's dug over so the roots in the carrots can get down.
Herbs: Depending on what they are, they also do well on a little bit of neglect because a lot of our herb plants come from the Mediterranean environments so again, they're used to poorer soils. If you're a beginner, growing rosemary and thyme are good ways to start off.
Spinach: You need to regularly water and feed leafy greens – and cut off the leaves at the base when you take them away, so that they'll keep growing. They'll give you lots of wonderful stems.
Lemons: Most citrus fruits need a lot of water and a lot of fertiliser when they're about to shoot off in spring, i.e. when they set their flowers and then fruit. It's really important that they have sun and adequate water; you don't want them to dry out in our hot summers.
Tomatoes: They need a good, rich soil because they grow tall and give you so many fruits over the summer months that they need a really good soil. Once they start to fruit though, you don't want to water them too much because then you start to water down the flavour of the tomatoes!
Are fruits or vegetables easier to grow? Starting off I'd say that veggies are easier, but they do require a little bit more attention; you need to feed them and water them regularly. Fruit trees largely do their own thing – they will give you fruit year on year, but they need to be pruned.
What are the most common misconceptions about producing your own food? Some people think that they'll plant it, water it, and it's just going to happen! And it's not true. They are living organisms and they need to be treated just like a child or a pet or us. Just going up and planting the seeds and watching something begin isn't going to give you your ultimate garden. They need to be cared for to survive.
What are some native Australian foods people can cultivate? One of the native foods we're most familiar with is the finger lime that's like our native lime. A lot of people think of that as being lime caviar – once you open up the finger and cut inside it's like caviar, and each little bubble is like a burst of citrus in your mouth when you bite into it. You can use that in drinks and salads, and to cook and flavour food. Like most citrus they like warm spots so look after it in the winter months!
The blue flax lily have edible blue berries that are sweet and delicious. Warrigal greens are a delicious, hardy, ground cover green that you treat a little bit like silver beet. Also lemon myrtle; you can use their lemon-scented leaves in sweet and savoury dishes and you can also make tea with them!
Which is the best season to get started? Make winter your planning and investigating time. Start thinking about where the sun is and what little patch can you look at growing things in.
Is there anything else you'd like to let us know? Don't worry too much, just get started and give it ago - even if it's just growing a few leaves and herbs. Grow the things that you and your family and your partner want to eat because if you start with something you already like, you'll connect with it better. It's easy to attend our workshops, look online and on YouTube if you've never gardened before, and join The Diggers Club to be part of a network of gardeners around Australia.