welcome to the school of frankie
All the tricky, real-life stuff you wish you'd learnt in school.
Grab your pencil case, your diary and your thinking cap, because class is in session!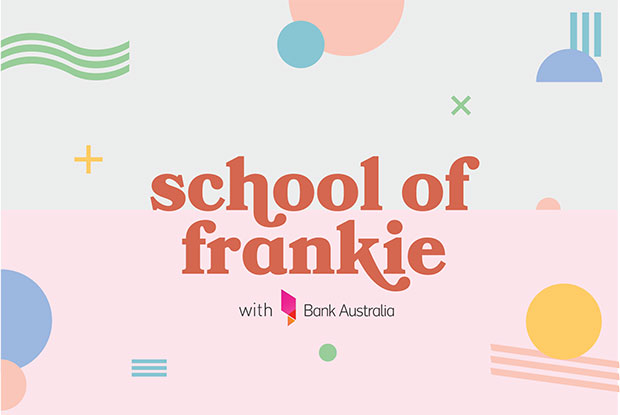 You learn a lot of things at school, like how to 'solve for x', write an essay, or complete a science project with a dud lab partner. But you probably never learnt how to save for a home deposit, how to talk to a pal with depression, or how to make your wardrobe more sustainable.
So, together with Bank Australia and the 'clean money' movement, we've pulled together a bunch of handy content focused on helping you do the 'adult' tasks you never quite got around to nailing (or didn't realise you'd need to know). These posts will be rolling out regularly so we can all keep learning together, and they'll be housed on this here website – just search for 'school of frankie'.
We'll be talking about personal stuff, like sorting out your superannuation and dealing with anxiety, as well as broader stuff like being ethical with your money and contributing to causes you care about. Real life can be overwhelming, but we want to help you tackle it in the easiest, least-stressful kinda way.
Check out a few articles we've already compiled for your reading and learning pleasure:
a guide to sustainable fabrics (and why they matter)
how to deal with your climate change anxiety
how to be a sustainable renter
five ways to help your friend with depression
a super-simple guide to sorting out your finances … with claire hooper
how to live a more environmentally conscious life
'school of frankie' was created in partnership with our pals at Bank Australia – a customer-owned bank creating a positive impact for people and the planet by investing in not-for-profits and renewable energy projects. Pop over here to learn more about their commitment to the 'clean money' movement.