vegan monte carlos
Shannon Martinez from Smith & Daughters gives us the recipe for an all-vegan version of our favourite bikkie.
There's a reason why Monte Carlos are the first to disappear from the office bikkie jar – they're friggin' delish! The only downside is that the packet variety isn't vegan friendly – but for that, we have a solution. Or rather, Shannon Martinez – one half of the duo behind Melbourne's favourite vegan haunt, Smith & Daughters – has a solution. Below, she shares her clever recipe for vegan Monte Carlos, because no one should be deprived of this sweet, crumbly biscuit.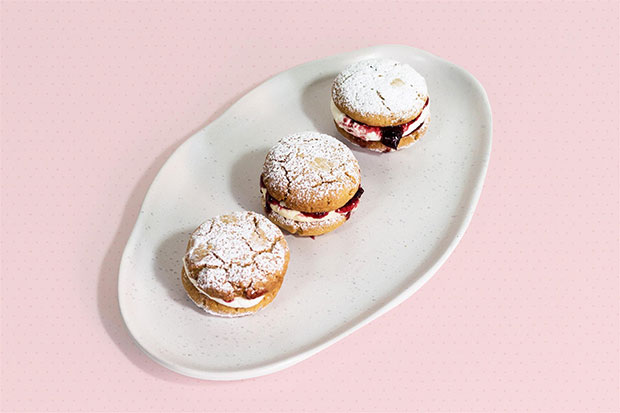 YIELD
24 biscuits / 12 sandwich cookies

TIME
1.5 hours

MATERIALS
Sieve
Mixing bowl
Stand mixer
Baking tray
Oven

BISCUIT INGREDIENTS
1 ¾ cups Nuttelex, softened to room temp
1 ½ cups packed brown sugar
1 cup dessicated coconut
3 ½ cups plain flour
2 teaspoons No Egg powder, mixed with 2 tablespoons warm water to make a paste
2 teaspoons vanilla paste
3 teaspoons baking powder
pinch of salt

BUTTERCREAM INGREDIENTS
¼ cup Copha or vegetable shortening, softened to room temp
1/2 cup Nuttelex
2 cups icing sugar
1 teaspoon vanilla bean paste
pinch of salt
Bonne Maman cherry jam to serve

HOW TO MAKE THE BISCUITS

1. Preheat your oven to 160 degrees.

2. Sift the flour, salt and baking powder into a bowl, then add the coconut and set aside.

3. Using your stand mixer with paddle attachment, beat together Nuttelex and brown sugar until well combined and fluffy.

4. Add vegan egg mixture and vanilla and fold in slowly until fully incorporated.

5. On the lowest speed, add half of the dry mix and fold through.

6. Add remaining dry mix and keep mixing until a firm dough has formed.

7. Wrap the dough in cling film and let chill in the fridge for 15 minutes.

8. Remove from the fridge and roll 24 equal-sized balls of dough (approximately the size of a golf ball).

9. Place cookies onto a lined baking tray, leaving a few centimetres between each, and gently press to flatten out.

10. Bake for 10 – 12 minutes. Remove from the oven and cool completely before filling.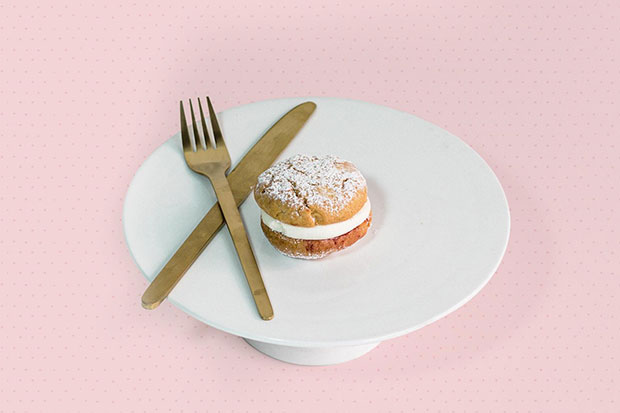 HOW TO MAKE THE BUTTERCREAM

1. Using your stand mixer with paddle attachment, add Copha and butter, then beat for a couple minutes until super light and fluffy.

2. Turn down the speed to low and add the vanilla paste.
3. Gradually add icing sugar and a pinch of salt.
4. Beat until the mixture is well combined and fluffy.

5. Using a tablespoon (or piping bag if you're feeling fancy) place about a tablespoon of the buttercream onto the flat side of 12 of the cookies.

6. Spoon a teaspoon of your favourite jam onto the buttercream.
 
7. Gently press the other cookie on top to form a sandwich and place it in the fridge for about 15 minutes or until the buttercream has firmed up.

8. Dust with icing sugar and enjoy.
If you happen to live in Melbourne and can't be arsed making your own gourmet Monte Carlos, you can grab a couple of fresh bikkies from Smith and Deli, 111 Moor St, Fitzroy. The team will be serving them in collaboration with Bonne Maman Jams from now until Sunday 12th May.