tunesday - junip interview
How Junip manage to make music that's as perfect a soundtrack for a roadtrip along the coast as a rainy day of hibernation is beyond us, but we've gotta say, we're pretty darn into it.
Long before we knew him for his solo work, swoony Swedish-Argentinean artist Jose Gonzales was making smooth, sometimes trippy tunes as part of three-piece act, Junip.
How they manage to make music that's as perfect a soundtrack for a roadtrip along the coast as a rainy day of hibernation is beyond us, but we've gotta say, we're pretty darn into it.
Taking things at their own pace, Junip are due to release their self-titled second album on April 26th. We caught up with Jose to ask him the wheres, whens and whys of their new tunes.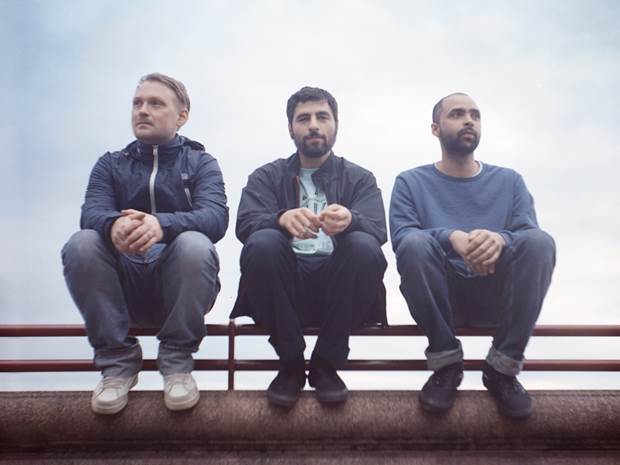 WHO/WHAT/WHERE/WHEN/WHY
Who are you fascinated by in the world of music?
I would say Charles Bradley. I saw him playing and I get pretty excited when someone else gets so excited. He was really happy to be on stage and singing to people, and I like that.
What did you learn while making your first album Fields that changed your processes for Junip?
I think we did it the same way, but what we learnt was more in the details of how to record. So how to mic different things, and how to read cues while we were recording. More like studio techniques. And also, while playing the songs we sort of noticed what each song had that made it good. So for example, "Without You" to me is still a good song - that really works. There are some other songs from Fields that didn't work so well. So I decided when I was writing the lyrics to use less complicated words and I guess focus more on stuff that sounds personal.
Where do you visualise Junip going from here?
Well, basically the album's coming out now so we'll follow up with some touring, but we want to tour less now so we can have more time with families and write more music. My aim from now on is to do more music and enjoy life. I think next up would be a solo album and apart from that, I don't know. We'll see. I have a folder with lots of material but no finished songs. So there's lots of material but nothing set yet.
When did you know it was time to turn your attention from solo work back to Junip?
It was actually around 2005 when I had been on tour for two years. I was still playing the same songs from the same album, and some of the songs I'd written in around the year 2000. I think 2005 was the time when I was a bit tired of my solo stuff and really wanted to do other music. That was when we did the Black Refuge EP, but then it sort of took off, my music got a lot of attention abroad, so I just continued with my solo stuff. So from about 2005 to 2008 I had Junip in my mind as something that I'd like to do at some point, but it took a few years before we found the time to do something together.
When are you at your happiest?
Oh, a bottle of vodka and I'm super happy. No, I'm kidding! I think around this time in Gothenburg when the sun is coming out and it's Spring and people in general are happy. Somewhere in the sun having some conversation, that can be the greatest moments. Or a Youtube clip of a cat while sitting in a bus. I'm pretty easily entertained.
Why did you decide to take a louder, heavier route with some of the tracks on this album?
We sort of did each song on its own and as always we gather a lot of hours of jam sessions, and we just picked out the ones we liked the most and didn't really think about how they'd be perceived. We had been on tour and we got back to the studio and were used to playing a bit louder on stage, and many times when we were jamming we'd end up playing very loud. But I guess once we had most of the album ready, there was a feeling that we had a very eclectic collection of songs. We had a discussion where we felt that it would be okay to have a record like that. It is fun to play louder sometimes. We just rehearsed all the songs a couple of days ago, and it is great to play loud for a while, but it was very nice to go back to something softer. We're excited to have a live set that has both. If you play a softer song after ten minutes of loud cymbals and the bass, it hits you more actually that if you played only soft music.