taking care of business: camp pineapple
We chatted to the brothers behind Camp Pineapple (makers of pretty patterned camping gear) about how they run their nomadic small business.
Brook and Gideon Hornung are a pair of brothers who want to make camping life a little bit easier – and lovelier, too. Their small business, Camp Pineapple, specialises in pretty patterned camping products (including tents, mugs, stubby holders and beanies), and the chaps were kind enough to tell us how they made it all happen.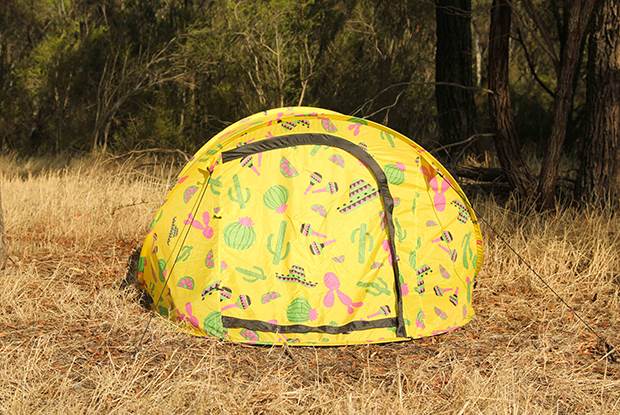 Tell us a little about yourselves and your small business. Brook: We're brothers and we grew up camping. We also love an outdoor music festival. The idea for our business started out at Meredith Music Festival when we were walking back from the main stage. We didn't have our torches, it was dark, and we couldn't find our tents amongst the sea of blue and grey tents. We started talking about how cool it would be if we had a colourful tent printed with awesome patterned designs. In the sober light of day, it still seemed like a good idea – and so Camp Pineapple was born.
What was the process for getting your business off the ground? Gideon: We started with some "arduous" market research, i.e. attending more music festivals and finding out what sort of products people take to camping festivals. Once we figured out what people wanted, we went about creating a range of camping essentials in bright prints: a tent, mugs, stubby holders and beanies. The hardest part was coming up with a name. We wanted a name that wasn't just fun, but also captured that camping spirit. We used to joke that camping is like a pineapple, prickly and hard work on the outside (think of all the travel and organisation required), but once you get there and into the flow, it's a sweet experience – and the name stuck. Plus, who doesn't love pineapples?
Describe your workspace for us, please. Brook: Gideon now lives in Sydney and I'm in Melbourne. The whole idea when we started Camp Pineapple was to be able to work from anywhere, so we're nomads without a dedicated space. Sometimes it's home, other times it's an inner-city café or, if there's a Wi-Fi signal, it might be the great outdoors in our Big Cactus tent.
Do you have any helpers? Gideon: We've got some awesome people who help us with our social media, graphic design and product sourcing.
What's your favourite thing about running a small business? Brook: The satisfaction that comes with knowing you've had this idea, brought it to life and that people want to buy it. Seeing customers using our products and sharing their pics gives us a major high. We love having people tag us in photos of their amazing camping set-ups. From the start, Instagram has been a really important tool for us to connect with likeminded people around the world. We're just in the process of creating a new bunch of products with the help of our followers.
Have there been any unexpected challenges along the way? Gideon: The biggest challenge for us was timing. When it's your own business you want your products ready yesterday, but that's not realistic when developing products locally and sourcing them globally with so many different people involved. We set ourselves a hard launch date, which we weren't able to achieve due to development and manufacturing delays, which was really frustrating.
The learning for us was not to lose sight of that goal, but also be flexible and willing to shift our plans, because stuff will get in the way.
If you could go back in time, what would you tell yourselves when you were starting your business? Brook: Just do it. You can always fix things and develop your idea along the way, but there's nothing like actually doing it. Until you've taken that leap from idea into action, it's just another dream. People are so obsessed with perfection and fear of failure that it really puts the breaks on a good idea, and it certainly slowed us down initially.
Do you take time out to celebrate your victories? Brook: Absolutely! There's no point in doing something if you're not going to celebrate your wins and enjoy the process. We try to meet in either Melbourne or Sydney regularly to review our strategy and celebrate our progress.
Where to from here? Gideon: We're currently working on our next range and have invited our community of followers to submit a proposal to collaborate with us. We're branching out into ponchos and exploring new designs for our trademark pop-up tent.
To find out more about Camp Pineapple, pop over this way.
Brought to you in partnership with our mates at Australia Post.