my favourite things with sugar fed leopards
Pop-disco band Sugar Fed Leopards tell us their favourite jokes, pick-up lines and dance moves.
Melbourne-based band Sugar Fed Leopards specialise in making intergalactic pop-disco tunes, as well as being generally awesome. Scroll down to find out all about their favourite things (dance moves lines included).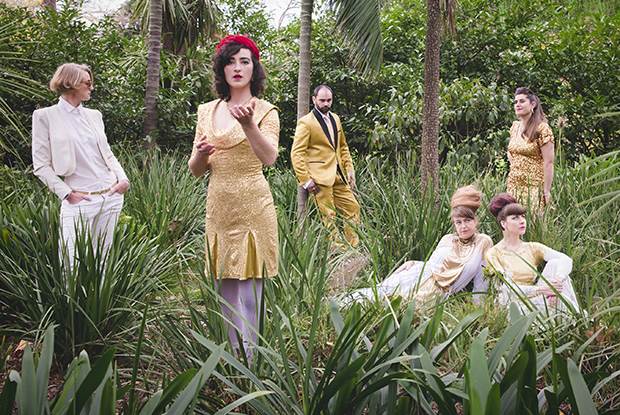 Country town in Australia? Sugar Breath: Too hard. We need more time to tour. There are so many lovely towns where I would just love to settle down. Be the local leopard.
Cheap take-away food? Gateaux Gray: Potato cake and lobster.
Dad joke? Davide Dolce: I ate a clock the other day. It was time consuming.
Childhood memory? Sugar Breath: Backyard trampolining with my sister, Angelique Estelle (Angie xxx), while Michael Jackson's album Dangerous was coming out of the lounge room window. I spent a long time on my back, just loving the sky in between epic bounces.
Song to sing at karaoke? Sugar Breath: I got my taste for singing while living in Japan, back when I was 21. Pretty much every night I'd sing Janis Joplin's "Me and Bobby Mc Gee", "You Should Be Dancing" by the Bee Gees, then later on I might do Rod Stewart's, "I Don't Want to Talk About It'" Davide Dolce and Limona Squeeze do a perfect "Islands in the Stream", and Gray does a gorgeous version of "Falling in love Again" by Marlene Dietrich. She's a really great singer (and drummer).
Pick-up line? Davide Dolce: I've hurt my back, could you pick that up please?
Dance move? Sugar Breath: The willy-wag tail; the boogaloo; the stomp; the one jittery knee; or, if there's heaps of room, the gazelle.
Lyric you've written? Gateaux Gray: "Do the Hula, like a ruler."
Lyric someone else has written? Sugar Breath: "Non, rien de rien."
Sugar Fed Leopards gig? Sugar Breath: Ooh, so many spring to mind. Boogie Festival, Tallarook 2016; Lavica Rock Festival, Sicily 2015; Sydney Road Street Party 2017… I've got to keep a diary! When we're jelly as a band and the gig starts cool, then we've got heaps of room to move and work it out, till it gets really hot. The sweatier, the better.
TOUR DATES:
Saturday May 6th – The Loft, Warrnambool
Sunday May 7th – The Wheatsheaf Hotel, Adelaide
Friday May 19th – Rad Bar, Wollongong
Saturday May 20th – The Bearded Tit, Sydney
Saturday May 20th – Heaps Gay House, Sydney