kat sabbath's glamington recipe
Learn how to make this zhuzhed-up version of a tuckshop classic. 
What do you get when a lamington dresses up for a big night out? A glamington, of course! The lamington, our very own, Queensland-born, sponge-cube-rolled-in-coconut sensation, is magicked into an elegant layered cake with this fairytale recipe.

As a variation, use dark chocolate melts instead of white in the ganache, or make the cake chocolate and tint the ganache with pink food colouring instead. Whatever you do, don't forget to celebrate with a slice of this retro beauty on National Lamington Day.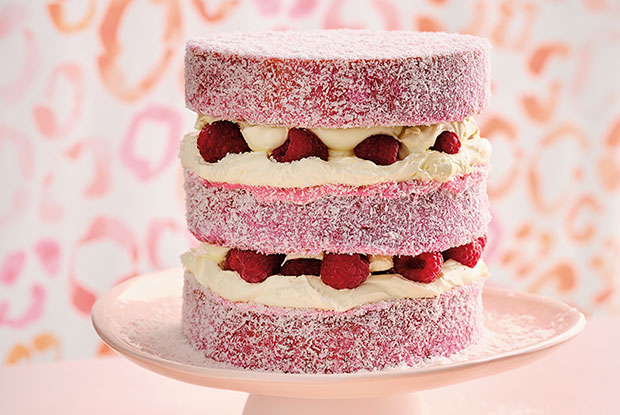 SERVES
12–16
VANILLA CAKE
1/2 cup (130g) unsalted butter, softened
1 cup (220g) caster sugar
1 teaspoon vanilla bean paste
3 large eggs, at room temperature
2 1/3 cups (375g) self-raising flour
1 cup (250ml) milk, at room temperature
1 pinch salt
METHOD
1. Preheat the oven to 160°C (320°F) fan forced. Grease three 15cm (6 inch) shallow round cake tins.
2. Using an electric mixer fitted with the paddle attachment, cream the butter, sugar and vanilla until light and fluffy. Add the eggs, one at a time, and mix until thoroughly combined.
3. Gently incorporate the flour in three batches, alternating with the milk in two batches. Add the salt and mix until just combined, being careful not to over-mix.
4. Divide the batter among the cake tins. Bake for about 20–30 minutes or until a skewer inserted into the centre of each cake comes out clean. Leave the cakes to cool in the tins for 15 minutes before turning onto a wire rack, upside down, to cool completely. Cover and set aside.
WHITE CHOCOLATE GANACHE 
1 cup (250ml) single (pure) cream
500 g white chocolate melts
Pink gel food colouring

METHOD 
1. Pour the cream into a small saucepan and bring to a rolling boil (there should be bubbles all over the surface, not just around the edge). Remove from the heat and add the chocolate, stirring until there are no lumps.
2. Stir in the pink colouring until the desired shade is reached.
3. Set the ganache aside until it cools and thickens slightly. If needed, briefly chill it in the fridge (for about 5–10 minutes), then stir again until smooth. Once the ganache has reached the right consistency, transfer it to a wide, shallow dish.
ASSEMBLY AND DECORATION
3 cups (255g) fine desiccated coconut
300ml single (pure) cream
125g fresh raspberries

METHOD
1. Put the coconut in a wide, shallow dish. Gently dip one of the cake layers into the pink ganache, ensuring even coverage, then dip into the coconut. Place the cake on a plate and refrigerate for 30 minutes or until set. Repeat with the remaining cake layers.
2. Using an electric mixer fitted with the whisk attachment, whip the cream until stiff peaks form.
3. Place the bottom cake layer on a cake stand or plate. Dollop a generous amount of whipped cream on top and spread it over the cake. Stud the cream with the raspberries. Spread a little more whipped cream on top to help secure the next cake layer.
4. Add the second cake layer and top with more cream and raspberries. Gently place the third cake layer on top.
DECORATING TIPS
- To prepare the ganache using the microwave, put the white chocolate melts in a microwave-safe bowl. Pour the cream into another microwave-safe container and heat for 30–40 seconds or just until it starts to boil.
Pour the cream over the white chocolate, making sure that most of the white chocolate is covered. Set aside for 5 minutes, then stir in a gentle, circular motion until the white chocolate has melted and the mixture is smooth. If needed, microwave for another 10 seconds at a time, stirring gently until smooth.

- You can also cook the cake batter in one 15cm-deep cake tin. Increase the baking time to 50–60 minutes. Once the cake is completely cooled, use a long, thin knife to divide it into three even layers.

 This rad recipe is an edited extract from Kat Sabbath's kitschy new book 'Bake Australia Great', out in stores now.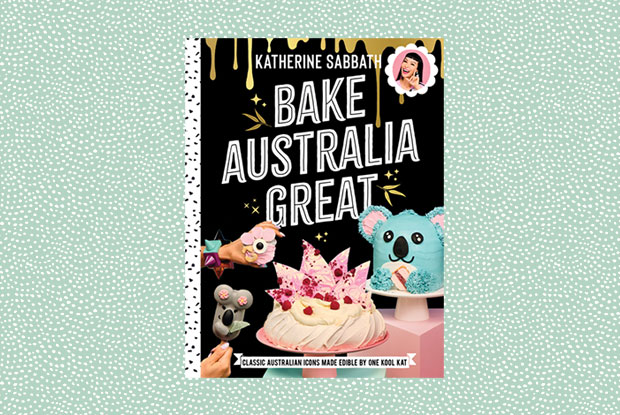 Images and text from Bake Australia Great by Katherine Sabbath, photographer Jeremy Simons, styling Emma Knowles. Murdoch Books RRP $39.99.