frankie food extract: coffee banana cake
This cake joins coffee and banana in a blessed union of happiness.
Some people are a bit fussy about banana cake, claiming it should only ever be served with chocolate icing. Some people should forget their cake prejudices and try this one, which joins coffee and banana in a blessed union of happiness.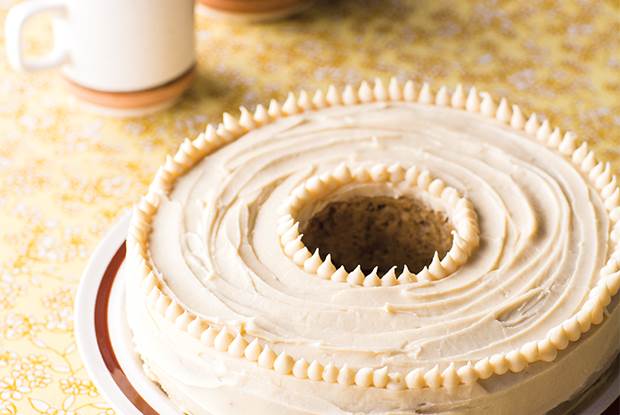 INGREDIENTS

125g soft butter
1 cup caster sugar
1/2 cup soft brown sugar
1/2 tsp pure vanilla extract
1 cup very strong coffee, cooled (2 tbsp instant coffee dissolved in 1 cup boiling water, or three double espressos)
2 eggs
3 large bananas, mashed to a smooth puree (you need about 1 generous cup of mashed banana)
1/2 cup plain Greek yoghurt
1 1/2 cups flour
2 tsp baking powder
1/2 tsp baking soda
3/4 cup walnuts, finely chopped (optional)
HOW TO

Preheat the oven to 180C. Line the base of a round 23cm cake tin and grease the sides. Make the coffee and set it aside to cool.
Cream the butter and sugars together until light and fluffy. Beat in the vanilla and 2 tsp of the cooled coffee (reserve the rest of the coffee mixture for the icing). Add the eggs one at a time, beating well after each addition.

Beat in the mashed banana, a little at a time, until it is all well combined. Stir in the yoghurt. Sift the flour, baking powder and baking soda together, then stir it into the banana mixture, along with the walnuts (if you're using them).

Pour into the prepared tin and bake for 50-60 minutes, or until a skewer plunged into the cake comes out cleanly. Let cool in the tin for 10 minutes, then turn out onto a rack to cool completely. When the cake is cold, ice with coffee cream cheese icing. Store in an airtight container in the fridge.
COFFEE CREAM CHEESE ICING

100g soft butter
3 cups icing sugar, sifted
200g cream cheese, at room temperature
3/4 tbsp of the cooled strong coffee
about 1 cup walnuts, optional

HOW TO 

Beat the butter and icing sugar together until light and fluffy, then beat in the cream cheese.

Add the cooled coffee, one tablespoon at a time, until you reach the desired level of coffee flavour and a soft, spreadable consistency.

Spread on the cold cake, then decorate with walnuts.

This recipe comes straight from our special one-off publication, frankie food. Pick up a copy via our online store, or through one of our wonderful stockists.