frankie fodder: kiwi and raspberry daquoise torte
We can only assume this recipe is what people are referring to when they say that something is 'finger-licking good'.
Oh boy. Oh boy oh boy oh boy. We can only assume this recipe is what people are referring to when they say that something is 'finger-licking good', and with all those gooey layers to assemble, there's bound to be lots of sneaky licking going on.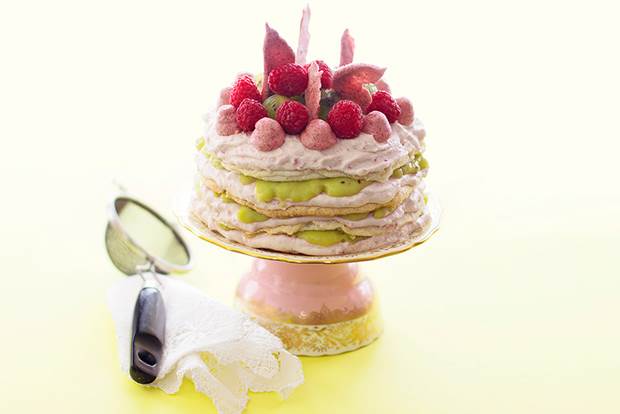 INGREDIENTS:

Daquoise bases
5 egg whites
200g sugar
100g ground almonds
salt

Meringue decorations
1 egg white
60g sugar
1 tbsp raspberry powder OR 1 kiwi and a drop of green food dye

Kiwi curd
6 egg yolks
120g sugar
juice of 2 limes, about 60-70ml
3 large kiwis
5g gelatine

300ml double cream
250g raspberries
icing sugar
3g gelatine
1 kiwi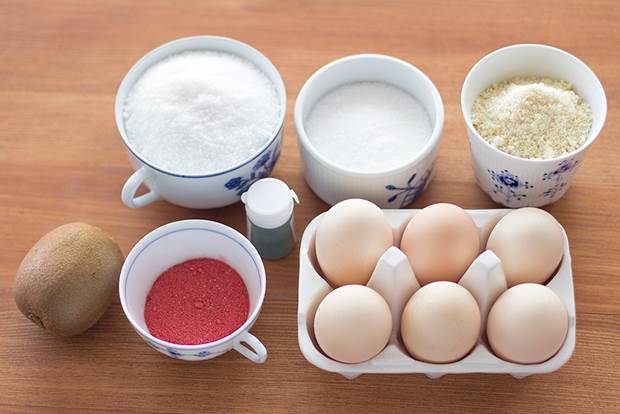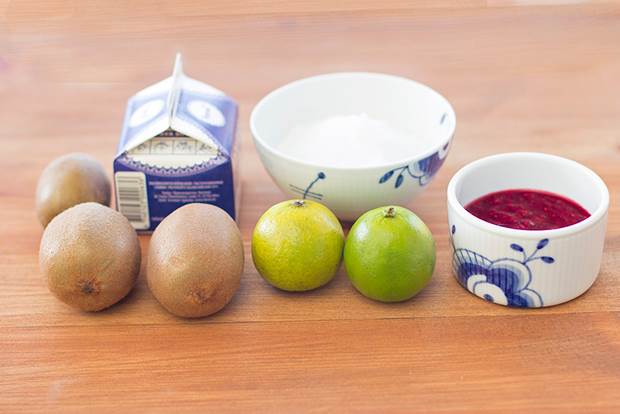 INSTRUCTIONS:

1. Start by making the bases and meringues. (This can be done several days ahead.) Whisk the egg whites with just a pinch of salt, then when they begin to look white and frothy, add the sugar, 3-4 tablespoons at a time.

2. Once the egg whites are really fluffy, pop in all the sugar that's left and whisk until glossy. Using a spatula, fold in the ground almonds and scoop the mixture into a piping bag.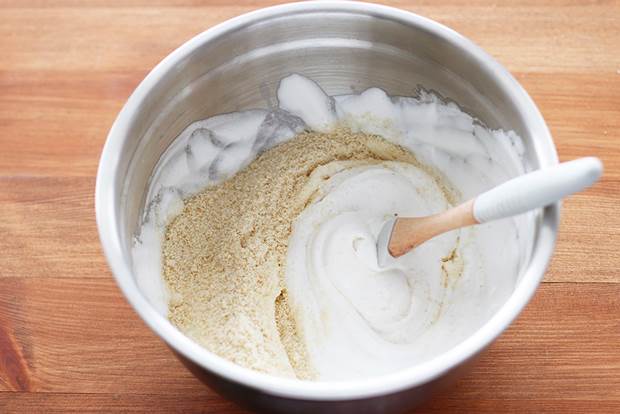 3. Pipe four discs on a baking paper, about 16cm in diameter. Then pipe a second layer of meringue round the outer edges to make it a bit thicker. Bake in a 150C oven for about 15 minutes, then turn the oven down to 80C and let them sit there for another 10 minutes.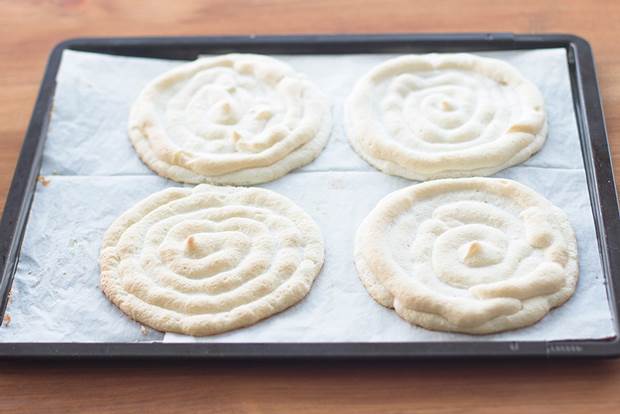 4. For the meringues, whisk the egg white over a pot of simmering water, slowly pouring in the sugar at the same time. Keep whisking until the whites are fluffy and hold a peak, and the temperature reads 50C.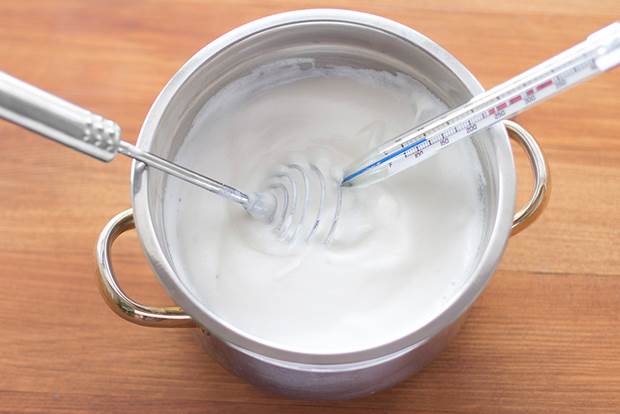 5. Remove from the heat and add the flavouring – either raspberry powder or the pureed green flesh of one kiwi (this should be the green part only, as the seeds will turn the mixture brown when crushed). Whisk until the mixture cools down.




6. Using a piping bag and/or spatula, create various shapes on a baking paper to decorate the cake with later. Bake in a 80C degree oven for about 10 minutes.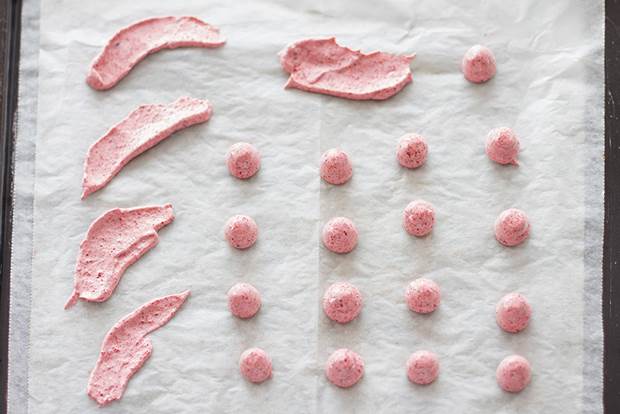 7. For the kiwi curd, peel the kiwis, and with the help of a good old-fashioned fork and half of the sugar, mash them into an even paste. It does take a bit of work, but I find that the curd looks so much more pleasing with the seeds in it.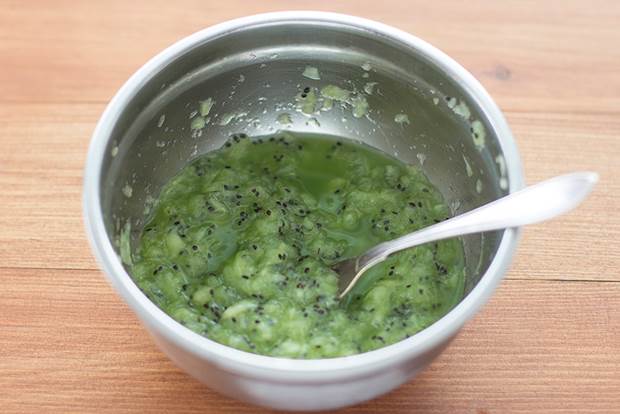 8. Whisk the egg yolks with the other half of the sugar until it is pale and frothy, then add in the lime juice. Set the bowl over a pot of simmering water and keep whisking until the yolks start to thicken a bit.
9. Now add the mashed kiwi and guess what – continue whisking! Bloom gelatine in cold water, then squeeze dry and whisk that into the curd, too. The temperature should read 83C and it should look like thick custard. Take it off the heat and whisk over a bowl of cold water until cooled. The gelatine can be left out, but then it has to be heated for a longer period to thicken it even further.

10. Mash 150g raspberries with icing sugar to taste. About 1-2 tbsp should be fine. Heat the mash gently in the microwave, then bloom gelatine in cold water and mix it into the raspberries.

11. Whisk up your double cream, and when it's starting to hold, add the raspberry mixture.

12. Start layering the cake. Place one daquoise on a plate. Spread with the kiwi curd and then top with raspberry cream.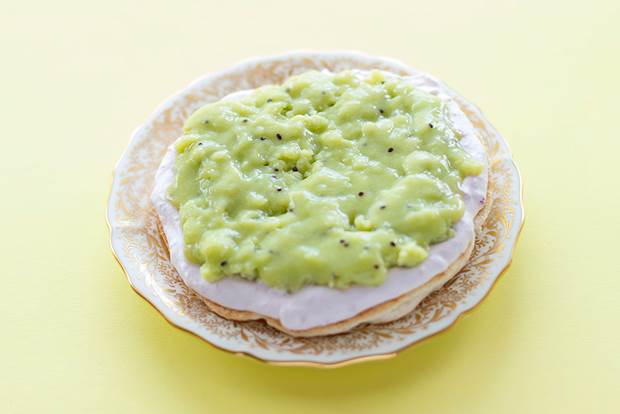 13. Place another layer of daquoise on top and continue until the last daquoise base has been set in place. Top with raspberry cream and decorate with little kiwi spheres, meringue decorations and the rest of the raspberries. Then tuck in!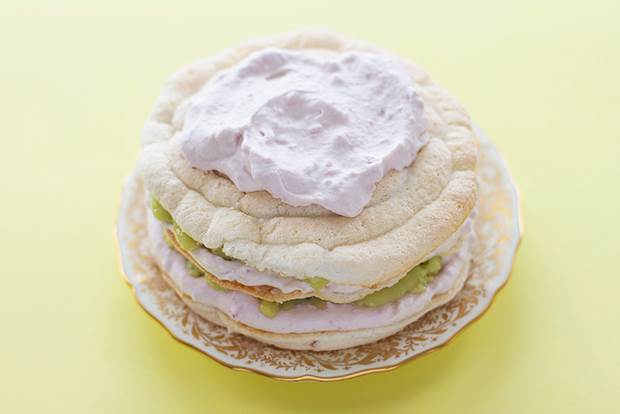 See more of Elisa's scrummy cooking over on her blog.