frankie fodder: dark chocolate and coconut jaffa fudge tart
High five for desserts that not only taste like a dream but are surprisingly good for you too. Wahoo!
Let's face it: many of us used Easter as a thinly veiled excuse to eat excessive amounts of the chocolatey good stuff... and those pesky cravings have probably kicked themselves back into full gear by now. Well, you've come to the right place, frankie friends. The fact is, this dark chocolate and coconut jaffa fudge tart with salted toffee (try saying that three times fast!) is the REAL 'good stuff'. It's guaranteed to fulfil even the most insatiable of chocolate cravings and ward off any of your autumn ailments. Not only is this tart intensely velvety, silky and delightfully crunchy, it's jam-packed with nourishing vitamins, minerals and antioxidants. Oh, and it's 100% vegan, gluten-free and grain-free, too. So much good!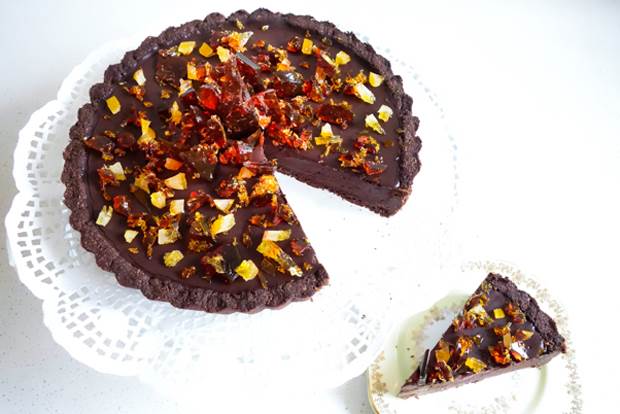 INGREDIENTS:

Crust
300g almond meal
100g raw cacao powder
5 tbsp coconut oil, melted
½ tsp sea salt
5 tbsp pure maple syrup

Filling
1 can/400ml coconut cream
400g bittersweet vegan chocolate, finely chopped (I used Lindt 85% chocolate, but the 70% is vegan as well)
2 tsp grated orange zest
2 tsp vanilla extract
5 tbsp pure maple syrup

Topping
500g white sugar
160ml water
100g liquid glucose
1 tsp sea salt

To decorate
your salted toffee, smashed into small shards
a few slices of candied orange peel, chopped (you can find this in most continental grocers)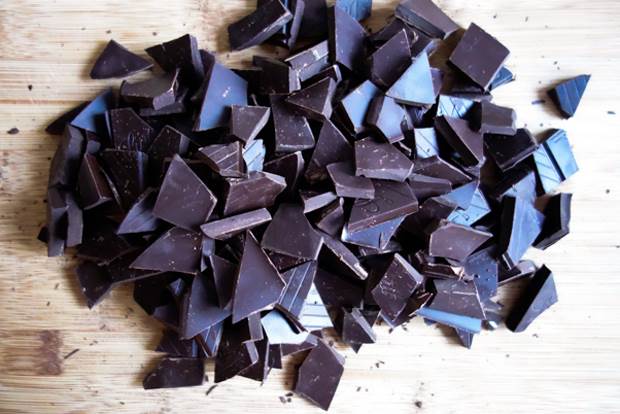 INSTRUCTIONS:

1. To make the tart shell, first preheat your oven to 170 degrees. In a food processor, combine almond meal, raw cacao powder, coconut oil, sea salt and maple syrup. Continue to pulse until a dough forms (dough should kind of clump together when squeezed with your fingers).

2. Transfer the dough to a greased 18-inch tart pan with a removable bottom. Using your fingers or the back of a metal soup spoon, evenly press the dough into the bottom and up sides of the pan.

3. Bake in the oven for approximately 20 minutes, or until firm. Transfer to a wire rack to cool completely (for at least 1 hour, so don't get greedy!).




4. Now onto the fudgy innards. Place chopped chocolate in a large mixing bowl. Meanwhile, in a small saucepan, bring the coconut milk to a boil. Pour the hot coconut milk over the chocolate and let stand for one minute, then give it a stir until it's smooth and creamy. Mix in some orange zest, vanilla extract and maple syrup.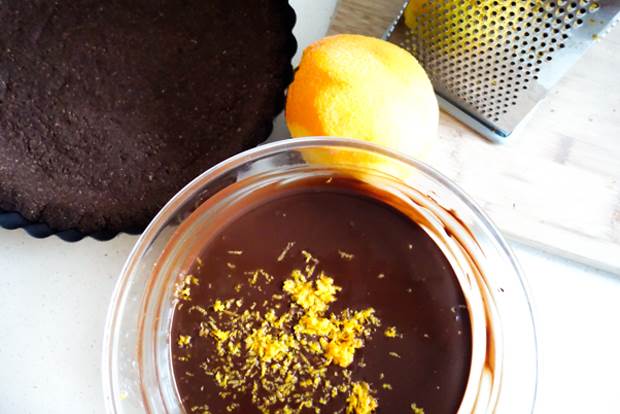 5. Once it's all whipped up, pour the fudge filling into a cooled tart shell and place it in the fridge. Chill for at least one hour, or until set.

6. To make the toffee, combine sugar and water in a saucepan and bring it to the boil. Once boiling, add the glucose and stir constantly. Continue to cook until the syrup turns to a light golden brown colour (around 170°C on a sugar thermometer). Remove from heat and pour the hot toffee into a large baking tray lined with baking paper. Sprinkle it evenly with sea salt and allow the toffee to completely cool on a bench top. (That means no sticky fingers grabbing at it before crunch-time.)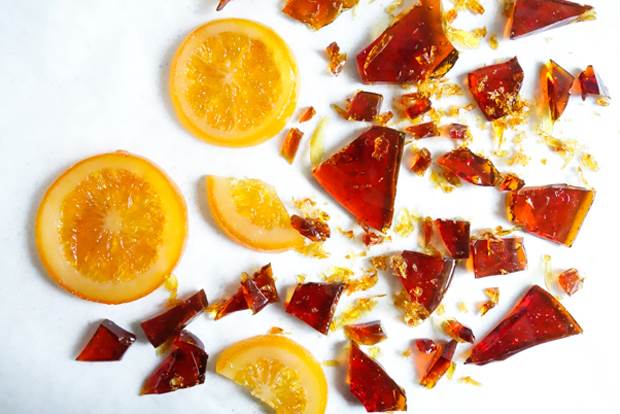 7. Finally, adorn the top of your tart with salted toffee shards (for a more dramatic effect, press the larger shards into the centre) and chopped candied orange peel. Then slice, serve and drift away into dark chocolate and coconut jaffa fudge heaven. Sigh...