books to read when you're hungry
Some books that'll make you want to cover yourself in custard and eat a pile of fries.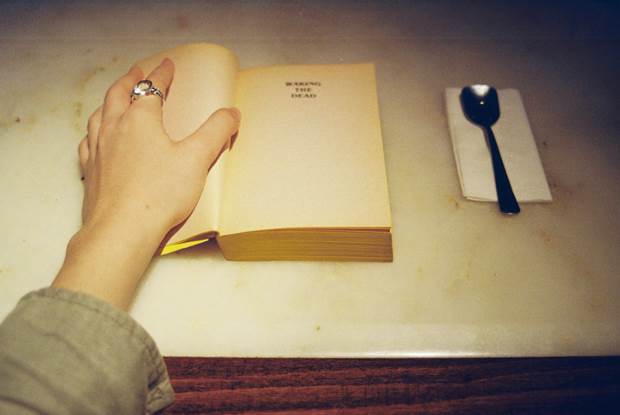 You know that scene in Hook where Robin Williams, as a grown-up Peter Pan, is finally dining with the Lost Boys? There's not really any food there, but they use their imagination to make it happen. It's wild. It makes me want to cover myself in custard and eat a pile of fries – you know, really smoosh myself all up in some food. If you're a Masterchef-taught armchair food expert like I am, you'd know by now that we also eat with senses other than taste: we see food, we hear it, and it adds to the taste in the same way good lighting in a shopping centre change room makes you look amazing.
As someone who spends too much time with her nose buried in books, and whose eyes are frequently larger than her stomach, I wonder: am I hungry because of the books I've read, or am I reading the books because I'm hungry? I want to blame Enid Blyton and the lavish picnics she set up for the Fantastic Five stories I read as a child. I probably only like ginger beer because of those books, and if you're starving for a tiny sandwich or "lashings of eggs", pick up a copy of The Faraway Tree and drool till you're satisfied.
Why are you hungry? Are you bored? Are you lonely? If you're feeling low, I recommend eating a grilled cheese sanga and slurping a milkshake like Holden in Catcher in the Rye, because what cures the hunger of heartbreak better than a chunk of melted dairy between two slices of 85-cent Coles white bread? For a case of the 'I-am-so-bored's, why not complement your munching with a long drive like Sal in Jack Kerouac's On The Road, stopping only to flip through the book in dingy diners while you down a slice of apple pie and ice-cream like our sweet-toothed protagonist.
If it's a serious main meal you're after, then you'd better pick up a serious main meal book. I'm talking Hemingway, here. While A Moveable Feast is actually a posthumous autobiography, it captures the ways in which we're all really just moving through life from one meal to another.
Nora Ephron's Heartburn is about a food writer – and heartbreak. (This seems to have a recurring connection to food. Intriguing.) Punctuated with recipes, the story culminates with Rachel (based on Nora herself) throwing a key lime pie in her husband's face. Maybe you're hungry for revenge, or maybe you're just hankering for some key lime pie?
While it's hardly a book about food, Aussie writer Georgia Blaine captures the mood of a meal almost as well as she does a rainy Sydney arvo in Between a Wolf and A Dog. When Ester is out to eat with her new love interest, the anticipation of that second date is palpable – the feeling when you can't eat, you just nervously push the food around on your plate, because all you can think about is the inevitable smooch that is coming when the meal is over. I suppose that's a whole different kind of hunger, but we can talk about books to read when you fancy a smooch next time.
Pretty pic by Eylül Aslan.