books to chew on
Mouths are for eating. Eyes are for reading. These books bring together the best of both worlds.
Mouths are for eating. Eyes are for reading. Somewhere along the way the message got tangled and we were told we eat with our eyes. Sure, it's an expression and not intended for literal translation but we think we've found the middle ground: books about food (after all, words are food for our eyes). Here's our list of favourites that go beyond the cookbook format and can be enjoyed while you're hypothetically planning your next meal and the one after that and the one after that. OK, you can see where this is going.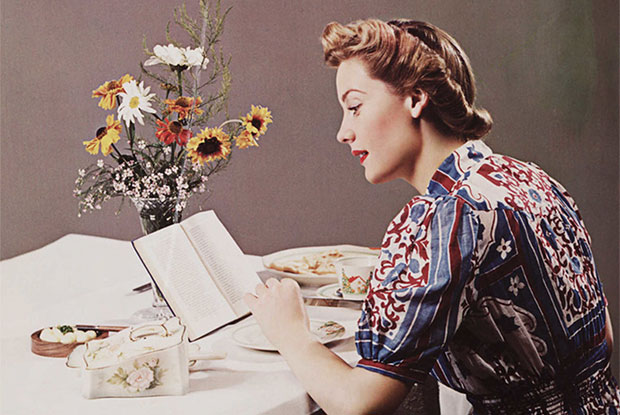 image from the National Science and Media Museum.
Cake – Maira Kalman and Barbara Scott-Goodman
Everyone loves cake. So there's no substantiated empirical evidence to support this claim but we have a good hunch. Someone else who also really, really enjoys jamming a fork into a fluffy slice of cake is much-loved New York illustrator and author Maira Kalman. In Cake, Maira collaborates with cookbook writer Barbara Scott-Goodman to create a part memoir, part recipe book that is a colourful ode to their favourite dessert. Through personal illustrated anecdotes, Maira shares her lifelong obsession, from eating cake as a child on her aunty's balcony in Tel Aviv to eating it alone as a woman in her late 60s in New York. Barbara interprets these stories into delicious cake recipes that you'll promptly text to friends with a casual reminder that it's also your birthday soon. (Well, in eight months and 12 days precisely.)
Midnight Chicken – Ella Risbridger
Sometimes life is terrible. You feel daunted by the unknown and your chest swells. How will you get through it? Is sitting in the dark and binge watching all 20 seasons of Olivia Benson in Law & Order: SVU making things better or worse? For writer Ella Risbridger, the answer to making life a little easier was roasting a chicken at midnight. Suffering from a severe anxiety disorder, the world became too overwhelming for Ella, but the simple act of cooking in a moment of despair offered her a way out of the darkness. She found the process therapeutic and started cooking more and more, realising this kitchen ritual made her feel anchored in the world again. Her first book Midnight Chicken is a collection of personal essays and the recipes that Ella deems are "worth living for".
You and I Eat the Same – Chris Ying
We spend a lot of time eating food and spilling it on our clothes (thank you bicarbonate soda for your loyal service to stain removal). But how much time do we spend thinking about where our food comes from? In You and I Eat the Same, former co-founder and editor of Lucky Peach, Chris Ying, and chef and co-founder of Noma, Rene Redzepi, want us to think before we eat. Together they've collaborated on MAD Dispatches, a book series that looks at connected communities through food, and the first volume is You and I Eat The Same. The book features long-form essays exploring how immigration is integral to good food and uniting us all.
Heartburn – Nora Ephron
Nora Ephon was a writer who distilled the experience of womanhood like no other. Her fictional novel Heartburn grippingly tells of one woman's marriage breakdown in a way that is so forthright and compelling – largely because it's loosely based on her own lived experience. The book follows food writer, Rachel Samstat, who discovers at seven month's pregnant with her second child, that her husband is having an affair with another woman. Devastated, Rachel's mood swings from wanting to woo him back to wanting slam a cream pie in his face. In-between these uncertain moments she turns to food for comfort and notes her recipes for respite throughout the novel. Try Rachel's Linguine alla cecca – a hot pasta with cold tomato and basil sauce – then wipe your mouth and thanks us.
Coming to My Senses – Alice Waters
Alice Waters is a food hero to many and for good reason. She's a chef, writer, author and activist who pioneered the slow food movement in California (and consequentially, globally) in the 1970s and continues to do so today. Her restaurant Chez Panisse is one of the most popular in the world and in 1995 she founded the Edible Schoolyard Project – a classroom-to-garden-to-kitchen educational program. Sorry. Anyone got a glass of water? Because we're out of breath and not even half way through what this woman's achieved. Actually, on second thoughts, you should just read her critically acclaimed memoir Coming to My Senses. But, hey, if you are walking in the direction of the kitchen, we'll still take that glass of water.