artist interview - anke knapper
If pretty painterly pictures of homely scenes are up your artistic alley, the work of Netherlands-based artist Anke Knapper may just make you squeal with glee.
If pretty painterly pictures of homely scenes are up your artistic alley, the work of Netherlands-based artist Anke Knapper may just make you squeal with glee. Or at least nod your head enthusiastically and feel an urge to indulge in some ham-topped toast, stat.
We had a little chitchat with the creative lass – have a peek below then head to her website for more loveliness.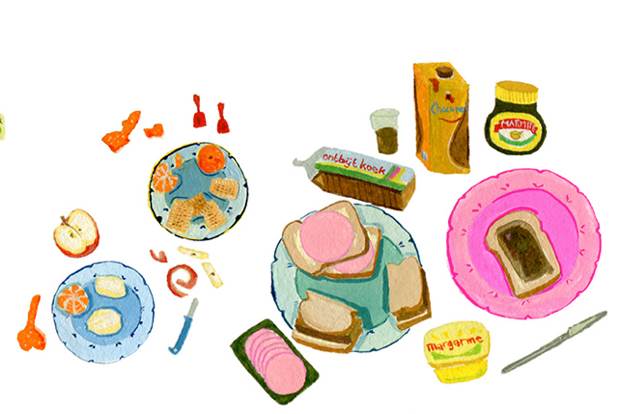 What is your name and how old are you? My name is Anke and I'm 25 summers young.

How does where you live affect your art? A few months ago I was still living in Amsterdam, where there's always something crazy to do, so I'm still getting used to the quiet city of The Hague where I'm currently living (my boyfriend has a job here, and we all know men can't take care of themselves…). I live a 10-minute walk from the beach, so I take a lot of long and romantic walks there. This helps me approach my work with a more relaxed attitude. I'm feeling less pressure to be better and do more (doing better and more is OK; doing this because of outward pressure isn't). This makes me feel comfortable to work on self-initiated projects and just be happy in general. Of course I'm still visiting Amsterdam almost every week.

What kind of mediums do you use? Why do you choose to use these mediums? For my work I use gouache (a water-based paint) because I like the characteristic vibrant colours. And sometimes I use a stencilling technique with acrylic paint when I want to make something more minimal.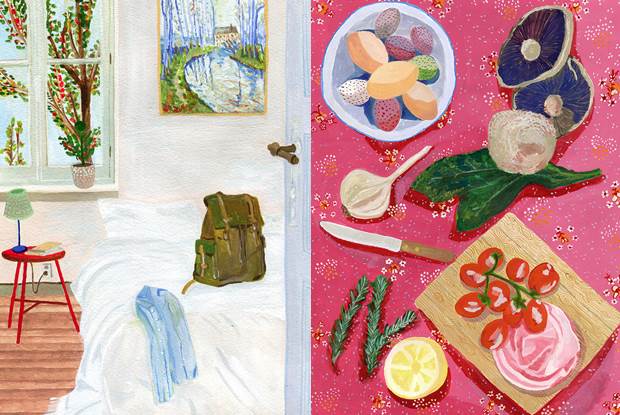 Are there any downsides to this medium? With gouache you can't really create a lot of layers because when the first layer gets wet it becomes fluid again, and eventually it will crack more easily. But that's not really a downside if you choose the right colours in the first layers.

What makes your work unique and truly your own? In my work I try to make my viewers conscious of normal everyday actions, and bring them new insights about the realities of life that often remain unspoken because of taboos. I hope this will lead my viewers to become individuals that speak more freely about delicate subjects. A good example is my graduation project from last year. I made a graphic novel titled "De eerste keer" ("The First Time" in Dutch) that explores biographical stories of losing one's virginity.

Tell us a little about your creative process. My best ideas come right before I fall asleep, which is super annoying because most of the time I forget them again. Or they come when I'm with friends, which is really nice, because then I can instantly improve my idea by listening to their input. When I get a commission for an editorial illustration I get my ideas mostly from the input the art director gives me. And if that doesn't work straight away, I will go look into all the superb books I have collected for inspiration.

If you were to teach an art appreciation class, what kind of lessons would you try to teach your students? I would probably sum up all the artists I like, and bring all my books and hope they will be inspired to be as good as one of them in whichever field they choose to work in (go for illustration!).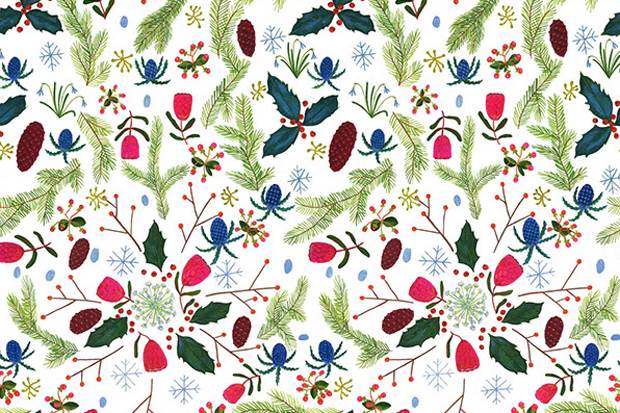 What do you wish you knew about being an artist before you got started? I wish I would have made up my mind sooner that I wanted to become one (at first I didn't think being an artist was serious enough), so I would have learned and known more already.

Are there any other mediums that you'd like to experiment with? I'm now rediscovering Shrinky Dinks, which is fab because I can make cool pins for my friends. I already tried a lot of mediums and figured gouache suits me the best, but yes, there are still some things I would like to try or still am trying. I'd like to experiment a bit more with moving illustrations. Not necessarily whole animated movies, but just short ones – maybe funny moving images.

What's the coolest art tip you've ever received? One of my teachers at art school showed me some books of ATAK and suggested that I maybe should do an internship with him. So I did and it was really, really great!

Which era of art do you appreciate the most? Today there are so many excellent artists, so I would say our own era. Or maybe the period between late 1800s and mid 1900s. For example, I love Henri Matisse, Claude Monet, Boris Kustodiev, Wladimir Lebedew and Charlotte Salomon.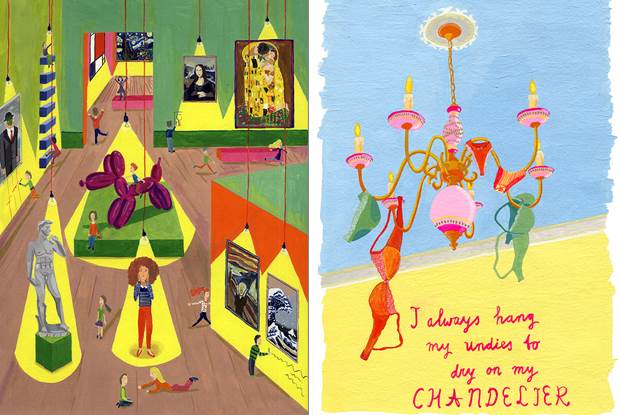 What other budding artists do you love? Enzo Pérès-Labourdette – he's amazing and he makes amazing work (and he's my best friend, but even if he wasn't I would still love his work).

What do you enjoy doing when not creating art? Drinking tea, taking long walks at the beach, travelling (I'm going to Berlin the week before Christmas to visit friends) and of course "hugging" my boyfriend.

Where can we see more of your work? In my studio here in The Hague (I love surprise visits) and you should totally visit my website!