the life of legendary aussie painter margaret olley
She was one of the best damn still life painters around – and she didn't think twice about serving a mouldy citron tart to Australian politicians.
Margaret Olley was one of Australia's most successful visual artists of the 20th century, celebrated for painting colourful depictions of everyday household objects and rituals – flowers, rooms, lush sub-tropical Queensland gardens. But she wasn't just skilled with a paintbrush; Margaret also had a wicked sense of humour, was a mentor for some of Australia's biggest names in contemporary art, and contributed heaps (financially and otherwise) to the local art industry. She was, basically, someone who, in many ways, made the world a better place – and was someone you'd probably want as a mate, too. With her her joy-inducing works now adorning the walls of Brisbane's QAGOMA for the exhibition Margaret Olley: a Generous Life, we thought we'd showcase some of her works right here, and share a bit of her life story while we're at it.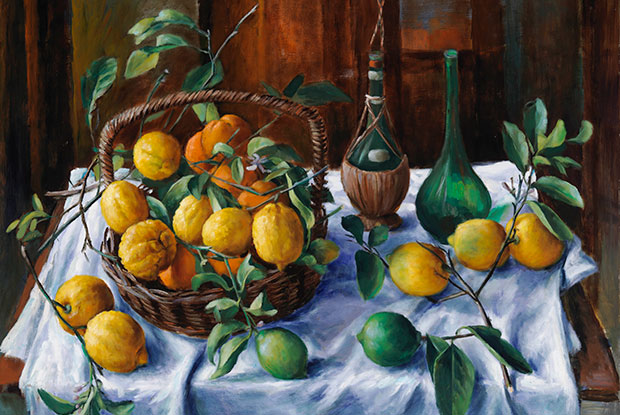 SHE CHOSE TO PAINT NICE THINGS Margaret loved painting still lifes and interiors. Cornflowers, her favourite bud, appear in heaps of her works. In fact, when Ben Quilty won the Archibald with his portrait of her, Ben's wife made Margaret a corsage woven from cornflowers to wear to the official ceremony. She encouraged Ben, one of her many mentees, to consider painting more flowers and fewer skulls (he politely refused). A lot of Margaret's paintings are of rooms, too; she especially enjoyed paintings rooms from her old family home in Brisbane, called Farndon (which later, sadly, burned down). One room, known as the yellow room, features frequently in her paintings. While these works have stacks of character, they don't feature people. Although, interestingly, Margaret had a saying: that rooms reflected the personality of the occupant. So, in a way, her room paintings are self-portraits.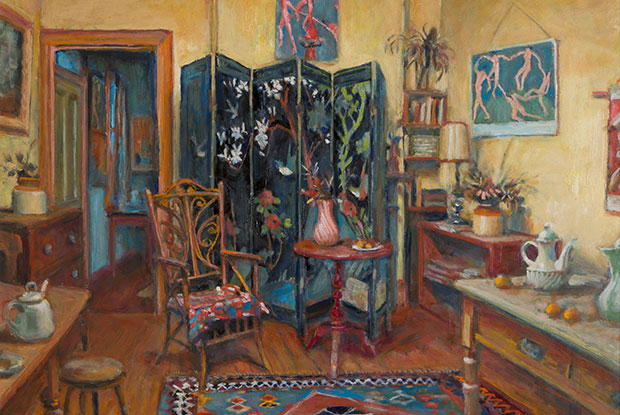 SHE FOUGHT DEPRESSION AND ALCOHOLISM Margaret's life wasn't always as joyous as the colours that are synonymous with her works. She had been a bit of a drinker in her early adult life, but when she took off to study in Europe, she got seriously depressed. So much so that her friends decided they had to get her home, quick-smart. Margaret did come home to Brisbane in 1953 when her dad, Joseph, died – but the drinking didn't end there. Eventually, she came to the realisation that she had a problem and then, in 1959, she gave up completely and didn't touch a drop of liquor for the rest of her life. Notably, Margaret's self-portraits (vivid images in which she sees herself in a mirror, surrounded by items that were special to her) cease during her period of alcoholism (some speculate it's because she didn't like herself very much at this time).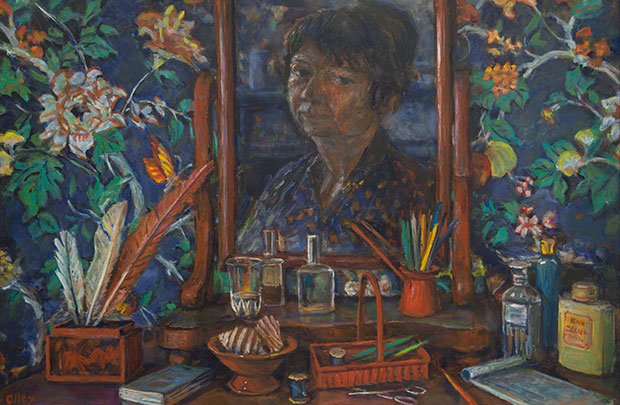 SHE WAS A SAVVY INVESTOR Like, really savvy. You know how some people will buy a property, do it up, then sell it for a tidy profit? Well, Margaret was doing that back in the '60s with real estate in Newcastle. (She moved quite a bit between Brisbane, Sydney and Newcastle over the years). While she may not look like a property mogul with her floppy painter's hats and sweet smiles, trust us – this woman was nothing short of a real estate tycoon. And that's pretty impressive for a solo woman at that point in history (she never married, by the way). What's even more impressive: rather than sitting pretty on her fortune, she used her wealth to invest in the arts, donating stacks of it to local galleries.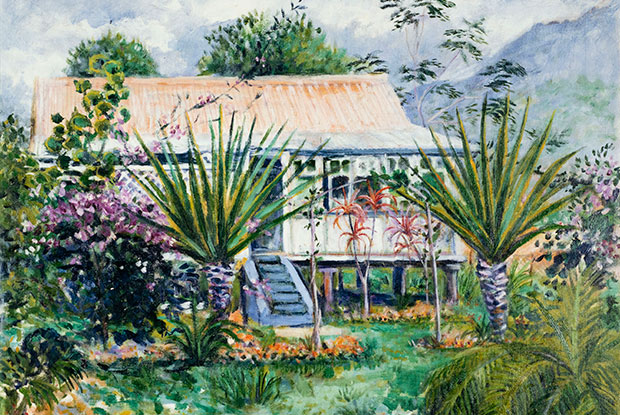 SHE LOBBIED HARD ON BEHALF OF THE ARTS INDUSTRY Lots of people were drawn to Margaret's warm personality. Again, she used her capital – in this case, social capital – to make a better world for artists. She lobbied governments to inject funding into the arts and keep art schools open – but she never let politicians feel more important than artists. On the contrary, when she had some pollies gathered at her place for lunch, a then still-emerging Ben Quilty offered to clear the table – Margaret wouldn't allow it. Ben insisted to help, though. Aggrieved, she instructed him to get a citron tart from the fridge. When Ben found it covered in mould and whispered to inform her of it, she whispered back: 'Put it in the microwave for 20 seconds. And I don't want any, thanks Ben.'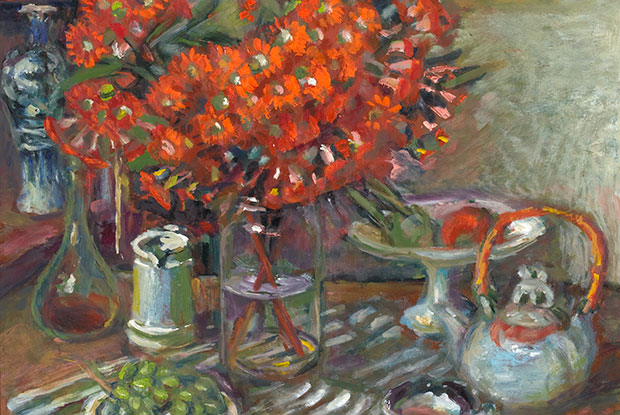 Margaret Olley: a Generous Life is on now at QAGOMA in Brisbane. It closes 13 October 2019. The gallery is also showing Quilty, a survey of Ben Quilty's work; you'll find his and Margaret's exhibits side by side, should you care to check them out.