a few ways to bring about political change
The state of the world can be overwhelming, but even the small things can make a difference. 
This feature was first published in the pages of frankie 85.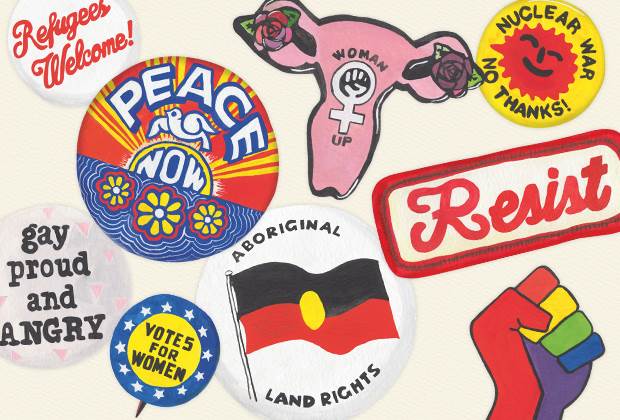 READ MORE The world right now is pretty overwhelming, and sometimes it's difficult to know how we can usefully contribute to making change. If you're unsure about jumping straight into the action, take some time to get acquainted with exactly what's going on, and where. We're not exactly living in the golden age of newsprint, but if it's been a while since you picked up the physical version of your local paper, it might be worth hunting one down and giving it a read. Internet news is useful, but if you're easily distracted, you've probably experienced the web's magical ability to become a time-sucking sinkhole. Newspapers force you to go slow, and when you're reading something physical you're less likely to be distracted by a pop-up video asking you if you'd like two-for-one tickets to SEXPO. Beyond newspapers, you might want to consider reading longer form pieces that reflect on the history behind current events. When it feels like the world's literally imploding, it's easy to forget that many generations of people have dealt with political nightmares before. If nothing else, historical accounts of activist groups and biographies of political leaders make for some high-quality motivational material.
START A CONVERSATION Seemingly small moments can become effective opportunities to create long-term social change, and sometimes having a good chat with a friend can be equally, if not more meaningful than spending your afternoon at a rally. A classic scenario is the moment when you're sitting around with your family, and someone makes a passing (and horrifying) racist, sexist, ableist or homophobic remark. In the nightmarishness of the moment, it can be difficult to intervene in a way that feels useful. Announcing that their comment's not OK is a good first step, but in a big group setting, it's rare to get much further without entering into a circle of aggression and defensiveness – especially if there's no one around to back you up. Though it's hard and almost always a bit awkward, try pulling the person aside in a quiet moment to tell them why you felt uncomfortable with their comments. Even the most frustratingly stubborn people can learn to listen, especially if you're willing to listen back. Need specific tips on what to say and how? Good news: the internet's full of step-by-step 'how to talk to your racist relative' advice.
REACH OUT TO THE RIGHT PEOPLE If you live anywhere in Australia, you live inside a Federal Member of Parliament's 'electorate'. Amongst other things, it's the member's responsibility to be a voice for the people they were elected to represent. Politicians can be intimidating, but because they're paid to act on your behalf, it's literally their job to listen to your concerns. If something is bugging you about government policy – whether that's refugee policy or the way the government is treating senior citizens – you're entitled to complain. Find out your member's office address and send them a handwritten or typed-up letter. Emails are a little easier for electorate offices to ignore, but they can still be effective when sent en masse. Writing to a pollie can feel like a small act, but when multiple electorate offices all start getting emails about the same issues, it forces the government and the opposition party to create a response and pay attention. For a real-life, in-person conversation, drop into the electorate office and ask to talk to a staffer. And if you live deep in the heart of regional Australia, far away from your member's office, there's always the option to jump on the phone.
CONSIDER YOUR STRENGTHS The thought of being politically active tends to conjure images of chanting, marching and organising petitions, but if none of that sounds appealing or accessible for you, and you still want to get involved, reflect on the skills you have right now and look up ways to use them. Do you spend most nights knitting on the couch? How about stitching up jumpers for penguins living in areas affected by oil spills? (It's a real thing that helps keep them safe.) If you like to cook, then your services might be helpful in a soup kitchen, a food van, or with an organisation like Meals on Wheels. Designers can assist with logos, pamphlets and website layouts. Groups like the Asylum Seeker Resource Centre sometimes need volunteers to help with admin, stocktake or cleaning – vital tasks that make it possible for them to run. If your timetable makes it tricky to lend a hand in person, you can still put your talents to good use by volunteering your services and working on your own time.
JOIN AN ACTION GROUP If you're super-passionate about a community issue, it's likely others are, too – and sometimes they've already formed groups to do something about it! Local environmental collectives often hold days where you can lend a hand to clean up a shoreline or help to plant trees. On their own, one-off events can feel inadequate, but over time they make a difference, and they're a good way to feel out an organisation so you can decide whether you'd like to be more involved. On the other end of the scale, refugee action groups often call out for last-minute volunteers and activists to help with an urgent protest or action. Getting your name on the mailing list – or even just liking the Facebook page – can be a useful way to stay in touch and keep an eye out for events you can attend. The more involved you get, the more you'll understand what feels like a comfortable level of participation for you, personally. Maybe it's participating in a phone-calling action, where you ring politicians en masse with the hopes of preventing a deportation, or maybe you're more comfortable on a picket line. Working with others in a group setting is the best way to find out, safely, what you can handle.

Pick up a copy of the current issue of frankie here, or subscribe from $10.50.