take a tour of the shipping containers that house this letterpress studio
Jo Olive, a letterpress printer, artist and mum of three, runs her small business from a set of shipping containers on her property in northern New South Wales. She has been operating Jo Olive Letterpress & Creative Studio for a decade (though it's had a few different names over the years), making and selling custom letterpress projects, stationery and artisan goods. We recently caught up with Jo to check out her rad workspace.
What does the process of letterpress printing involve? In a nutshell, it harks back to the 1400s and involves transferring an image from a raised inked surface onto paper with a lot of pressure. A modern letterpress project involves developing a design, preparing the design for plate-making, making the printing plate, printing onto paper, trimming or die-cutting the project to size, lovingly packing it all up, and shipping it off.
This all sounds pretty breezy, but it's actually a labour-intensive process that involves a lot of planning, measuring, sourcing of materials, registration, mixing inks, cleaning down presses, problem-solving, fixing machinery, cutting papers, and a fair amount of communication and admin.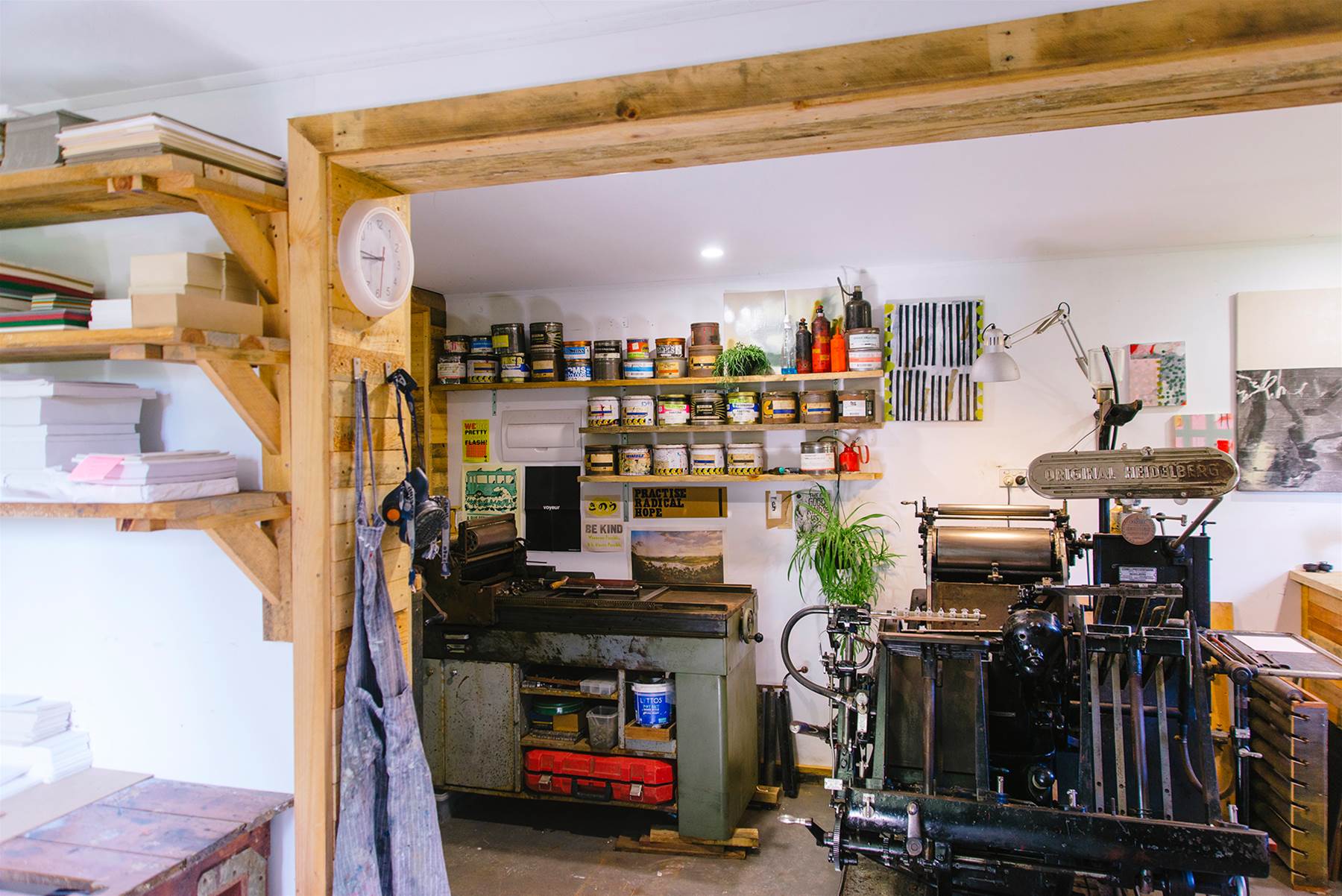 Describe your workspace. It's made up of three black shipping containers: a wet print space, a dry paper space, and an office area. My husband Andy (who's also a printer) and I have used mostly reclaimed and found materials to kit it out, including chunky ply, pallet wood and old office furniture. Andy and I share the office space, but he gets muscled out by my overflow of stuff. I like that it has greenery throughout and a great set of speakers.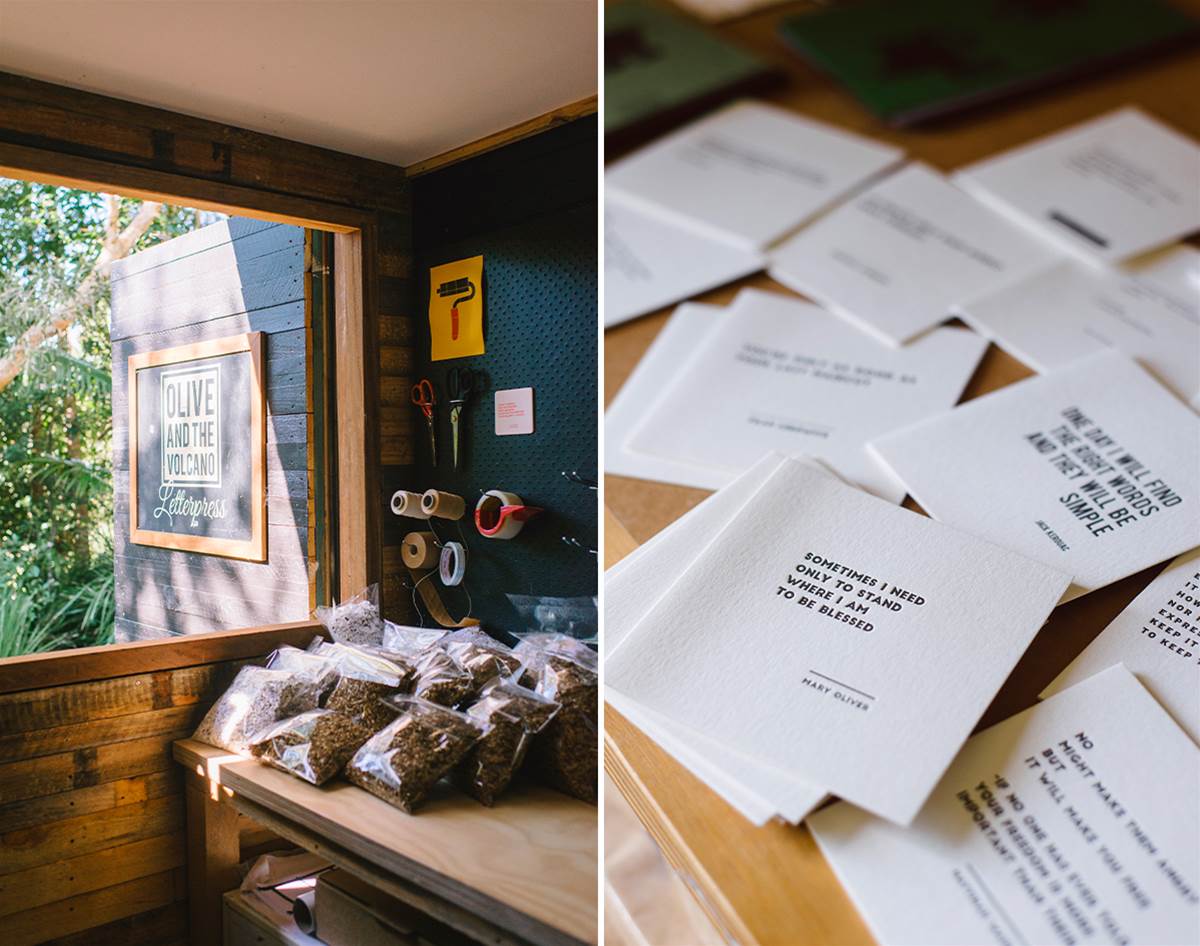 What equipment and tools do you use? I get to play with the most amazing things each day, from vintage presses and book presses to velvety black inks and the softest cotton papers. We currently have our main production press (a 1956 Heidelberg Platen press), a Vandercook proofing press, a foot-operated Japanese press from the early 1900s, and a Potter's proofing press. This small space also houses a vintage German guillotine, a beautiful big book press and a foiling unit which is soon to be operational (fingers crossed).
Throughout the space you'll find stacked papers, old advertising cuts or engravings, lead type, wooden type and a multitude of inks, spatulas, rulers and tools to adjust and prepare the press for printing. We also have another two Heidelberg presses – one for spare parts and one that sits in the living room awaiting its final placement!
What's your favourite part of the studio? The main printing press is a clear winner – she's tough, beautiful, makes a great sound and prints beautiful things. I have a soft spot for the guillotine (perfectly trimmed notebooks are completely satisfying to make and you can get into a real rhythm cutting big piles of paper).
Being able to open up the end doors to the garden or daydream while looking out to the mountains is pretty awesome, too. I often have wallabies outside the window and a sweet family of wild quails that follow each other around the garden.
Where did you learn your craft? I'm self-taught. I studied art history and cinema at university and went on to study printmaking, so I had a solid idea about what makes a good print, but had no prior experience in letterpress before the press turned up at our house!
Andy and I read and watched everything we could get our hands on about letterpress and experimented for a year or two before we started making our own products. That said, this is my 10th year printing and I will NEVER stop learning about letterpress. There is always so much more to know and glean from so many amazing printers around the world.
How do you balance your business with your other creative pursuits? Making art is a hugely important part of my life and I'm not going to pretend for a minute that there is any kind of balance! I recently started to view making art like being in a relationship; it's important to turn up, develop trust and foster respect for this important part of yourself. Seeing it this way has allowed me to shift a big creative block and orchestrate time for both things.
I think this idea of 'balance' is a big myth, especially when you are trying to parent, eat well, make money, pay bills, keep healthy and do all the things we strive for. If I could share anything about pursuing multiple passions, it would be to drop all that you don't absolutely love, slow right down, let go of expectations, be kind to yourself and let the heart decide – it will let you know when you need to spend time on one thing or the other.
What are some of the challenges you've faced while running your business? Our studio name has changed multiple times, we've taken up day jobs and quit day jobs, we've closed down and re-opened, we've tried public studio spaces then scurried home again, we've run the business as a couple and we've each run it separately. We've endured losses and celebrated wins. I think one of the biggest challenges was burnout. Working really hard without the proper systems in place and enough down-time wears you out, and you'll want to just throw it all away.
We closed the studio for a year to rethink what we wanted to do and how we were going to do it. We came back to printing with a better understanding of how we work, what we wanted to create and what we would and wouldn't take on. We probably should have just taken a holiday, but the burnout felt so heavy that we closed the doors. That said, I wouldn't change a thing. I've learnt so much from the mistakes and now I understand that this is a lifelong process; it is so much more than simply making a living. Working this way teaches you who you are and you do what you need to do to make it work.
For more small-business stories like this, visit frankie.com.au/strictly-business, or sign up to our monthly e-newsletter. Have a small-business story you'd like to share? Pitch it to us.