meet pilgrim hodgson, the artist behind the 2022 frankie diary
November is nearly here, frankie friends, which means that pretty darn soon it'll be 2022 and we'll all be wondering where the time has gone. But fret not – we've got a lovely diary filled with cool retro-style illustrations by Melbourne artist Pilgrim Hodgson to help keep you organised and inspired throughout the year.
We recently popped in on Pilgrim to chat about her rad art, including the vintage kitchen-inspired works she created for our pretty little journal.
Hi Pilgrim! Tell us about how you became an artist. Both my parents were very creative. Dad was a photographer and Mum worked throughout my childhood as a graphic designer. I spent school holidays shadowing her at work and as soon as we got a computer at home I was drawing in Photoshop and making fancy covers for mixtapes. I didn't finish my visual communication degree but I've been steadily working on art and design projects for the last 15 years.
How would you describe your illustration style? It's very graphically informed by the late '60s and '70s. I really love the explosion of colour and imagination that overtook every aspect of culture in that era. I was born in the '80s but there was a lot of leftover 'stuff' from that period around me; in my mum's design books, my picture books and Sesame Street. It really sunk its teeth in early!
What initial references did you use when you began working on the 2022 frankie diary? I wanted to evoke the sense of being in a well-used and welcoming kitchen, so I thought about the cookbooks my family had and the linens and Tupperware that I associated with the feeling of being cared for. Years spent trawling the internet looking at old Pyrex and wallpaper finally paid off and the initial sketches came together quite quickly.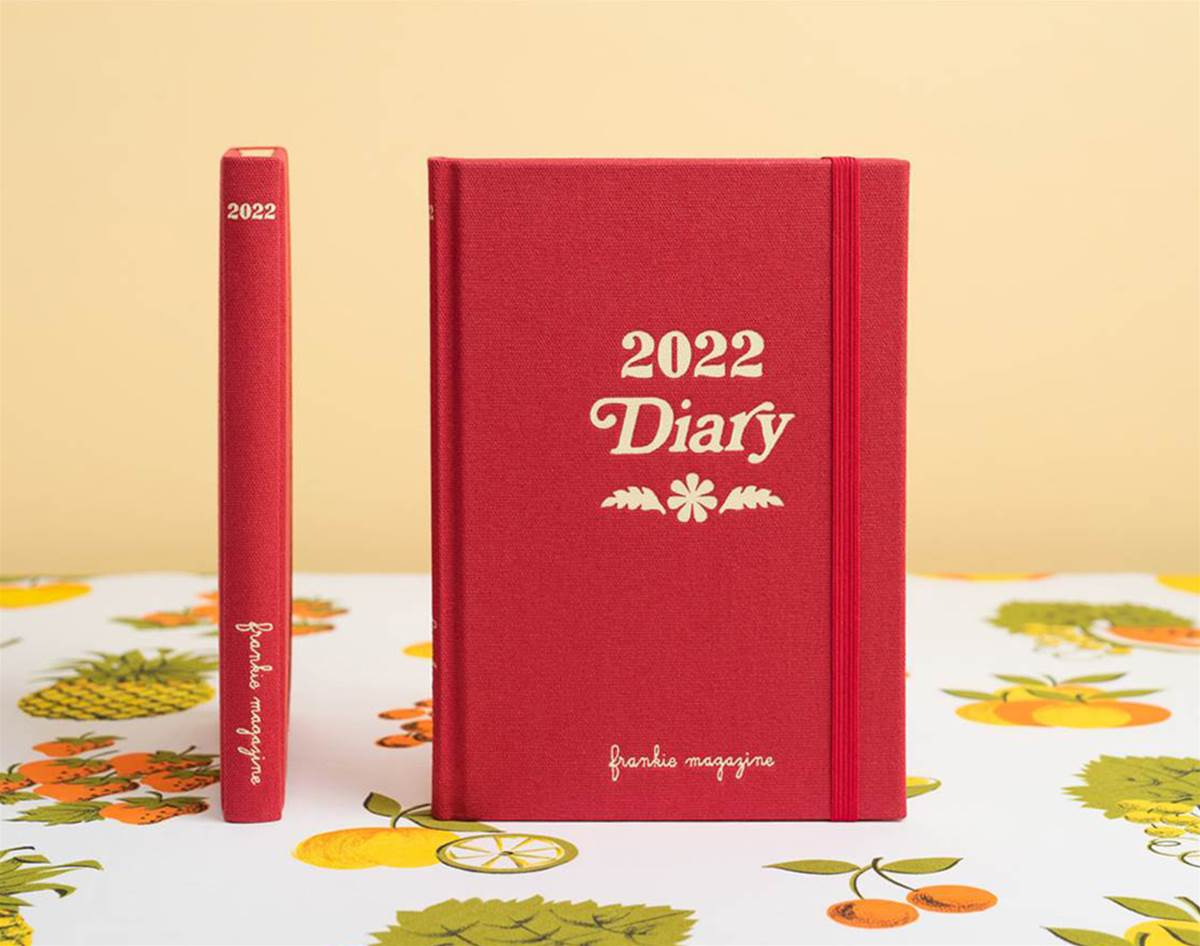 How do you stay productive when working on a big project like this? Staying productive isn't too hard for me – I get very inspired and excited and just focus on the task. I try to stay disciplined by using a work timer on my computer. It reminds me to take regular breaks, stretch and move about which is really important during big jobs. I listen to audiobooks constantly while I'm working as well as motivating music to boost my mood if I start flagging.
What draws you to retro patterns and prints? I'm attracted to them because of that early association with them in childhood. It's nostalgia but it's also how my brain expects things to look, so I'm forever trying to create the things my brain wants to see in the world.
Can you describe your workspace? I'm fortunate to have a couple of workspaces. The first is a shared studio space with my husband. His side is full of musical instruments and my side has a big table for sewing, spreading out books and working on. But I also find I just want to work while sitting cross legged on a sofa, so a lot of the work on the frankie diary was done in my little sunroom nook. It gets gorgeous sunlight and breeze but it's private and I can work undisturbed by my family (just don't tell my osteopath).
What's your favourite thing to cook? This is where I drop the bombshell: I actually really don't like cooking. I love eating, I talk endlessly about food and I love people cooking for me, but please don't make me cook. If someone else is going to clean up, though, I will make a great lasagne or bread and butter pudding. I do cook comfort food on the condition that someone else tidies up after me.
What do you get up to when you're not making art? Generally something else creative. I sew and crochet. I make most of my own clothes (often from my own fabric designs) and I've spent a lot of time sewing face masks over the last 18 months. But it's rare I'm not making art of some kind.
Five songs you enjoyed while making the 2022 diary:

Next Time Might Be Your Time - 'Blue' Gene Tyranny
Oh How We Drift Away - Tim Heidecker and Weyes Blood
Deep Blue Sea - Art Lown
Miraculous Weekend - Peter Ivers
Lazy Nina - Greg Phillinganes
Nab the 2022 frankie diary from the frankie shop or find a stockist near you.