how made590 went from market stall to much-loved fashion brand
If you've frequented King Street in Sydney's inner-west suburb of Newtown at some point in the last two decades, you might be familiar with Made590. The fun-loving fashion brand has been in business for seventeen years – no mean feat for any small biz. To hear about what it takes to go the distance, we dropped by Made590's new Marrickville shop and headquarters (the team moved from their Newtown location late last year) to chat to founder and designer Christina Kelly. If you're curious about how to build community, navigate local production and live your values, read on – Chris has plenty of wisdom to share.

Hi Chris! Tell us about how Made590 came to be. I pretty much left high school and started my own screen-printing business where I screen printed tees. I was doing the markets like Paddington and Bondi, then one day, I drove past this corner store for lease in Newtown, Sydney, right down the end of King Street. I'd always loved that place but never planned to have a shop. So I did the maths. My dad was an accountant and he said "Yeah, you could open up a shop." It was 2003, I was 23 and had no money. The rent was stupidly cheap so I just asked my friends if they wanted to stock their stuff on consignment. We ended up staying there for 16 years.

Where did your love of fashion begin? I come from a big family of sewers on both sides. My nonna, grandma and mum were really accomplished sewers, so growing up all I ever had were homemade clothes. It actually drove me crazy! I was only allowed go fabric shopping and then I'd choose a pattern out of a book and Mum or Nonna would make it for me. I've always wanted to work in fashion and design clothing. But because I'm a terrible drawer, I never thought I could study fashion design – I didn't have the confidence. I went to a design high school that was very hands-on so I did a trade in screen printing.
 

 

View this post on Instagram

 
How did you go from stocking other people's product to creating Made590's own line? Once I had the shop, I could see where the gaps were. Sometimes people would be after a denim skirt to go with my t-shirt and I'd go "I'd love to make a denim skirt!". So I got in contact with a patternmaker, started sourcing fabric and did really simple shapes. It grew organically from there.

When did you make the switch from stocking other people's products to mostly stocking your own clothing? About three years into the business when Kel [Kelly White], our co-designer came on board. She definitely had the confidence to design more. It became "Let's design what we want to wear". I never had enough guts to do that. Also, around that time, a lot of independent brands started to die off a bit so it was becoming harder to find Australian-made products to stock.

Did you always plan to expand the business into a fashion line? I just wanted to cover the rent! As soon as we opened the door, we were busy straight away. I remember it was right at the beginning of the retail boom: every week, we'd open Thursday to Sunday and literally empty out the shop. Then I'd spend Monday, Tuesday and Wednesday trying to frantically screen print and go around to friends' houses to pick up more stock. We opened at a really, really great time for retail, which I don't think Australia has ever seen again.


Starting a fashion business usually requires a fair bit of capital. How did you navigate the set-up costs? We set up that shop on $5,000 (of course it was completely different when we moved to Marrickville this year and set up our new shop!). And because I asked my friends to stock on consignment, I didn't have any outlay on stock. Later on, I didn't design seasonal ranges – I would only design what we needed and did things very slowly. We'd make one denim skirt with a maximum of 30 pieces. That's the beauty of Australian made, you can have these small numbers. Then when the pieces sold, I'd reinvest that money and instead of just making a denim skirt, I'd make a dress as well. Everything just went back into the business. For three years, seven days a week, I worked every single day in that shop. You just live and breathe it. 
How has your business model changed over the years? When we first opened, websites weren't a thing. Two years into the shop opening, everyone was like, "You've got to have a website!" Luckily a friend helped me set up ours. But I was always very focused on bricks and mortar. I treated the website as a secondary thing for the longest time, until maybe a year or two before COVID hit.

That's pretty late in the game! We have such a strong, local community and we'd still do markets like the Finders Keepers Market and Makers and Shakers so we always had so much going on that the website felt like an afterthought. We were doing OK without it. And then when COVID hit, it was our only line for getting stock to people. And the website just blew up! It boomed!

What's the split in sales between website and bricks and mortar for you? It's a bit tricky because we're still quite new as a shop in Marrickville. Since reopening our doors in Marrickville and also having the website, it's about 60 per cent to the shopfront, 40 per cent online.

How have you found catering to a new online audience on top of your existing community? To be honest, the balance is really hard. Last year when the website took off, we were only servicing web orders. I didn't have to worry about the shopfront, so I was just manufacturing for online. Now that we have the shopfront again, we're selling out all the time. Before our production numbers were pretty much just for one channel. But we have two now, so it's really hard to predict how much you allocate to the web and how much you allocate to the shop. I'd actually love advice on that.

That's difficult because you have to think about how big you want to grow in order to keep up with demand and whether that's sustainable for you. Yeah, is it sustainable? Is that what we want? I work with independent makers where it's often just them and their partner, so if our production numbers keep growing, our makers would struggle to keep up. I don't want to let the customers down – if people want our stuff, I want to fulfill that demand, but I also have very strong ethics about mass production and keeping things made in Australia. I would never move my product offshore.
 

 

View this post on Instagram

 
You launched your Everybody range in 2018 and now offer more sizes than most brands. Did you have to change your design and manufacturing process to make that happen? Yes, and no. It was the best thing we did for our business, expanding to more people. I feel very strongly about the fact that it is something that should be offered across the board, even though it took me a really long time to realise that. But I never want somebody to thank me for making more sizes – it should be the norm.

When we started extending our sizes, we did use more fabric. But it doesn't use much more as what you'd think. We now manufacture from extra small to 5x, which is about 8 to 26 or 28. When I went to our patternmakers, cutters and makers and said, "We want to offer more sizes because there's a gap in the market," they agreed to cut only one or two [pieces in each size]. That's because I've been working with them for such a long time. I see my makers on a daily basis. They trust me and were willing to go out of their way to help me, but I don't believe you could do that straight away if you started a business right now. To go to a cutter and say you only wanted to cut five pieces in extra small without being charged surcharges along the way wouldn't be possible.

Lastly, making more sizes means there's an initial outlay in the patternmaking because you have to grade your pattern to more sizes, but that's an investment within your business. My advice is if a small brand can't afford to do this, maybe cut down on how many styles you produce. Maybe focus on five styles and add your size range to that. You've got to work out your ethics, morals and beliefs in your brand. And I truly believe that ours should include an inclusive size range.
What is one major business lesson you've picked up in your time? To love what you do and love who you work with. It's taken me a really long time to build a team that I'm super-happy with and super-proud of, where we all work seamlessly together. I think you've got to put the trust out there in order for them to trust you and vice versa. Employees are really important, so I always say "we" instead of "I" and include our team in socials. It's important for everybody to feel a part of it.

There's a really strong sense of community in your Instagram posts. I think the value of community, whether it's within your team or your customers is probably the most important part of the business. The team all model the clothes online. That was actually a huge part of changing our business, having "real women" on the site. It actually came up because getting stock weekly meant not having the time to hire a photo studio and model. It made sense for us to model the clothes instead because we designed it.

You've survived the GFC and now COVID. Do you have any advice on riding out the hard times? Don't buy beyond your means. I used to always make sure I had enough money to pay my makers, suppliers and staff – they're the number one priority. So maybe things like paying the phone bill weren't as much of a priority as making sure that the smaller people were taken care of. Honestly, it has been extremely stressful over the years, and it meant that I didn't draw a wage until eight years into the business.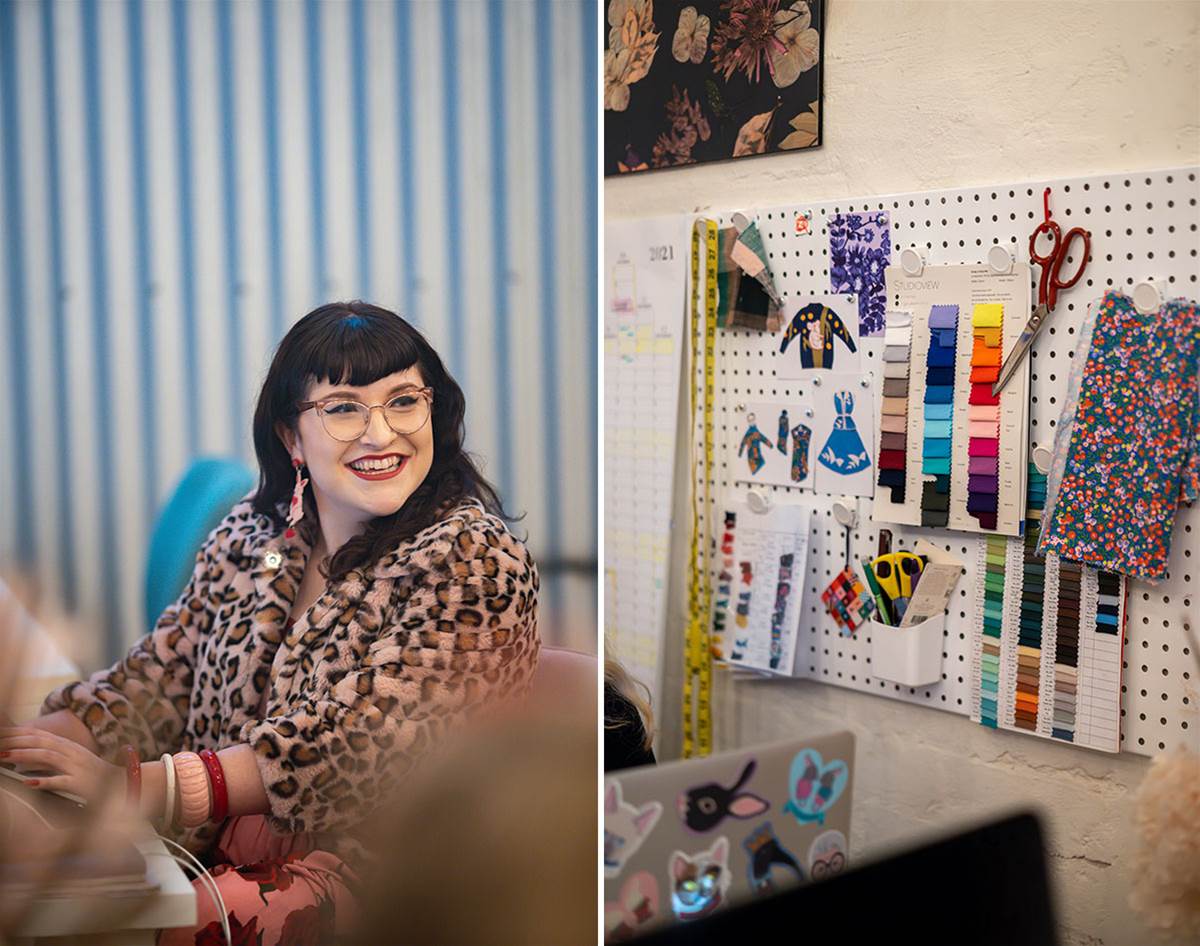 You're really passionate about making in Australia. What would you tell others looking to manufacture locally? Something that has stayed with me for my whole time in business is that I'm extremely trustworthy. I cannot stress enough to anybody that it is so important to pay your makers and suppliers on time. I think if you can develop that reputation, people are willing to go out of their way for you.
Another thing about us being an ethical brand is that we don't haggle with price. I give a skirt to a maker and say, "You need to tell me how much this is going to cost." They're always like, "Well, you tell us how much you want it to be." And I'm like, "No, you need to work out how much you need to make on this skirt." That's our business model.

How did you go about finding your makers? Back in the day, I went to the Yellow Pages. I would call them and then I would go and meet them in person. I think that still applies today. You just doing the ring-around going, "Hey, I'm starting my business. I want to make 20 units," or something like that is probably going to result in most people hanging up on you. It's not because they don't think there's enough quantity, they just don't think that you're legit and that you're going to waste their time. I don't think you can sit at home on a website, either. It's about word of mouth. Going to places like E&M Greenfield in Sydney, which is a fabric and haberdashery supplier is helpful. Everybody knows everyone in the industry so if you get a name, you can chase them up. My advice is to meet them in person and put in the legwork.

Keep in mind that a lot of makers are older, too. They don't have email, they don't have a website. They've worked in the industry for a long time and a lot are immigrants or refugees. And let me tell you, they've worked way harder than you've worked, so don't be too full of yourself. Be genuine. You need their help. Don't act like they're working for you because you're working together. That's what's kept me going 17 years.
Throughout the years, how have you made sure that you've stayed relevant and that you're serving your market? It's definitely intuitive. I go on my gut and I rely on my team's gut. I have an amazing team. One thing I really have to stress as well is don't be scared of competition. It helps you thrive, keeps you going and wanting to be better. There are enough people and enough consumers out there for everybody.
In terms of how we work, I don't think you should design to what is trendy. Make what you want to wear, because if you want to wear it, and you and all your friends and your team want to wear it, chances are, the rest of the world want to wear it, too. That's how we've always done it. Kell and I don't wear jeans or pants – we hate them. So we don't make any. Over 17 years, we've designed two pants. So my advice is if you believe in it and love it, chances are other people are going to as well. 

For more small-business stories, head to frankie.com.au/strictly-business.