a few ways to support your favourite small businesses
How to help your favourite independent businesses stay afloat during the coronavirus crisis, while also practising super-safe hygiene.
We're living in uncertain times, pals. While we all do our bit to practise the government's recommended social distancing measures and curb the spread of COVID-19, many in the community are preparing themselves for oncoming financial hardship. Artists and makers are dealing with the cancellation of major markets and festivals, while independent shops and eateries (and all of their staff) are also feeling the pressure from decreased foot traffic. We can, however, help keep our favourite small businesses afloat while continuing to practise super-safe hygiene. Below, you'll find a few ways to support your local stores in this time of need.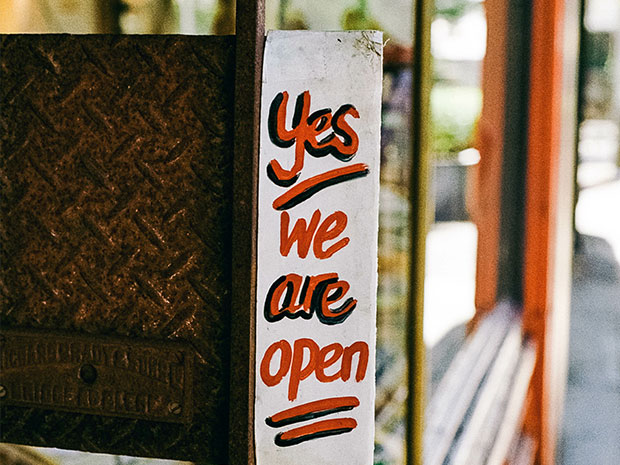 SHOP ONLINE AND ORDER IN If you're spending more time at home these days, it's worth firing up social media and checking what businesses will deliver the essentials to your door. Look out for places that will deliver stuff like grocery boxes, tipples, pre-cooked meals, books, soap, pads and tampons, and if you're able to, choose the subscription option instead of a one-off purchase.
Chances are, your local cafes and restaurants are now relying on takeaway and delivery, too. Call them up or jump online to see what their options are (some are offering carpark pick-ups, and a bunch of fancy restaurants across Melbourne are even selling fresh pasta packs to take away). It's also worth checking to see if your favourite creative folks have found workarounds for face-to-face gatherings. Perhaps an artist is offering online classes or a muso is livestreaming a performance – now's the time to show your support.
INVEST IN GIFT CARDS OR MERCHANDISE As small business owners prepare for a spike in online orders, many of their regular products or menu items might sell out. You can still shift your support to other gestures that count, such as investing in gift cards that you'll be able to use at a later date. And remember, nothing says you're their biggest fan like a strategic merch purchase: that coffee mug, keychain, tote bag or t-shirt has your name all over it.
SHOUT A FRIEND, FAMILY MEMBER OR NEIGHBOUR AN ESSENTIAL OR FEEL-GOOD ITEM It can feel a bit dire and apocalyptic witnessing every-person-for-themselves tendencies. We're all in this together, so if you're able to, reach out to people in your neighbourhood or apartment block who may be vulnerable or feeling socially isolated. Share groceries and offer to drop off items for them if they need it. Shout your mate something nice or drop off a little care package if they're confined to home. The smallest gestures count the most in times of crisis.
SHOW YOUR APPRECIATION IF YOU CAN'T SPEND Maybe your budget's been stretched, you're broke, or you've recently lost paid work. There's still ways to show that you care without handing over any dosh. Many small businesses trade as one-person operations, juggling family while also managing their energy and mental health reserves. Boost your favourite spot's content on social media, write to them to let them know you're grateful for what they do or share a happy memory and comment with words of encouragement and support when they post updates.
Keen to support more small makers? You'll find a whole bunch of frankie friends who are currently offering special discounts below.

ART
Adrina Manon – 10 per cent off prints
Marime Studio Ceramics – free shipping during March
Takeawei Ceramics – free shipping using the code LETSSTAYIN
Liana By Liana – free shipping for the rest of March
Subin Yang – 20 per cent off until Monday, March 23 using the code 4RW9OOV
Maria Ingram – 20 per cent off using the code HELLYEAH20
Jennifer Magno – 40 per cent off using the code MARCH20SALE

RETAIL / OTHER
Sugarcane The Label – 25 per cent off with the code HOME25
Brown's General Store – 10 per cent off using the code 'thecword'
Market Stall – 20 per cent off until midnight Sunday, March 22. (Discount automatically applies online.)
My Favourite Apron Co – free domestic shipping
 
Shop Moobee – 30 per cent off bento bags until Friday, March 20 using the code ONLINE30
The Grumpy Swimmer bookstore – free delivery for purchases over $25
Groove Therapy – 20 per cent off online dance classes using the code NOTALONE. The team will also be sporadically logging on to hold Instagram-live classes.
Handmade Canberra is holding a virtual market, with special discounts and giveaways. Log on between 10am-4pm on Saturday March 21 and Sunday March 22.
The Cat's Meow – 20 per cent off using the code EOSS
Jhoomka – 20 per cent off during March

Finki Handmade – 20 per cent off until Sunday, March 22