word from the wise: how to start your own fashion label
Do you have a knack for design and feel for fashion but don't know where to begin? Alice and Emma from local fashion label SISTER might be able to help with that.
Do you have a knack for design and feel for fashion but don't know where to begin? We spoke to Emma Cutri and Alice McIntosh, the duo behind the Aussie fashion label SISTER, to hear about how they got their first line onto the racks.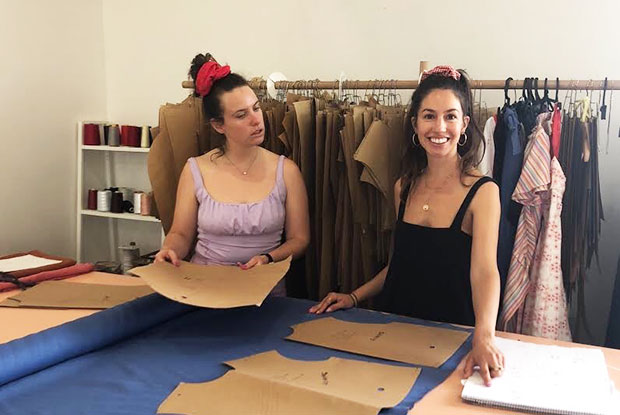 How did SISTER first begin?
E: SISTER was gradual, beginning about four years ago when we were both studying at uni. We began making a simple apron dress, which friends and friends of friends were seeing us wear around town. Women were then messaging us to order dresses, so we would make a bunch and then arrange for people to pick it up from our doorstep! Things got more serious when we met a seamstress and decided to add designs and make a small collection.
 
How did you go from having an idea for a clothing line to physically getting it onto the racks?
A: We worked with a pattern maker and seamstress friend to produce the first samples. Then our friend Ben Clement shot the first collection and our pal Kelsey Martinovich modelled for us. Emma's partner is an accountant so he helped us to crunch numbers and make it viable. It was our community who made it happen.
Where did you learn the business side of launching a fashion label?
A: Emma did a bit of fashion merchandising at University and has honed a lot of business skills through her partner. I did the small government business scheme NEIS (New Enterprise Incentive Scheme) when we first started, and we've also just learnt so much on the job and by asking anyone who will listen!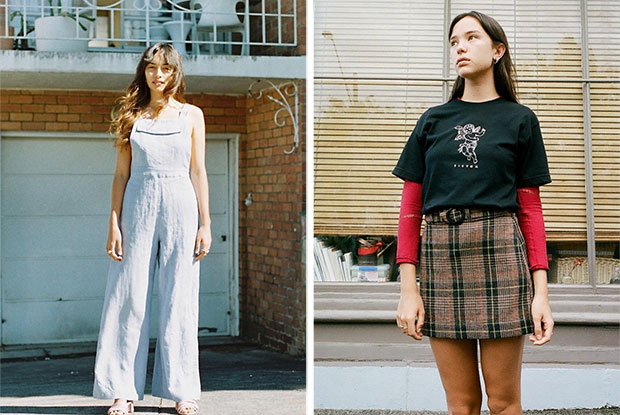 Is SISTER your only income or do you have other jobs?
E: This is the first year we're doing SISTER as our only job! I'm a teacher and Alice has been working in kindergartens until now. At first we loved just having SISTER as a pleasure project and working part-time in education. We both get a lot out of working with kids and we've learnt how to be adaptable through our teaching work and balancing SISTER. However, opening the shop has accelerated the label a lot and it was time to shift our attention fully.
How important is community to SISTER?
A: Community is the inspiration and glue for SISTER. We are constantly drawing on our sisterhood for inspiration. Opening a real life shop made sense for this so that we could be more a part of the people who support our label. Also, we try to work to connect and give back to the community. Like our Invasion Day donations, where we give our online and store profits to local organisations who support Aboriginal and Torres Strait Islander communities.
How do you incorporate sustainable practices into SISTER garments?
A: We produce locally to have more control over the production and cut down on carbon miles with importing. We use recycled fabrics, don't wrap any garments in plastic and use biodegradable post bags. We also design patterns that have good fabric usage to minimise waste, and we donate our offcuts to local artists, schools and kindergartens.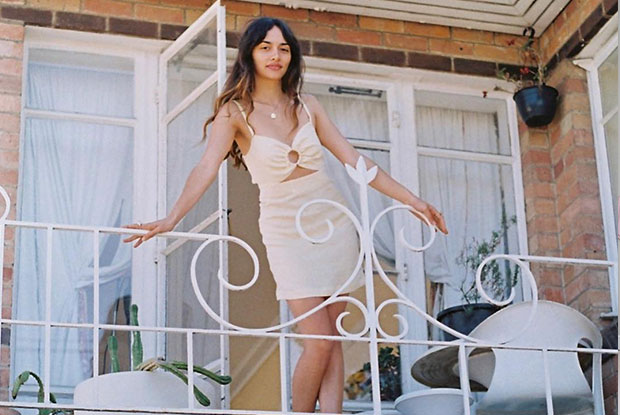 How have you found makers when there aren't too many local ones out there anymore?
A: We have created a good relationship with a family-run business in Brunswick. They've helped us find other good suppliers, too, as they've been doing it for ages. We always ask around, and recently we contacted our local council to try and put us in touch with anyone they know who is producing clothing.
What are your tips and tricks for people wanting to launch their own label?
E: Do what you can with the resources around you. Work with deadstock fabrics [fabrics that are left over from other labels] rather than buying new ones – they are often cheaper and better to use, too. Draw on the skills of people around you. If there's anyone you know doing work you're interested in, buy them a coffee and ask questions. Contact people through social media that might need some intern help, but also know your worth and if you already have some skills then apply for work. Start small, make samples and then sell them pre-sale so you are not over-producing. Use social media platforms to get your label out there.


What's your favourite part about running SISTER?
A: Having a creative business with a best friend. It's doing it together that makes it enjoyable. We often still don't split tasks up because having each other to bounce ideas off (and hang out) makes work more fun. Also, connecting to our community through SISTER is really special. Now that we have the store, we are building up relationships with neighbours and customers and it brings more meaning to having a label.
And the trickiest?
E: Keeping on top of admin can feel like the hardest part of the label sometimes. Producing clothes locally is hard; there are lots of skills that have been lost, so we need to work closely with our manufacturers to achieve the quality we need.
 
Is there anything you wish you'd known before you started SISTER?
A: How much admin there would be to running a business. Emails are infinite! And also, how to manage your time and not rush things too much.