word from the wise: how to choose a tattoo design
We asked tattoo artist Amy C. Duncan everything you need to know before getting inked.
Whether you're pondering your very first tattoo, or keen to add even more ink to your epidermis, Amy C. Duncan of Artemisia Custom Tattooing (nestled in the botanical haven that is the Dandenong Ranges on the outskirts of Melbourne) has plenty of wisdom, a few handy hints, and some cold hard truths about how to choose your tattoo design. Scroll down to get clued in.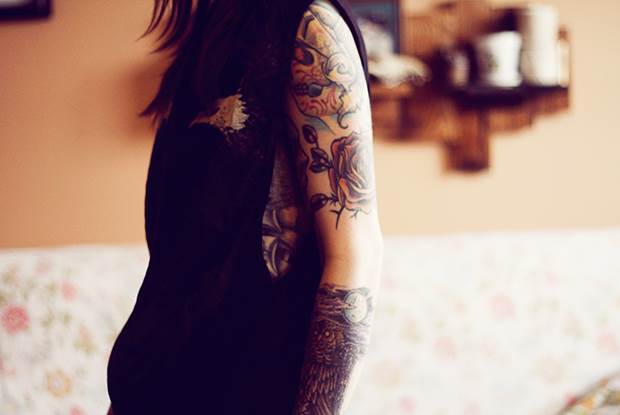 Where are good places to go looking for artistic inspiration? Nature, always! Flowers, leaves, fruits, herbs, shells, crystals, fossils, bones, birds, bugs… they never get old and always look classy. Natural history books are full of gems. Mythology and religion are timeless sources, too.
How fully formed does a client's idea for a design have to be before they go to their tattoo artist? That depends on the artist, for sure. Usually tattooists will prefer an idea that's fairly clear, but not overly rigid. Having a simple, solid concept – like "sleeve of native flowers, perhaps with butterflies or bees" – gives us a springboard for ideas that we can then run with. That tends to be the most fun for us (speaking personally, at least). If the idea is too loose, it can be hard to know where to even begin – but if it's too specific, the artist can't use their imagination at all, and the drawing ends up being a chore; either can be frustrating. My advice is to have an idea or two ready, but be flexible and open to the artist's input for the best results!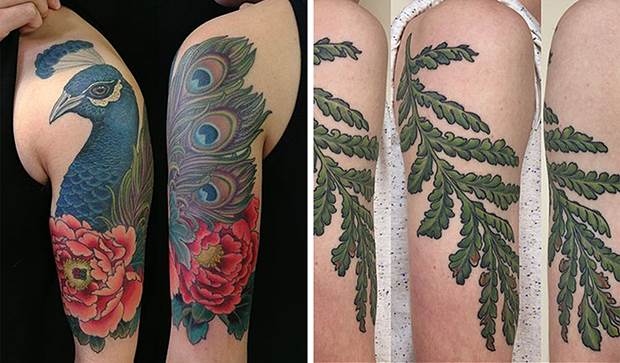 Sweet tattoo designs by Amy C. Duncan
What's the process for working out a design with an artist? And are there any particular questions you should ask during this stage? Generally speaking, most artists will arrange a consult with you to chat about the design beforehand – unless the tattoo idea is very small, in which case it can be worked out on the day. Some artists are very strict about their designs and won't allow any changes to what they've drawn, while others (like me) are more accommodating and will modify the design until the client is happy. My advice would be to ask the artist in advance whether they offer a custom service or only tattoo their own designs – otherwise you could end up feeling obligated to get a tattoo that wasn't what you were hoping for.
What's important to consider when deciding on the placement of a tattoo design? Think about what it would look like both naked and clothed, and how it will look both to you and to other people. Think about yourself as an older person, possibly a parent or someone who's employed somewhere different in the future. Take on your artist's advice about placement because they will have a lot of experience and know all the classic mistakes that people make, but also listen to your gut. Ultimately you need to feel good about it, whether the artist agrees or not.
How long should you mull it over before getting an artist to ink you? I don't think tattoos need to be overthought. The important thing is to get tattoos that speak to you on some level that is personal and authentic. Don't get an impulse tattoo for your favourite band or because of some meme or joke that's going around, because those will get old mighty quick. But if you want something beautiful and timeless and the inspiration hits you, I say do it.
Ink by Leonie New 
Who's creating great tattoo designs right now (other than yourself, of course)? So many people! I can't keep up with it all at the moment, but in Melbourne alone I love Leonie New from Chapel Tattoo for her bold folk art style, Evan Griffiths at Grey Street Tattoo for his amazing Japanese and bio-mech, and Alvaro Flores at La Flor Sagrada for his black and grey geometric stuff. There are crazy good artists everywhere these days!
What kind of designs work nicely for covering up other tattoos? Designs that are high in density and dark in colour usually, or designs with large areas of solid black. It very much depends on what's being covered, though. For most cover-ups I recommend lasering the old one first, as my designs tend not to work well as cover-ups unless the offending tattoo is very small. Big, fluffy flowers with lots of overlapping petals like roses or peonies work well, and dark leaves are even better for hiding things so the eye can be distracted by a colourful flower just next to the cover-up.
How can you find the tattoo artist that's right for you? Do your research. Look at different Instagram accounts and check out the websites of artists who appeal to you. Follow them on social media and get a feel for not just their work, but also their personality and temperament. Ask people you know for their experiences and seek advice on forums if you feel the need (though be somewhat wary of those). It's important that you love the artist's style, but ideally you will get along with them, too, if you're going to be getting a large or significant piece.
What are the biggest no-nos when it comes to choosing a design? Images that are super-trendy and will fall out of fashion quickly. Anything too dark, violent or disturbing. Designs that are more for the benefit of other people than for you personally.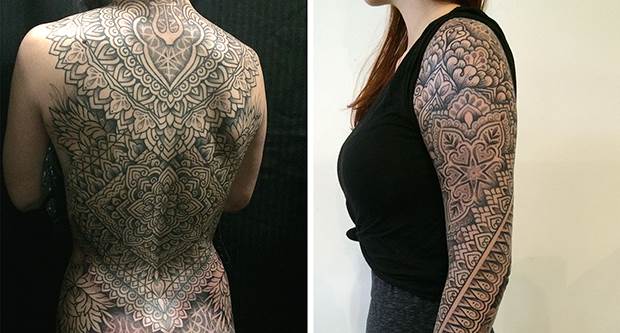 The tattoo stylings of Alvaro Flores
How will a design change over time? This very much depends once again on the tattoo, the placement and the wearer. All tattoos change to some extent – the lines can blur slightly and the colours become a bit less vibrant than when it was first done. Black tends to stay quite black, but greys and colours usually soften a bit – this is why many artists (myself included) insist on putting black outlines on most tattoos. But inks and machines and needles are of such high quality these days that increasingly I see tattoos holding up better than they used to. I have lots of tattoos that are over ten years old and still look perfect, especially the ones on my lower legs. The main things that compromise tattoos are poor design or application to begin with, repeated sun exposure, poor nutrition/skin health and stretch marks, particularly from pregnancy.
Anything else folks should keep in mind when choosing their tattoo designs? Choose aesthetic beauty over literal meaning. Oftentimes people want tattoos that represent something very personal to them, but are visually unattractive or awkward on the body – especially text. Tattoos are a visual medium – far better to encapsulate the sentiment in a beautiful picture instead, in my opinion.
Want more Amy? Not a prob. Pop over this way to check out her website, and pick up a copy of frankie issue 78 (on sale now) to read all about life at Artemisia Custom Tattooing.