word from the wise: how to become ace at knitting and crochet with... katie jones
Just in time for the frosty season.
The chilly months are fast approaching, so why not whip up your own cosy homemade jumper or blanket? We had a yarn with UK knitwear designer Katie Jones (who you might have spied in our issue 82) to find out how you can get started stitching.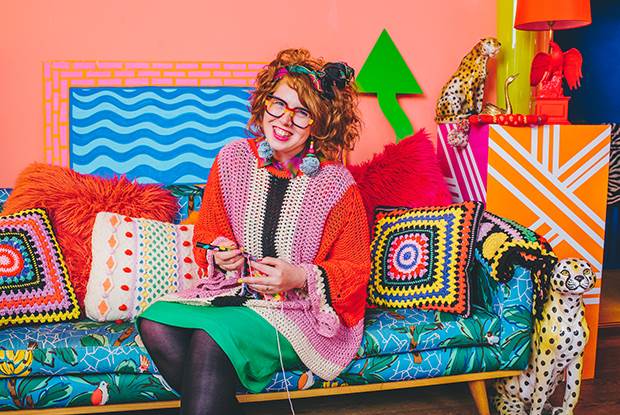 When did you first discover your passion for the stitched crafts? I knitted and crocheted as a child, then picked up my needles again when I was 16 and didn't stop!
How would you suggest a beginner get started in the world of knitting? Join a class. YouTube is also an amazing resource. I'd recommend you pick a really repetitive project like a blanket or scarf. Start with the easy patterns and get your tension and flow right before you try something trickier. It will be so worth it in the long run!
The sustainable fashion movement is stronger than ever at the moment. Why is it important to reconnect to the art of making and upcycling clothes? For me it's a no brainer – why buy more when we can use the abundance of stuff that already exists? Also, making your own clothes breeds a culture of care for our clothes. The more we care, the longer we keep them.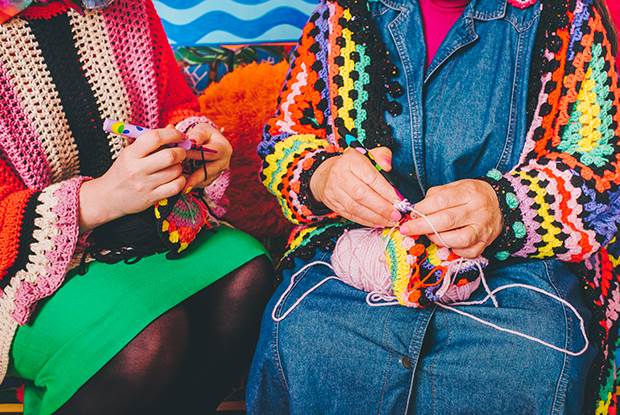 Is it best to start off with small patterns and work your way up, or just dive right in? Small, repetitive and simple – it's all about getting your tension right and that comes with practice.
Do you have any recommendations for finding resources, patterns, and materials? The internet is an amazing source for patterns, but also Australia is where all my fave knitters are from. I would recommend every knitter grab themselves a Jenny Kee book immediately and just gaze at the amazingness! I also love the site loveknitting.com – it has loads of patterns and great yarns.
What's the best thing about making your own clothes? If you make your clothes, you get exactly what you want and it's completely unique. I love it as I can get something so amazing and decorative that I would never be able to afford in store. Plus, there's the joy of the make – knitting and crochet really is meditation for fidgets. I find the make so relaxing; I love being able to zone out and still be productive.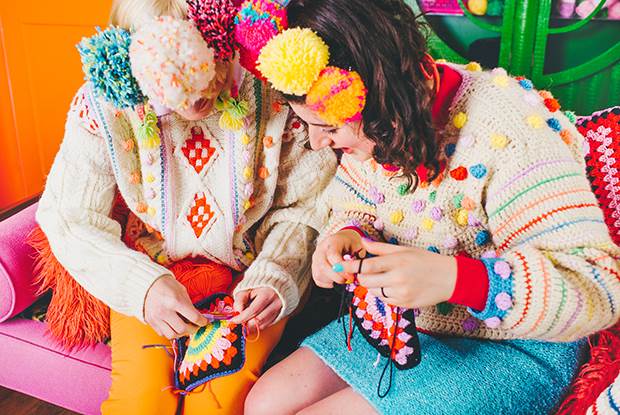 And the hardest thing? If you have a design and picture it and then it just comes out looking gross or if you accidentally felt it in the wash, that's a killer!
Any other tips for budding stitchers? Try, try, and try again! It's something that seems incredibly difficult at first and soon becomes easy. Also, don't let patterns or jargon put you off – that's the tricky bit, not the making. Break it down or watch someone demo it on YouTube and it will be a lot easier.
Anything else you'd like to let us know? If you want a winter warmer, start early! Don't make a de-stressor become stressful. Oh, and I have lots of new patterns that will be out in July for all levels, too.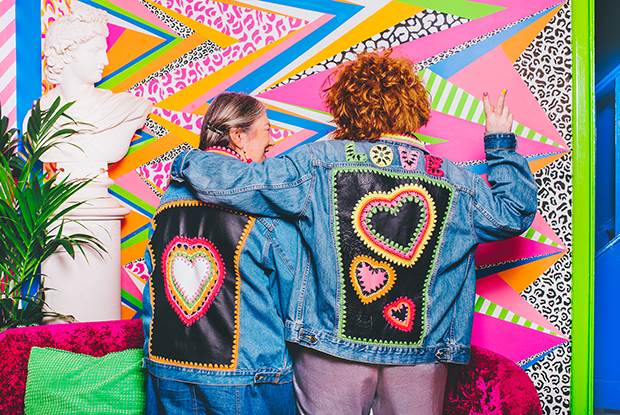 Scoot over this way to check out Katie's range. Joyous snaps by Rachel Manns.