word from the wise: getting started in embroidery with sarah k. benning
Fancy embroidering up a storm, but no idea where or how to start? Allow stitching legend Sarah K. Benning to guide your hand.
Want to give your loved one a Chrissie present that's been made with love, patience and craftiness? Well, get your DIY hat on, because we spoke to embroidery extraordinaire Sarah K. Benning on how to get started stitching up a storm.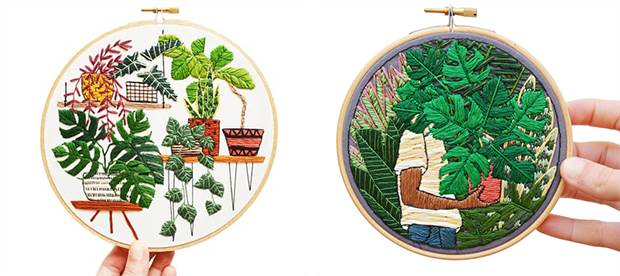 How did you first get involved with embroidery? I stumbled my way into embroidery back in 2013 just after I left school (School of the Art Institute of Chicago). It wasn't until after college, while working as a nanny and trying to figure out a) how to be a functional independent adult, and b) what it meant to be a post-school working artist, that I found my way into embroidery: thread on paper and then thread on cloth. At some point, I opened an Etsy shop (and later my own website), and embroidery began to take over my life and transform into both a fulfilling artistic practice and a thriving online business.
Why do you think there's been an increased interested in embroidery over the past few years? Embroidery is such an accessible craft. The materials are relatively inexpensive and readily available, making it an easy hobby to get into. Plus, it's become an extension of drawing and illustration, allowing contemporary artists to update and modernise the perception of embroidery. We live in a time when instant gratification is the expectation – imagery, news, things – they're all available at the click of a button. Embroidery is precious and popular because of the time and dedication required to create it. It is the perfect foil to fast-paced, internet-driven contemporary life.
What materials do you use in your work? I use the typical embroidery materials: wooden embroidery hoops of various sizes (3 and 5 inch diametre are my favourites), DMC stranded embroidery floss, DMC pearl cotton string, and various fabrics, including quilting cottons and linens. Lately, I've started thrifting extra-large button-down shirts and cutting them up to salvage the fabric. It's a win-win: low cost, high quality material and repurposing something otherwise destined for the dump.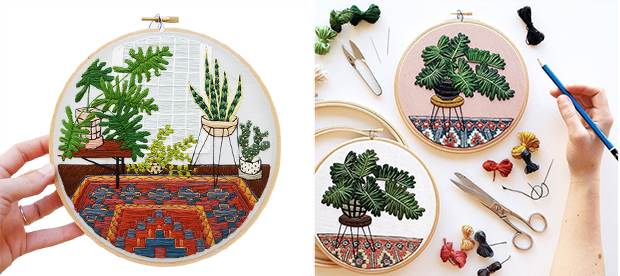 What are some of the trickier parts of creating these pieces? For me, the most exciting and challenging aspect of creating my work is coming up with the composition itself. I carefully draw out each design by hand before I meticulously fill it in with stitches. In order to confidently draw my designs directly on my stretched hoops I keep up a rigorous routine of sketching and drawing in sketchbooks, both from observation and my imagination, creating studies of plants, rug motifs, interior structures, and figurative gestures. Once my compositions have been worked out, it's merely a matter of labour. The complexity comes from the drawing and my colour choices.
How would you suggest a beginner get started in this art form? Funny you should ask… my monthly patterns (available in my Etsy shop) are a great way to get started in the world of contemporary embroidery. I release a new pattern on the first of each month. These patterns are designed to suit all skill levels, from embroidery beginners to seasoned stitchers. I work hard to create fresh, contemporary content and do my absolute best to make the process as easy as possible for participants.
Would you recommend taking beginner workshops or just diving in? I believe you should follow the path that seems right for you. If you would feel more empowered and comfortable creating after participating in a workshop, then by all means take a workshop! On the other hand, if you feel confident in exploring and problem solving on your own, dive in and figure it out as you go. It should be fun and fulfilling, so whatever way works for you, go with it.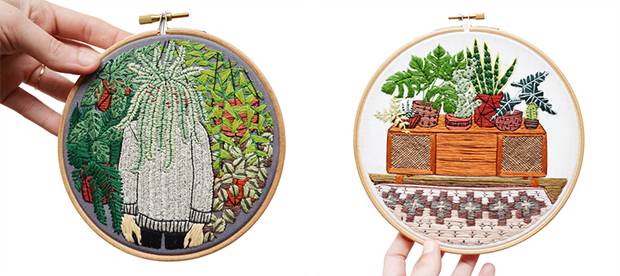 Any other tips or tricks for people wanting to get started? There's a vibrant and active global embroidery community easily tapped into via social media. I highly recommend finding that community or a real-life and local community of likeminded folks to stitch along with. Embroidery has a magical way of being intensely therapeutic on an individual level and a way of being the perfect community building bridge. It's practically a universal human pastime (think about it – every culture throughout history has had its own embroidery tradition and style). Above all, follow your passion and don't limit yourself to what has already been done.
To see more of Sarah's work, pop past her website, online store and Instagram.