women in electronic music showcase
We chatted with Kucka, UNiiQU3 and Andy Garvey about ladies who make beats, and why they're the shit.
We had a little chat to a few of the ladies appearing in the upcoming Women in Electronic Music Showcase: Kucka, UNiiQU3 and Andy Garvey. Pop past Sydney's Oxford Art Factory on Saturday June 17th to get down to their tunes, and scroll down to read about why they're the shit.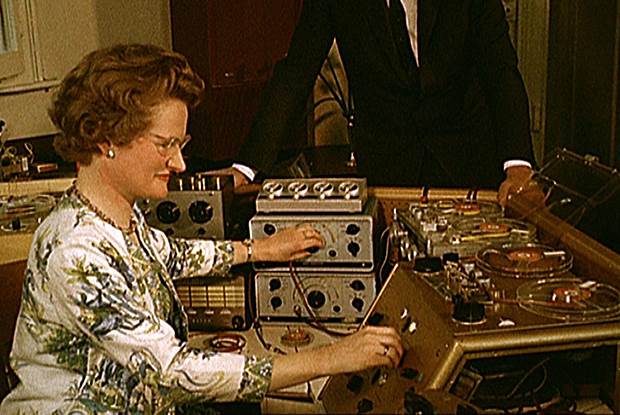 How did female artists influence the electronic music genre? Kucka: Daphne Oram is often credited as being one of the unlikely pioneers of early techno, which is a pretty badass thing to be recognised for.
What electronic music technology did women build, re-build or re-purpose? Kucka: Daphne Oram created her own technique called "Oramics". She created her own machine that would read 35mm tape. She would draw patterns on it to create the sound. Rounder curves would create softer sounds and jagged edges created harsher tones with more harmonics.
How did you first discover electronic music, and what inspired you to start making your own? UNiiQU3: I grew up in New Jersey where ghetto house genres, such as footwork, house Baltimore and Jersey club played in the speakers on every block and from every car in the summertime. It wasn't something I discovered; it's something I just knew. It's not even a scene to me. It's a part of my culture, my life. Andy Garvey: I had a mate in high school who I used to swap tunes with. I think it's a pretty natural progression for DJs to become so engrossed in electronic music that they start making their own. I've been making beats for the past few years. It's just really fun and exciting to be able to create something from scratch and share that on a dance floor.
What challenges have you faced making electronic music? Kucka: Isolation was the biggest challenge that I faced. I used to write on my own and spend weeks second-guessing my production and lyrical ideas. Now I'm collaborating a lot more with people face-to-face in the studio and it's definitely more humanising. Andy Garvey: I wish I'd had a female mentor of some kind. I've been very much surrounded by men for all of my professional career. This is a big reason I enjoy putting myself out there to teach masterclasses and workshops for women. Education accessibility is very much a key to helping solve the disparity on line-ups, and I really love being part of the solution in that sense to help balance this issue.
What's the best thing about making electronic music? Kucka: There are endless possibilities in the tones, textures and vibes you can create when you're writing on a computer. UNiiQU3: I love doing the unexpected when it comes to laying down vocals. Also collaborating with people brings out the most unexpected magic in the music that you might not get creating by yourself.
What else should we know about women in electronic music? Kucka: They can do everything that males in electronic music can do. UNiiQU3: What you should know about women in electronic music and women in general is we are the shit, we are important. We are here to stay, and us making moves in male-dominated scenes is nothing new. Do your research; give credit where it's due; support us. I promise it won't hurt your aesthetic. The world is in shambles and all we got is ourselves, so make sure you share good energy to the people, and places that need it. Bless.
Head over this way for more info on the Women in Electronic Music Showcase and to nab tickets.