uniting for climate change action
Students, workers and old folks alike joined forces across Australia to call for climate change action.  
Can you hear that? It's the sound of students out in the streets, protesting climate change inacton. They've been doing it for the past year, and ahead of the United Nations' Climate Change Summit in New York, they've asked adults to leave work and walk alongside them. So, across Australia today, hundreds of thousands went on strike to ask for three things: no new coal, oil or gas projects; 100 per cent renewable energy generation and exports by 2030; and funding to transition fossil fuel workers into new jobs.
Megan Stevens, a young activist with Plan International was one of the protesters in Melbourne. We asked her to have a chat with a fellow protester about bridging the generational gap and uniting old and young for climate change action.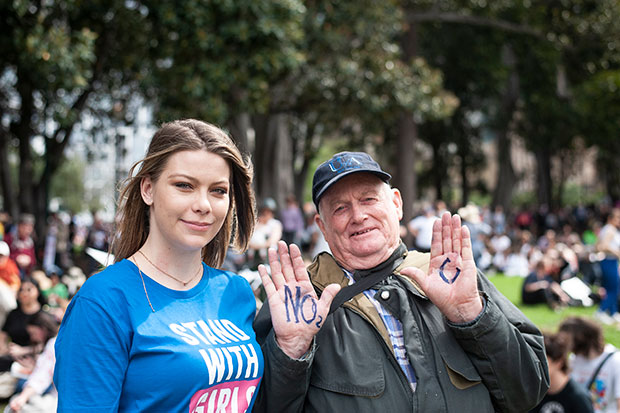 Megan: How does it feel attending the protest today? Nick: It's good that so many people are turning up.

Are you surprised by that? No I'm not. I just think that the politicians don't listen. They listen to the election results and stop there.

Have you participated in a rally or protest before? Yes, I've protested against uranium mining years ago.

Why do you think it's especially important for workers to be here? Climate change is the biggest battle we've ever faced! Far more than the world wars England wanted to encourage. It effects everything. Not just us, but all the creatures and all the plants; the lot. That's why I say no to carbon.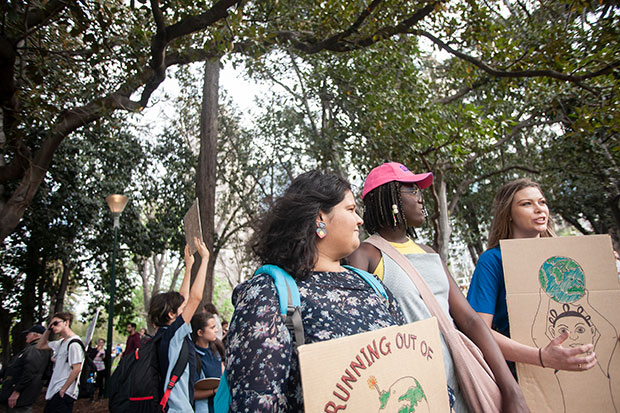 What did you have to do today to come here? I'm retired so I didn't have to leave work. But I had to travel from the Basin area, which took about 50 minutes.

What tips would you give to people who want to encourage their colleagues or family to get involved in climate action? I'd tell them to think of the kids – people who are a hell of a lot younger than us.

They didn't create this mess but they have to deal with it. That's right, living through the possibilities that we face is not a pretty thought. 
 
How do you think young people can approach conversations about climate change with adults who might be sceptical? I can understand that it's hard, and you need to approach it with great caution because there is so much division. And we've seen that in elections. But I'd say that you need to speak the truth. Climate change is the greatest threat that humanity faces and if we don't do something about it now, it will be too late.