tunesday – the uncredited lady behind the doctor who theme song
Due to BBC policy, Delia Derbyshire went uncredited for her work on the Doctor Who theme song. Join us as we remember this electronic music pioneer's impressive life story.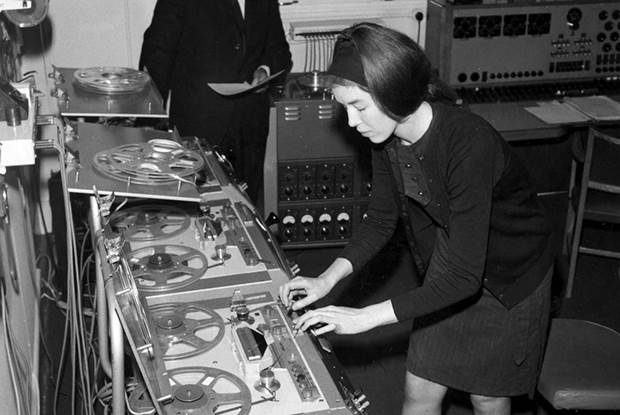 It's one of the world's most recognisable theme songs: all woozy instruments, spacey pops and surprising twists and turns. Yep, the Doctor Who theme tune was well ahead of its time. Created in 1963, it was one of the first uses of electronic music for a TV theme.
What you might not know about this iconic piece of music is that the brains behind its original incarnation was a British woman, Delia Derbyshire, who was not officially credited for her arrangement on the track until 2013. She was an electronic music pioneer who battled the misogyny of the music scene, and has left a legacy that is still keenly felt today.
Born in 1937, Delia was a bright child, teaching others in her class to read and write when she was just four. Upon finishing school, she won a scholarship to study maths at uni, but soon switched to music. This intersection of maths and music laid the foundation for Delia's brilliant career to come – one in which she created intricate soundscapes that were dazzling, dizzying and unlike anything that had come before them.
After uni, Delia applied for a recording position at Decca Records but was immediately knocked back, as she was told that "the studio was no place for a woman". Undeterred, she pushed on and eventually landed a job at the BBC where, after a few years, she started working for the Radiophonic Workshop. Over the next decade, Delia made magic within this program, creating music for almost 200 TV and radio shows. She was a pioneer of the modern experimental music concrète genre, literally cutting tape and sticking it back together to create strange, wonderful sounds.
The Doctor Who music was written by an Australian composer named Ron Grainer, but it was Delia who brought it to life, using mono tapes, white noise sounds and a frequency modulator. This was a time before synthesisers and multi-track technology existed, so the feat was even more remarkable – Delia used three separate machines and pushed the "start" buttons all at once, resulting in the glorious cacophony of sound. Ron Grainer was so impressed upon hearing the take that he allegedly asked, "Did I really write this?" She replied, "Most of it." Delia's Doctor Who arrangement served as the show's theme for its first 17 seasons, and she also composed some of the incidental music heard on the program. It was due to a BBC policy that she was not credited for her work at the time, despite Grainer's protests.
Delia was a founding member of the influential electronic group White Noise, and until her retirement from music in 1975, she also worked on scores for films, fashion shows and theatre, and co-produced records. After leaving the industry, she worked as a radio operator, in an art gallery and at a bookshop, but continued to make music in private. She made a public return to music in 2001, shortly before her death from renal failure at the age of 64 in July that year.
According to Clive Blackburn, her partner until her death, she was a perfectionist: "She simply refused to compromise her integrity in any way, and ultimately, she couldn't cope. She just burnt herself out. An obsessive need for perfection destroyed her."
Though she didn't receive the level of recognition she deserved in her lifetime, Delia's presence continues to be felt in music everywhere – and not just the electronic kind. Aphex Twin and The Chemical Brothers have covered her pieces, she was sampled by Pink Floyd, and Paul McCartney approached her while she was alive to work on a new version of The Beatles' iconic song "Yesterday". Last month, she received a posthumous honorary PhD from Coventry University.
Mark Ayres, a composer and sound designer at the Radiophonic Workshop, said, "Any composer of my generation with an interest in electronic sound and music cannot fail to have been influenced by Delia's talent."
So next time you hear the howling, looping splices and sizzles of the Doctor Who theme song, think of Delia Derbyshire: a brilliant musician who defied the sexist expectations of the conservative 1960s, and blew open the window of possibility for not only women in electronic music, but the scope and shape of electronic music itself.