tunesday — the beths
We chat to the rad Kiwi band behind some of this year's catchiest tunes.
Meet The Beths, the New Zealand four-piece behind some of this year's catchiest tunes. Lovers of guitar pop will enjoy Future Hates Me, an album filled with smart lyrics, infectious hooks and relatable tracks like 'Little Death', a song that perfectly encapsulates the heart-racing sweats you feel when you're standing one inch away from your crush. We talked to lead singer Elizabeth Stokes about jazz school, bad gigs and BBC's Pride and Prejudice.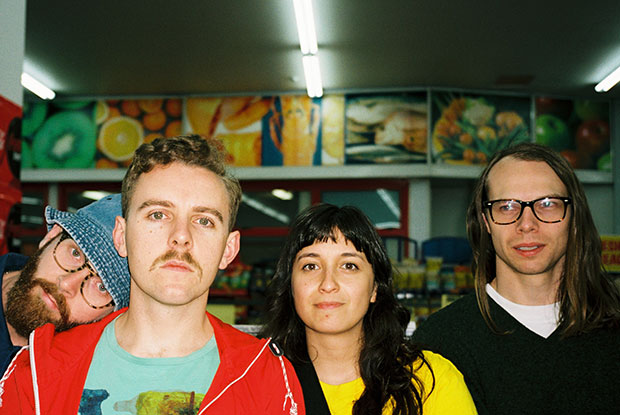 Tell us the story of how the band got together. We have known each other since we were in high school bands that played the Auckland's all-ages and indie scene. Then we all studied jazz together. After working and playing in lots of different projects, we all wanted to play 'rock music', so I wrote some demos and we started jamming.
What did jazz school teach you? It taught us how to communicate with each other in the same language and enjoy the feeling of playing with other musicians. Jazz is this collaborative art form where you are constantly listening to each other and responding.
What's the most challenging part of making music together? Not letting your own feelings about the rehearsal or the gig become the reality for the whole band. Just because you feel like you aren't having a good gig, doesn't mean you should take the opportunity for it to be a good gig away from the rest of the band.
What have been some of your best and worst gigs? I love hometown shows in Auckland because we spent so long playing there and seeing the people singing our songs really loud makes me feel really warm and fuzzy. Our worst gig ever was the opening party for a film festival. People came into the venue after watching a super-heavy, three-hour long film and presumably wanted to decompress. Instead, they got a 45-minute set of loud guitar music from us. And then this old guy, who apparently was a rich patron of the festival, came up halfway through our last song waving his arms and yelling at us to stop. We finished the song, but the whole experience was pretty humiliating.
When do you feel most creative? When I am listening to a lot of music that I am enjoying. It makes me want to make music.
Where would you take someone on a date if you were in your hometown of
Auckland? For a drink, we'd go to Peach Pit, where the music isn't too loud to talk, then maybe a gig at the Wine Cellar or the Whammy Bar, where the music is either too quiet or too loud to talk.
What are some of your favourite artists through the decades?
'70s: Steely Dan's Aja, Carol King's Tapestry.
'80s: Look Blue Go Purple's Cactus Cat, Fleetwood Mac's Everywhere.
'90s: The Breeders' Last Splash, Ben Folds Five.
'2000s: The Postal Service's Give Up, Rilo Kiley's The Execution of All Things.
What's your post-gig routine? If it's an early enough show, we like to watch BBC's Pride and Prejudice together, but usually it's straight to bed. It's a glamorous rock'n'roll life.
What are you guys working on at the moment? We're mainly touring, but we're working on something fun for Christmas time, which is a surprise.