tunesday – stella donnelly
A little bit of fame hasn't changed the Perth songstress one bit: "You'll still see me at IGA wearing no pants, two different coloured thongs, buying tampons and Crunchy Nut."
Muso Stella Donnelly has been making a bit of a name for herself, what with her frank lyrics and charming melodies – but that hasn't changed the way the Perth lass views herself (which is very nice to know). Read on to find out about her odd habits, her intense attraction to music from an early age, and a major turning point in her life.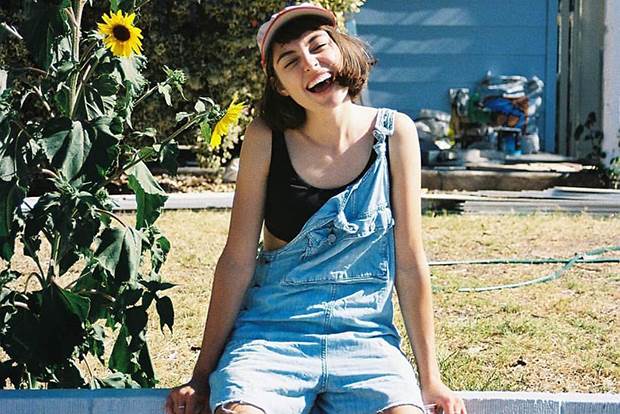 Sweet snap by George Foster
Have you always known you'd get into music? I've always known I would play music all my life; I never envisaged that people would want to hear it, though! I think the real fascination and obsession started when certain songs gave me unexplainable body reactions; I would NEED to hear the song again. I was a deranged 10-year-old, desperately putting a cassette tape in the player to record a song off the radio so I could replay it.
Talk us through some of the topics you touch on in your lyrics, and why they're important to you. I never really go into writing a song with a particular 'topic' in mind. It always starts with a real experience, something that I need to get out onto paper. Once the song is almost done, a clear 'topic' or idea shows its beautiful or ugly face.
Is it true you once played in a metal band? No! I played in a garage-punk band called Boat Show. That's about as close as I got to metal, unfortunately.
What is it like writing your first full-length solo album? It's like being given a sky-diving voucher for your birthday – you're super-grateful and excited, but absolutely shit-scared at the same time.
Tell us about something you've learnt since your music career kicked off. To trust my instincts when it comes to working with people and the music itself. This I've had to learn the hard way. I've trusted the wrong people with my creative choices and I have settled for something less than me in the past. I actually had a whole EP recorded in a proper studio and I had to pull the pin on the whole thing after spending so much money and time on it because it didn't sound like me; that was an important turning point in my life.
Do you have any weird habits? I eat really fast. My parents used to kick my foot under the table and mouth "slow down" to me while we were out for dinner with people. It hasn't changed!
Do you get recognised in the streets these days? I rarely get recognised or "ROCKegnised" as my best friend Jenny and I like to call it. Whenever it happens, though, I am just so grateful that people have listened to my music. I haven't changed the way I go out in public or anything; you'll still see me at IGA wearing no pants, two different coloured thongs and a t-shirt covered in dog hair, buying tampons and Crunchy Nut.
Aside from music, tell us about a skill you have. I am getting better and better each day at cryptic crosswords; it's a great way to pass the time waiting at airports.
For you, what's the most challenging part of making music? Making music! Actually doing the thing. I honestly struggle sometimes with harnessing my creativity, and it gets worse when there's an expectation on you to create something. I wish I could just pull a song out of my arse on a day-to-day basis, but I haven't found the formula yet. If anyone has it, please let me know!