tunesday – real estate interview
We had a little chat to Real Estate frontman Martin Courtney, who wooed his wife at 16 with his first-ever mixtape.
US band Real Estate seem like a chilled out bunch of lads that you'd like to have around at your place for few quiet drinks. Their floaty pop tunes make you slow down a little, sway on the spot and smile vaguely into the distance – and they're releasing a brand new album, In Mind, next Friday. We had a little chat with lead singer and songwriter Martin Courtney to find out more about his life in music, and discovered he's just as lovely as we suspected he would be.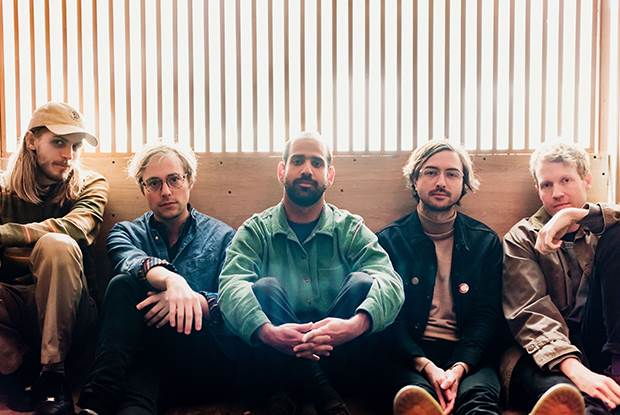 Describe your music in five words, please. Your mum would like it.
How did you end up on the path labelled 'music'? When I was in fourth grade, some friends and I entered our school's talent show as a rock band. We performed covers of "Blue Suede Shoes" by Elvis and "Rock and Roll All Nite" by Kiss. Considering every other kid was either doing some kind of dance routine or lip-synching, and we were playing our own instruments (I was on bass guitar), we were quite well received. I got one taste of the Glory of Rock and never looked back.
Who did you make your first mixtape for, and what was on the playlist? I actually made my first mixtape when I was 16 for the girl who eventually ended up being my wife. Locked it in early with that mixtape. Recorded to cassette from vinyl (I was such a nerd), it contained such hits as "Don't Leave the Light On, Baby" by Belle and Sebastian, "Phantasies" by Stephen Malkmus, "I Felt Your Shape" by the Microphones, and "Stop the Show" by Built to Spill.
What challenges did the band face when making the new album, and how did you deal with them? Every challenge we faced in making this record, I think ended up being a blessing in disguise. The logistical challenge of having our bass player living 3000 miles away led us to the solution of spending three weeks living together in the same town and working on these songs every day. That kind of concentrated period of creativity was something we'd never experienced before, and helped make these songs feel different and special to me. The problem of needing a new lead guitar player led us to having Julian join the group, which ended up working out extremely well, and helped differentiate this record from anything we've done before (in my eyes).
How has your musical style evolved over the years? I think just as a songwriter I've gotten better as I've written more and more songs and taken in more diverse influences as time goes by. As a band we've really coalesced and gotten good at working together and sharing ideas. I've become less precious about my own songs and more open to and trusting of other people's ideas, which has had a very positive effect on the music.
What's your preferred post-gig snack? I'll often put off eating dinner until after we play, since digesting and singing don't really go together all that well. So I'll order a burger or something and have it waiting backstage (cold) for after the show.
For more Real Estate, keep your peepers on their Facebook page.