tunesday – purple pilgrims interview
Talking telepathy, folk music and fantasy drama with New Zealand duo Purple Pilgrims. 
There's something strange and beautiful about the music New Zealand duo Purple Pilgrims make. Put it down to the telepathic abilities they share as sisters and performers, or their contrasting childhood spent between the dense landscape of Hong Kong and the magic wilderness of New Zealand. We chatted to one half of the band, Valentine Nixon, about their creative process.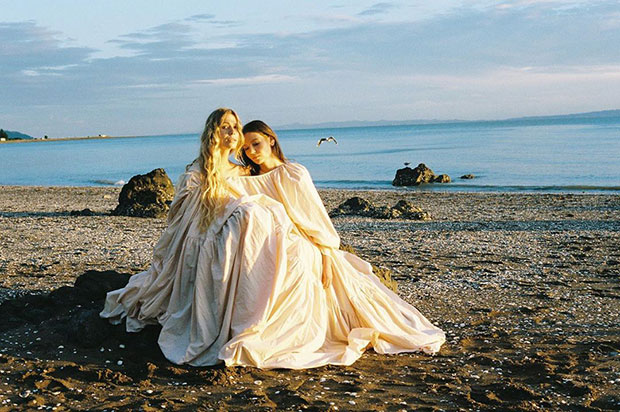 How did Purple Pilgrims come to be? Being sisters, and home-schooled for much of our childhood, we've always made things together in one way or another. We began performing noisy, free-forming compositions on art gallery floors and quickly realised performing together came as second nature to us. We haven't really stopped since.
What draws you to folk music? Our family have been musicians for generations. We're lucky to have many LPs and recordings by family members as a result of the 1960s folk revival and historians who documented their work (particularly our great-grandfather Davie Stewart who is well regarded in the Scottish Traveller community and wider folk music realms). As Purple Pilgrims, we're drawn to the family tradition of storytelling, but we're also interested in expressing that with non-traditional instrumentation. There's such a wide array of rapidly advancing technology within music and we like experimenting with whatever we can get our hands on.
Where do you write and record your music? We wrote and recorded most of our new album Perfumed Earth at home in an isolated valley, deep in the Coromandel bush. There's a river that runs right by our studio, and there's shockingly slow wifi and no cell service, meaning fewer distractions. It's an ideal environment for making music.
What's the best part about working with your sister? Telepathy.
How did your childhood split between Hong Kong and Christchurch influence your music? Growing up between such contrasting places has influenced us as people endlessly. Creatively, I think the juxtaposition between the two has resulted in us being maximalists with minimalist tendencies. Hong Kong's overstimulating urban jungle is present in our obsession with layering sonic textures, while the South Island's isolated feeling and melancholic calm is very present, too. We're always drawn to extremes.
If your album Perfumed Earth were a movie, what kind of film would it be? An ancient fantasy drama, set in the future.
What's your favourite album of the moment? Marianne Faithful's The Rarities Collection.
What do you get up to when you're not playing and writing? Watching bees in hives we keep at home, and growing things in the garden and procrastinating over emails. When we're not focused on music we're usually making visual art in some capacity, too. When we get tired of one, we pick up the other.