tunesday – on the road with donna blue
The Dutch indie pop duo take us along their California tour.
Donna Blue is the musical collaboration between lovers Danique van Kesteren and Bart van Dalen. Often referring to one another as their muse, it's no surprise the Dutch duo make seductive indie pop, with old-world Hollywood and '60's-inspired visuals to match. We asked them to share some snaps from their recent tour across the West Coast of the U.S.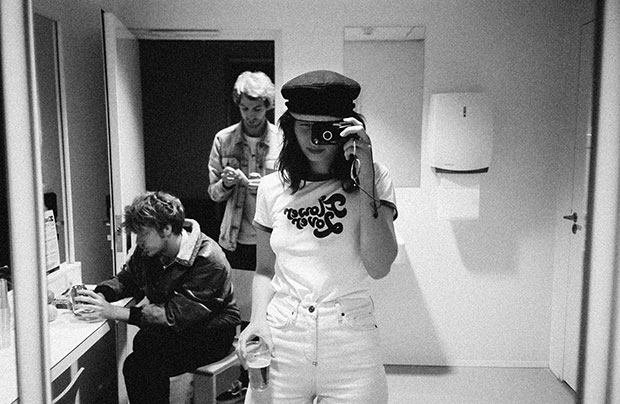 Who took these photos? BD: We took them ourselves. Danique works as a professional photographer so it comes really naturally to capture a lot of images when we are on the road. Because it's just the two of us, we are able to get very intimate shots. They are all shot on 35mm film, which also helps to stay focussed on being in the moment instead of being glued to your camera.
Where were these photos taken? DK: Most of these were taken in and around Joshua Tree, Los Angeles and San Francisco. Some on the road, some in the places we stayed at. We love Joshua Tree a lot. There is nothing quite like it in Amsterdam, so we always try to schedule in some desert time when we get to the U.S.
How did you travel across the West Coast? BD: It was just the two of us travelling and playing so we drove everywhere ourselves. We carpooled a little when we met up with friends and other musicians, but in general we were the ones behind the wheel.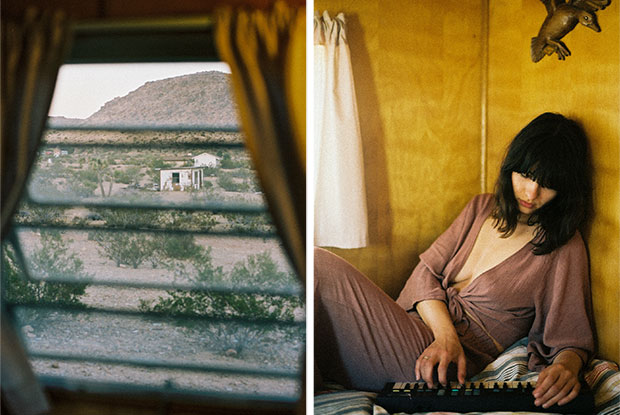 What were some of your favourite places to visit during your trip? DK: Definitely Joshua Tree. The quiet, the heat, the magnetism. But we also loved just hanging out with friends in the city and visiting little local vintage shops, take-out places, and the cinemas. We always try to live like a local when we get to a city.
What's the best thing about being on tour? DK: Definitely meeting new people (and hearing their music)! And going places you would otherwise probably never get to visit. It's great input for new songs and experiencing a different energy. It's also fun getting into really random and weird situations with people you've just met.
And the worst? BD: Leaving our two cats at home.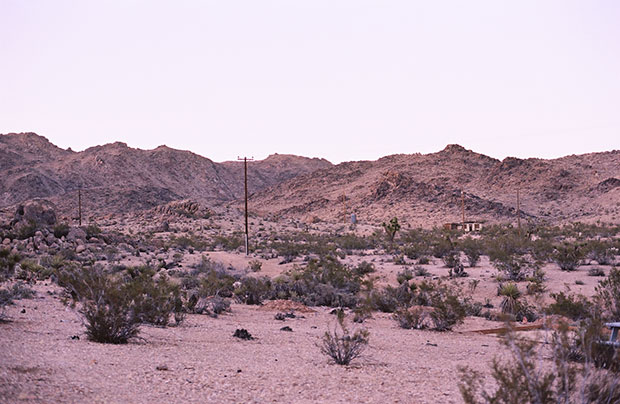 Can you tell us about a really special moment during your trip? DK: There were lots of them: rehearsing our show at a campfire in the desert; stumbling upon a random party in a small town we passed through; finding an amazing hand-built tiki bar in the living room where one of our shows was at; and rollerblading with a group of friends in an old church. It's too hard to pick a single thing!
While you were touring, you played some house shows, which aren't too common outside of the States. Can you tell us how you found the experience? BD: It was a really nice and intimate way to share art and music. Everyone we met during our house shows felt really open to any kind of music, and they were so supportive. It's low-key, so anything you wanna try out is OK. In the Netherlands, we are pretty spoiled with great venues in every corner of our country, all within driving distance. And because it is so tiny, your music gets out there easier, and you get to play 'professional' stages pretty early on in your career (and actually get a pretty decent pay). In a country like the USA, with so much space, and so much music, it's much harder to get noticed, or ride your bike to your nearest venue to see local bands play. It was good to see how much having a local music community is worth and it's definitely something we want to take back with us.


What inspires your songs? DK: First and foremost, our songs are inspired by each other. We have been married for a while now and live a pretty good creative life as a full-time musician and photographer. We also shoot and edit our own music videos. On this trip, we actually filmed a music video for our song "Holiday" in the desert and along the coast. For cinema inspiration, we watch a lot of older films as the soundtracks are always so interesting. Musically, we are really into sultry '60s French pop, '50s rock 'n' roll and the mystery in Lynch movies – that's where the retro vibe gets in.
What's next for you? BD: We have a couple of nice festival shows lined up this spring and summer, and we will play our first headline show in Amsterdam in April. We are also currently finishing up our second 7" single, which will feature three songs. It will be available exclusively at our Amsterdam show, and then released into the world on May 3rd.