tunesday – my favourite things with laura jean
The talented songwriter – and now full-time law student – tells us about all the things she adores.
It is impossible not to feel things when listening to Laura Jean's music. The talented songwriter (and now full-time law student) has had a long career making gentle but striking tunes, the kind that make you weep in the middle of the cereal aisle. Below, she tells us about a few things she adores most.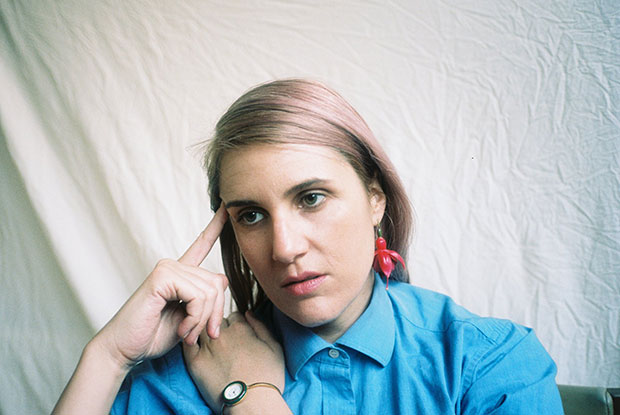 Favourite object you've found secondhand? A brand new Louis Vuitton handbag with the warranty card for $25. My best friend spotted it at the same moment as me but she insisted I have it. That's true friendship.
Favourite lyric you've written? "The house came down cos baby it was formula one"
Favourite part of making music? The relationships I've formed with people through music that I find interesting, hilarious, and beautiful. The feeling when I play music with a friend, like we're speaking to each other in a non-verbal language. The feeling of performing, when I'm communicating to the audience on a deep level, and in return they send me waves of appreciative energy. The sweet relief when I get off stage. The way it helps me process and make sense of my story.
Favourite instrument to write music with? It's currently my mum's slightly out-of-tune piano. It sits in the garage next to my stepdad's beer fridge. I moved out of home when I was 17 and the piano is giving me songs about that time.
Favourite piece of advice you've received? I haven't received much advice in my life. My path is very different to my parents and many of the older people around me growing up. My mentor growing up was Jane Campion, my aunty-in-law. She taught me that worldly success is very random and lucky. She taught me to trust that I will be able to survive if I follow my intuition. This has proven true: I have survived even though I have been very poor. I'm now studying law full-time so I can have some financial security in my 40s.
Favourite thing about your hometown? I was born in the Inner West, on Gadigal Country. I love Sydney's wildness and chaos that is part of its inherent energy – it allows space for a diverse culture that resists gentrification. I love its lack of snobbery, and I love its outrageous beauty and access to water. Many of my ancestors were convicts that came to Sydney/Warrane in the late 1700s. I feel connected to this recent history and am learning more and more.
Favourite way to feel like yourself again after a hard day? I always feel like myself, whether I'm grumpy, tired, angry, sad, happy or relaxed. I don't identify myself with my feelings, as they come and go. I don't relate to having hard or easy days either, to be honest. I don't think about my life that way. All that said, when I get home, I have a shower and get into comfy clothes as soon as I can.
Favourite TV show to zone out to? The Cook and the Chef. I am a huge Maggie Beer fan and have visited her farm in the Barossa.

Favourite job you've had outside of music? Teaching songwriting at TAFE. I learnt a lot through teaching and breaking down the process. De-mystifying the process did not ruin it for me, either – there are always elements of songwriting that won't be understood.