tunesday – kurt vile interview and ticket giveaway
Excellent news, music lovers: Kurt Vile is playing solo shows in Melbourne and Sydney – and we've got double passes to give away, hurrah!
Kurt Vile is no stranger to Australian shores. The indie rocker and his band The Violators have knocked our socks off over the last five years with repeat visits – but when he returns this year, it will be for his first solo shows in the country. We caught up with Kurt to chat about playing the banjo, fatherhood and what gives him hope.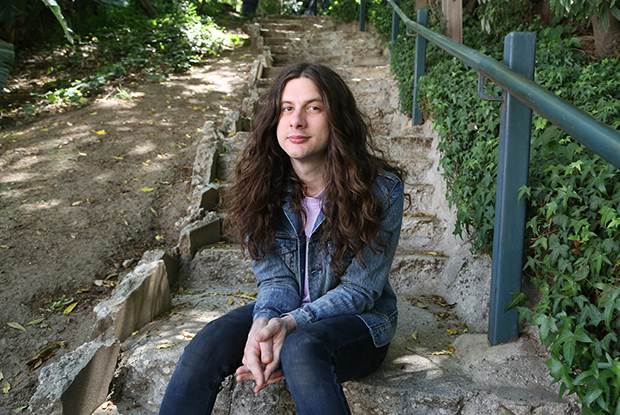 We're so excited to see you play solo for the first time in Australia. Do you prefer playing solo or in a band? I reserve playing solo for special occasions. I'm really into it but I love playing in a band. It's a different dynamic shift – in a band I'll be rocking out and play a few solo songs in between, and then start rocking out again. Solo is obviously more intimate. If someone told me I had to pick one, I'd have to pick solo because that's how I write songs on my couch.
Do you have any favourite memories of playing Australian festivals? When I played Meredith years ago it was the last show of the tour and I was pretty intoxicated by the whole thing, making new friends and having a good time. I remember being on a Ferris wheel at some point. I was pretty out there, oblivious to the fact that everybody could see everything, to the point where the guy operating the Ferris wheel thought I was a wanker.
Your latest album features the banjo on the song "I'm an Outlaw". Where does that come from? Banjo was actually my first string instrument. My dad gave me a banjo for my fourteenth birthday, so that's what I started writing music on. A year or two later somebody gave me an acoustic guitar, but in the early days I was always playing banjo. Banjo's always been pretty natural to me. You can really get lost in the banjo in a way that a guitar doesn't allow, even if you just do simple fingerpicking. There's something about the five-string banjo – it's extra-hypnotic and ethereal.
In the last few years you've become a dad. Has that influenced the way you work or what you write about? Before I had my first kid, I was like, "I'm not going to write sappy dad songs", and when I had my first kid, I immediately wrote songs like "In My Time", which aren't sappy exactly but all of a sudden your heart's in a completely different place, surrendered to the sentimental. In the early days of being a parent and trying to figure out the balance, it was harder – but all my kids have ever known is me being a musician, so I'll go away on tour and I'll come back and I'll sit at home all day. They both love music and they kind of grew up in this world, so it's become a little bit easier in that regard.
The world is going through tough times at the moment. What gives you hope? It's really easy to give up hope, and there are a lot of terrible things happening, but we just have to try and help where we can. We're in the danger zone, but music is the one universal medicine.
Kurt will be playing at Twilight at Taronga Zoo in Sydney on Friday March 3rd, and at Twilight at Melbourne Zoo Saturday March 4th. Pop over this way for a ticket to his Sydney show, and this way for his Melbourne show. Or, send us your details and let us know which gig you want to attend – we've got double passes to each to give away, hurrah!