tunesday – how to become a drummer with lindy morrison from the go-betweens
The Go-Betweens' drummer told us how she carved out a career hitting the skins.
Cattle and Cane, Streets of Your Town, Spring Rain… Throughout the 1980s, The Go-Betweens produced some of Australia's best-loved indie pop songs, buoyed by the smart songwriting of Robert Forster and Grant McLennan – the Down Under answer to Lennon and McCartney. Lindy Morrison's inimitable drumming and Amanda Brown's lush strings were the cherries on top of the musical cake, creating the distinctive "striped sunlight sound" that has influenced countless other bands. The Go-Betweens' legacy is so strong that in their hometown of Brisbane, there's a commuter bridge named after them.
Behind the brilliant music, though, was often a lot of drama of the Fleetwood Mac kind – Robert was with Lindy, Grant was with Amanda, and then breakups and betrayals happened, and eventually the whole thing fell apart. Robert and Grant kept going on their own, releasing a number of Go-Betweens albums in the 2000s, before Grant's untimely death in 2006.
All of this – the music, the interpersonal tension, the highs and lows – is carefully woven together in The Go-Betweens: Right Here, a new documentary about The Go-Betweens that digs deep into the band's fascinating history.
We chatted with the group's legendary drummer, Lindy Morrison – who, at the age of 65, is still hitting the skins for Dave Mason and Alex the Astronaut – and got a tip or two on how to rock out behind the kit.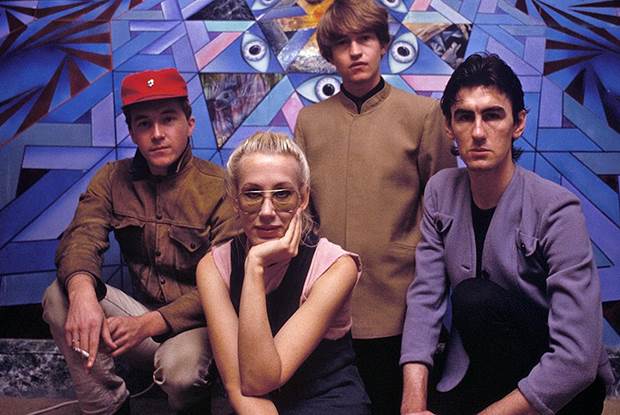 When did you start playing the drums? I was 20. I was a social worker, then an actor. I was living in a big sharehouse in Brisbane with Geoffrey Rush, Bille Brown and a whole lot of musicians. It was an extraordinarily creative house with a big music room, and I just moved to the drums. It was an instrument I could just go into the room and start playing. I started lessons almost immediately, and I started playing a lot.
Tell us about the first band you were in. In 1978 I joined an all-girl punk band called Xero, and I made a choice to be a drummer, not an actor. It was a pivotal moment. I got accepted into a theatre company down in Melbourne and I passed it up – I thought, "No, I want to be a drummer." I then started working really hard with Xero. I always had to practise a lot because I started so late. My chops will never be great – I'll never be a great drummer, but I can hold a good beat, I can play dynamically behind a song, so I just worked at it. I was with Xero for a few years until The Go-Betweens took me in.
What is it about the drums that you love? In a way, it's a bit like dancing. The power and the strength you have behind a drum kit makes you feel confident and strong and positive about the world, if you're playing well. It's just a beautiful instrument, the way both feet are always working, and your hands are always working.
How has the music scene changed for women? In the '70s, I was told women can't rock, and that women in bands always cause trouble. I was told that by male musicians, and there was an understanding about that. Things have changed because there are more women on instruments in bands, and there seems to be more acts coming through with women leading them. There's been so much discussion about gender in music in the last couple of years, and you can hear the shift.
What are the differences in dynamics in playing in bands with men, and playing in all-female groups? When you're in a band with men, the men tend to work more with each other – they look to each other for approval, encouragement, positive reinforcement and acclamations, and will listen to each other more than they will listen to the women in the room. When you're with a group of women, it's just a free-for-all.
What's your favourite memory from your drumming career? Playing St Kilda [in Melbourne], I used to come off stage sopping wet. There was no green room. I'd go into the public toilets and I would have to take every article of clothing off, and I mean everything – bra, pants, socks – and completely redress. I would be so wet from those gigs in St Kilda. The crowd was right on top of us, and it was just extraordinary. Those early days when we didn't care about anything and would just rock out – they were great.
Any advice for up-and-coming drummers? Practise – that's it.
The Go-Betweens: Right Here is in cinemas now.