tunesday – holly throsby interview
We asked the Sydney songstress what inspires her work (including her debut novel).
Holly Throsby is certainly prolific. Not only does the Sydney songstress have a new album in the works (in fact, she's mixing it right now), she's also just released her debut novel, Goodwood, a mysterious tale about folks in a small country town. We asked her what inspires her work and what she'd like to drink with Virginia Woolf.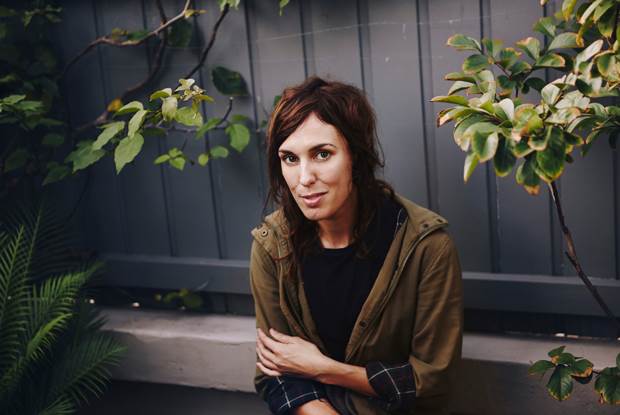 When did you first pick up a guitar? When I was about eight years old. I wanted to play so much and then I found an old nylon string guitar discarded on the street near where I lived. I took it home and learnt. I still have that guitar.
What was your first song about? It was about traffic lights. I wrote it when I was 10.
What usually inspires a song? Things I overhear people say; images that come to my mind; other people's stories or my own story; big and small events; walking; books.
What inspired your novel, Goodwood? I was inspired by small towns I've spent time in and some news stories I read. I wanted to write the kind of story that I would want to read. Some of my favourite TV shows, films, books, songs – they found their way in there in some line of dialogue or even just a single word.
What's the story about? It's about two people who go missing from a small town in NSW in 1992. The narrator is Jean Brown, who is 17 when the events take place. It's a mystery, a portrait of a town, and Jean's own story.
When are you at your most creative? When I feel like I am buzzing all over with ideas. It comes and goes but sometimes I get into a real state over it. I stay up late working on things till all hours and can't wait to start up again the next morning. It's a great feeling that is always followed by a period of low mood and exhaustion.
If you could have a drink with any novelist, dead or alive, who would it be, and what would you drink? Virginia Woolf. I find her fascinating. I've read some of her diaries and I find her books incredible. We'd probably drink gin. I'd ask her how she feels.
What's something that writing Goodwood taught you about yourself? That I enjoy a challenge more than I thought I did. That when I am writing a book I feel as if I am living in two worlds at the same time – the real one and the fictional one – and that I really love that feeling.
Head this way to check out Goodwood.